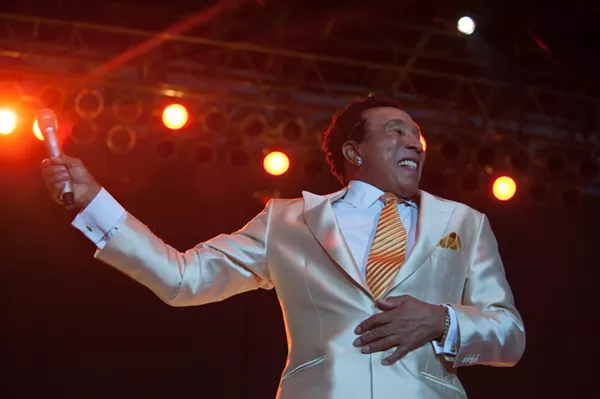 One of Motown's most recognizable voices celebrates a birthday today.
Smokey Robinson, the legendary singer, songwriter, producer, and leader of The Miracles, was born on Feb. 19, 1940 in Detroit. Turning 78 today, he is still releasing music and wooing audiences with his soothing voice during energetic live performances. Here are five essential Smokey songs to help celebrate this local legend's special day.

Smokey Robinson and the Miracles: "Shop Around" (1960)
Smokey and Motown founder Berry Gordy teamed up to write this track, became a hit on the Billboard Hot 100 chart, reaching No. 2. This song introduced Smokey to the world and gave Motown its first million-selling hit record, putting the label on the map as a force to be reckoned with in the music industry.

Smokey Robinson and the Miracles: "Tracks of My Tears" (1965)
Ranked No. 50 on Rolling Stone's
500 Greatest Songs of All Time
, Gordy called it a masterpiece. It's a heartbreaking song about a guy who has a sensitive side despite being known as "the life of the party." Get your Kleenex ready and give it a spin.
Smokey Robinson and the Miracles: "I Second That Emotion" (1967)
The story goes that Robinson and friend Al Cleveland came up for the idea for this song while shoe shopping at Hudson's department store in Detroit. This track ascended the Billboard singles charts, peaking at No. 3. A cover of "I Second That Emotion" became a hit for label mates Diana Ross and The Supremes and The Temptations in 1969 and was
covered by the Grateful Dead
during their live shows in the early 1970s.
Smokey Robinson and the Miracles: "Tears of a Clown" (1970)
Smokey and The Miracles got their one and only No. 1 Billboard hit with this uptempo song. Co-written by Stevie Wonder, this song is as catchy as they come, complete with a bouncy bass line and an infectious vocal melody.
Smokey Robinson: "Cruisin'" (1979)
Robinson put the Miracles to bed in 1972, deciding to focus on a solo career and devote more time to being Motown's vice president. This song is more soulful than some of his earlier chart hits, featuring lush instrumentation and a slower tempo — perfect for riding around in your whip with bae at your side.
Anthony Spak is an editorial intern at Metro Times and a recent graduate of Oakland University's journalism program. Spak spends most of his time in Detroit playing music or eating gyros at Golden Fleece.

Stay on top of Detroit news and views. Sign up for our weekly issue newsletter delivered each Wednesday.