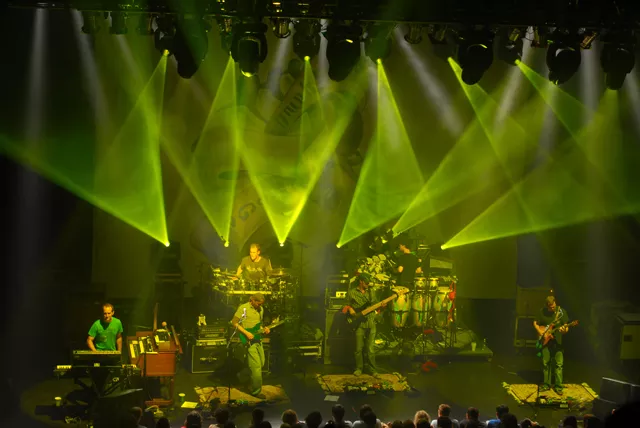 It's hard to pigeonhole a band whose disparate cover songs run the gamut from ZZ Top's "Cheap Sunglasses" and Talking Heads' "Making Flippy Floppy" to Dr. Dre's "Xxplosive" and Snoop Dogg's "Ain't No Fun." But that's standard for this Chi-town sextet. They also pull from more than 150 original tunes that are similarly cross-pollinated, on top of their ever-changing improvisations — and hundreds of other covers — that, in the spirit of reinvention, are all just as diverse.
What started as a 2003 college combo — Umphrey's McGee — drummer Kris Myers, guitarists Brendan Bayliss and Jake Cinninger, keyboardist Joel Cummins, bassist Ryan Stasik and percussionist Andy Farag — has grown to be the Midwest's pre-eminent, shudder to say it, "jam" band. One that, with Cinninger and Bayliss's dual guitar attack, channels as much King Crimson and Frank Zappa as Jerry Garcia.
With no major label support, Umphrey's continues to write the new testament of the jam-band bible. Though starting as floppy college kids hitting small-town bars — the tiny Berkley Front housed the band's Mitten State debut in 1998 — the down-dressed gents, now in their mid-30s, have gone from a Midwestern infatuation to an international occupation. For outsiders, it's easy to say Umphrey's McGee is siphoning off what the Grateful Dead started and Phish later perfected. You know: The hippie band takes care of its fans and they, in turn, take care of the hippie band. But that's just lazy.
"We started touring around the country doing concentric circles around the Midwest, and just gradually started branching out to more places until, eventually, we were playing pretty much everywhere in the country in, I'd say, 2001," says founding member Cummins. "Since then, we've been touring the U.S., occasionally hitting Europe, Japan, Australia and now Mexico."

So how did Umphrey's earn such fan trust? It was a combination of things: the unpredictable live show, the ongoing studio work, attention to fans, and crazy touring, including festival shows in Jamaica, Amsterdam, Mexico, and so on.
Back in 2004, Rolling Stone wrote that Umphrey's was "... the odds-on favorites in the next-Phish sweepstakes by challenging jam-band clichés, combining crisp song construction and vocal-harmony sunlight with a high-speed, improvised, daring onstage show." The band's last three Michigan shows sold out.
Even with Phish back and touring, Umphrey's continues to push the envelope. A cornerstone of what separates Umphrey's from your jam-band archetype is their ability to improvise with a purpose. Really.
About seven years ago, the band created its own form of improvisation called "Jimmy Stewart." A "Jimmy Stewart" is a set amount of time each night that's dedicated strictly to improvisation, guitarist Brendan Bayliss says. It also doubles as a songwriting exercise,
"I personally think, if you get into the band, it's just one thing that we do that other people don't," Bayliss continues. "You might see us write something that we're going to record on an album a year from now."
Essentially it's songwriting that the fans get to witness live on stage. Example: Mantis, the band's 11th album (released 2009) featured several songs born of "Stewarts" that this writer saw on Umphrey's 2005-2006 tours. (Umphrey's also launched an album exclusive with Mantis where those who pre-ordered were able to access monthly bonus content including remixes, demos and unreleased tracks.)
Sure, it's a cliché to say a band listens to its fans. But, Umphrey's has lifted their improvisations to the next level: With the creation of "Stew Art" or "S2" events, the band actually invites fans to join in.
Huh?
Cummins explains: "One of the things that technology has allowed us to do is to have more complex and more frequent interactions with our fans to let them contribute in different ways to the band that I don't think too many people are doing. Our S2 events are something that we'll do before a regular show, we'll sell something like 50-60 tickets to it and invite fans to come in and basically have a fan-guided improvisation. It can be anything, from stuff that's kind of abstract in the spirit of Brian Eno's directive cards, or it might be a mash-up or a twist on one of our original songs, or it might be completely improvisation-based."
Fans text their idea to a moderator, who then puts them up on a screen for the band to interpret and improvise accordingly. The "Stew Art" events were recently profiled in Time, which called the band "relentlessly innovative" and praised them for "not putting on a typical rock show."

The band's regular show sees them perform about three hours of music, and you'd be hard-pressed to find one marred by sloppy playing — and remember folks, this is musically challenging shit. Like Phish in the early '90s, consistency has been essential in Umphrey's world, and it's fascinating how that consistency, inside so much band improvisation, reveals a band dichotomy that gives the music tension — that alone has earned them fans.
And the venues? The group is fairly comfortable sticking to the plush midsized theaters (such as Detroit's Fillmore) on tour. It's about the fans, they say. "As a fan I would prefer to go to a show in a theater, I think that's the level of comunication that hits home most," Cummins says. "We've played festivals for 20,000-25,000 people. I think it's more about the personal connection between the fans and the band."
Like the band's relatively personal relationship with fans, Umphrey's helps younger bands — such as Chicago's Orchard Lounge or Ann Arbor's Macpodz — reach broader audiences.
"It's this snowballing effect that's happening," says Aaron Meyette, co-owner of MIDWESTpeeps, a Flint-based merchandise and band promotion company. "They're very willing to throw a chunk of themselves on that snowball, and that's been a huge part of their success. Umphrey's is open to their fanbase. And they allow you to springboard off their success; they want to give you the opportunity to do something great."
Meyette, along with friends John Engelman and Steve Britz, formed MIDWESTpeeps in 2007. The trio — who combined have seen more than 350 Umphrey's shows — have been helping smaller Midwestern bands network to put on shows. Working with Umphrey's, the 'peeps recently arranged the first "Fan Bus Tour" for a few Midwestern shows leading up to Umphrey's Detroit appearance.
"In the Midwest, we have some of our most vocal fan base and some of the most dedicated people seeing the most shows," Cummins says. "It's a huge achievement for us to be playing at the Fillmore in Detroit because we've really worked our way up from the ground up in Michigan. We're all really happy with the level that we're at now. ... I think the last three Michigan shows we've had have sold out. It's a nice trend to be on."
Saturday, Feb. 5, at the Fillmore, 2115 Woodward Ave., Detroit; 313-961-5451; with Orchard Lounge.
Umphrey's McGee five essential albums as picked by Joel Cummins
Miles Davis Bitches Brew — That album is the quintessential risk-taking improvisational masterpiece. It captures the essence of what deep emotive improvisation is about, and that is a huge factor of what we try to create on stage.
Beatles Abbey Road — Its great songwriting in short snippets. (Umphrey's covered the second side of Abbey Road for former drummer Mike Mirro's final show on New Year's Eve of 2002.)
Led Zeppelin Physical Graffiti —The band is starting to get more adventurous in its songwriting. A little bit more of a progressive sound for us. It shows us how to get out of the conventional chorus-verse-chorus song structure.
Al Di Meola Casino — The playing and the songwriting are very close to our hearts. It's where we got the idea to cover Chick Corea's "Senor Mouse."
The Complete Stax Singles Collection — It's an amazing collection of sounds.