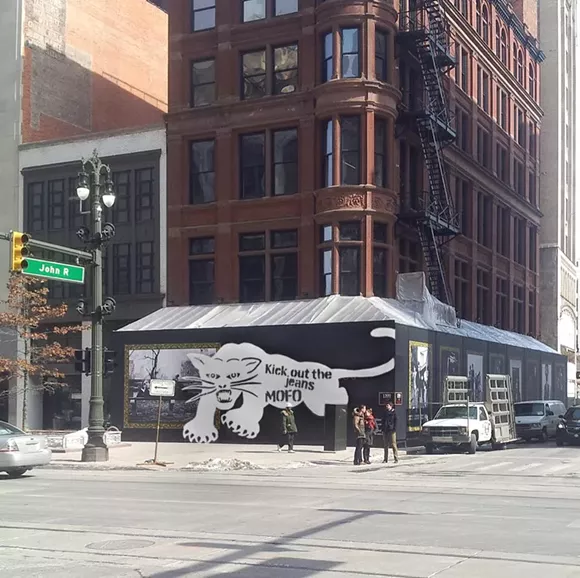 In 1969, the MC5 implored us all to
"Kick out the jams, motherfucker"
— a lyric that was once so controversial that
Hudson's refused to sell the band's records
.
In 2015, John Varvatos
is a high-end fashion designer who often draws on Detroit's rock 'n' roll legacy
in his designs and campaigns, and is opening a store this spring in a building owned by Dan Gilbert's Bedrock Real Estate Services on Woodward Ave. downtown.
On Sunday, an image surfaced on Detroit artist Matthew Naimi's Facebook that appeared to show the MC5's "White panther" logo along with the phrase "Kick out the jeans MOFO" wheat pasted onto the walls of the under-construction store. Naimi wrote, "Huge wheat paste on Woodward... On John Varvatos new Jean spot. White Panther logo with a Kick Out the Jeans MOFO... Marketing or Graffiti?"
We have our doubts about either scenario. For one, Naimi claimed he spotted it Sunday morning, but by noon it was already gone. ("Bedrock don't like graffiti," was his response when we brought up this fact —
which is true
.)
But more importantly, the wall in question is not a hard surface. It's more of a fabric wrap, as can be seen in the photo below — not easily wheat pasted. (When we brought this up, Naimi responded, "You just don't know a good wheat paster...")
Lastly, this is the same guy
who claimed authorship of the famous Packard Plant Banksy painting
just to mess around with people. So, we're going to go ahead and file this under "hilarious hoax."
Speaking of the Motor City Five,
the Lincoln Park Historical Museum is looking for MC5 memorabilia
for an upcoming exhibit celebrating the band's 50th anniversary.