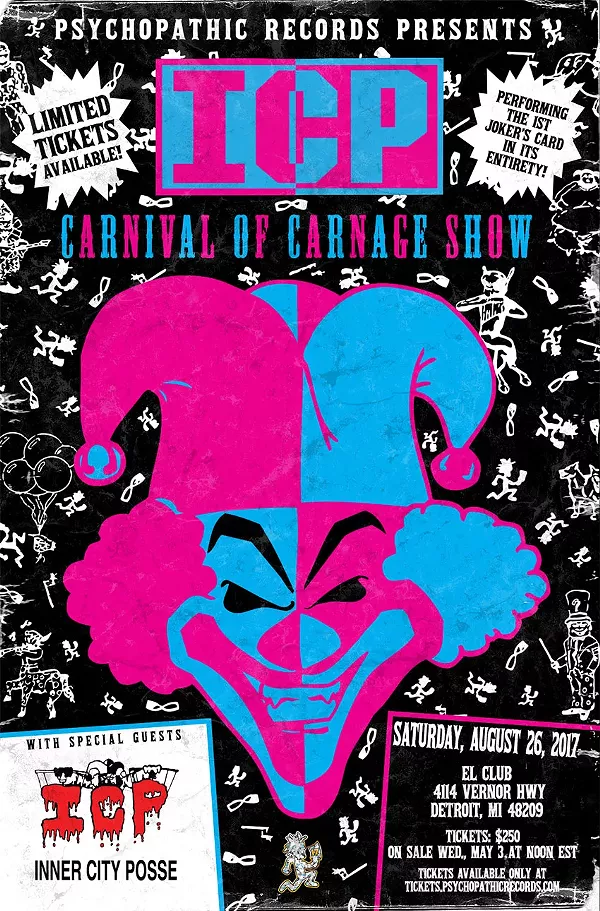 No one can deny that our friends at
Psychopathic
are excellent business people who know their core demographic really well. Here we see the Insane Clown Posse crew take a cue from the '
Don't Look Back
' series, where bands play an entire early and critically-acclaimed album front-to-back a few decades later in their career.
The Insane Clown Posse will perform their 1992 debut
Carnival of Carnage
at El Club in Southwest Detroit
on Saturday, August 26
. Because the band got its start in Southwest Detroit, they were particularly interested in performing there. As this is a much smaller venue than the group typically plays these days, interested parties are encouraged to get theirs ASAP.
The cost? A mere $250. Last we checked tickets were still available, at the group's own ticket site,
tickets.psychopathicrecords.com
.
As their press releases are actually worth reading, here is the text from the
full post
about the show.
Juggalos, there are some ICP concerts where history was truly made: The first time Faygo was thrown on stage and at the audience. The first times the Clowns performed "Riddle Box," "Milenko" or "Jeckel Brothers" in their entirety for the first time ever. And now another history-making live event is coming on Saturday, August 26 ... right on Vernor Avenue in Southwest Detroit across from Clark Park—the very nucleus of where ICP began their long, hardworking rise to world domination.

Fam....get ready for the first ever... CARNIVAL OF CARNAGE SHOW! YES! The almighty first Joker's Card will be performed from start to finish at the fresh new venue El Club, which is located smack dab in the area where the Inner City Posse and then the Insane Clown Posse got their start.

Not only will the Wicked Clowns be revisiting the historic wicked shit classic album "Carnival of Carnage," but the opening act is going to flip your fuckin' wig all the way back. So far back it peels off your scalp, leaving your bloody skull fully exposed.

The opening act for the Carnival of Carnage Show is ... INNER CITY POSSE! They'll be bringing back those old school Dog Beats that first made some noise in Detroit Murderous way back at the dawn of the '90s.

I don't have to tell you that night will be one of the most incredible shows ICP has ever put on. But here's the thing: YOU GOTTA GET TIX ASAP BECAUSE YOU KNOW THIS FUCKER IS GOING TO SELL OUT WITH THE QUICKNESS!

Tickets are on sale right fucking now and you can ONLY get them at the website tickets.psychopathicrecords.com. No ticketing fees!

So get ready to experience TRUE Juggalo family history in the making. THIS IS THE BIG ONE, NINJAS!! WHOOP WHOOP!