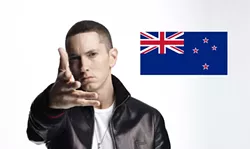 The copyright infringement case between Eminem's publishers and New Zealand's National Party continued today with a campaign manager admitting she raised concerns about the use of a song in a 2014 campaign spot that closely emulated Eminem's hit "Lose Yourself."
Jo de Joux, the case's first defense witness, told the High Court in Wellington she expressed reservations about using a track titled "Eminem Esque" because of possible copyright infringement. She was also worried Eminem "had been associated with hate speech,"
according to the Associated Press
.
"I was therefore adamant that the party did not want to have to deal with any such complaints during the 2014 campaign," she told the court. "I needed absolute reassurance that the track could be legitimately used by the party before I was willing to recommend that we proceed."
The case
started Monday
. Yesterday, "Lose Yourself" guitar player told the court he thought "Eminem Esque" was a
"blatant rip-off"
and played the iconic riff to the court.
Watch the spot below: