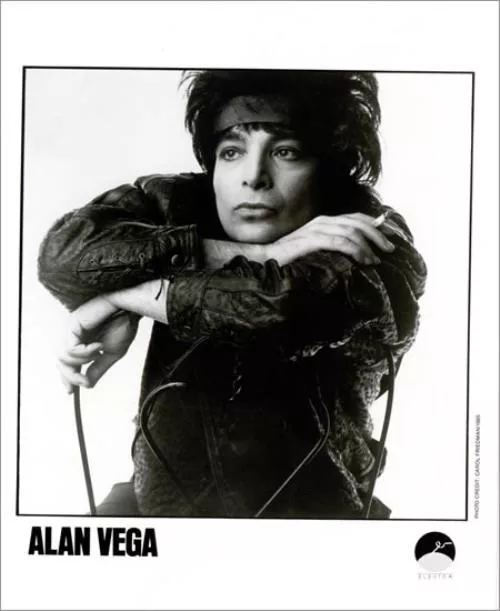 Alan Vega died this past weekend
. Vega was an absolute genius musician and visual artist whose confrontational and hypnotic work with the band Suicide helped to lay the foundation for punk rock at the same time that it destroyed those conventions.
Detroiters might care to celebrate with the single best cover ever committed of the band's work, "Ghost Rider" by the Gories. It's so good.
Here's a review I wrote of an expanded reissue of their first album on CD when I was a music editor at Amazon some 16 years ago:
This remarkable debut album, released a full seven years after the group had formed, was still way ahead of its time back in 1978. Suicide—Alan Vega on vocals and Martin Rev on keyboards and drum machine—are one of the most original acts in the history of popular music. They're often called the first synthpop act; synth-punk is closer to the truth—their music was far more edgy and menacing than that of any of their followers, with the notable exception of Cabaret Voltaire, Throbbing Gristle, et al.

Suicide drew on the right protopunk influence (Nuggets-type stuff, Velvets, Stooges) and came out of the same Mercer Arts scene that bred the New York Dolls. Their guitar-bass-and-"real"-drummer-deprived setup outraged audiences; on the superb bonus disc you can hear a European crowd rioting in the background while their apocalyptic nursery rhymes sound away. Tough guy Vega croons like an evil Elvis bred on garage rock and performance art; the stoic Rev lays churning, repetitive, and oddly melodic lines down on his beat-up Farfisa, and the ancient drum machine—it actually sounds steam-driven—propels the music toward a ratty, Blade Runner future.

"Dream Baby Dream," "Che," "Ghost Rider"—these eerie, sturdy, steam-punk anthems rank among the most visionary, melodic experiments the rock realm has yet produced. This reissue is bright and clear-sounding, and with the full disc of live performances (a 1977 CBGB's soundboard tape plus the legendary "23 Minutes Over Brussels" performance) this is an essential purchase.
Get that,
essential purchase
. Vega's passing hit many hard, despite his being 78 years-old. They just really broke the mold when they made this guy.
When I heard the news, I posted the following on my personal Facebook page.
Suicide at CBs in 1986. Single best slight bit of interaction I've ever had with a band as they play. I'm in the front row still wearing the red Gap sweatshirt and brown cords my mom sent me away to the big city in and I'm going nuts and Alan Vega puts the mic in my face to have me shout into it, right into the reverb soaked thing, during I think it was "Ghost Rider," as Rev pounds away making this accompanying swirling sound that no one else ever made before or since this cloud of future noise that also seemed like a calliope or something — hand cranked but also menacing. You have heard this band I don't need to say that. Anyway so I yell into it, but not too loud. So Rev looks at me, shakes his head to say no that wasn't good enough kid, then puts the mic back in my face one more time. So now I look at him and yell as loud and deep as I can, for maybe fifteen seconds, and he smiles and starts to sing again. That little interaction made me so fucking happy, it's hard to explain. Didn't hurt they were the best live band right then — just as they were the handful of times I saw play here and there over the next fifteen years.
I since learned, through a friend actually digging up video of the very show I attended, that the shouts were less than one second then maybe one and a half seconds long in total, which is hilarious. How like a man to extend a short duration by a factor of ten. If you go to about 24:30 you can witness this event that's so momentous to me but is just a little thing during the show, hah.