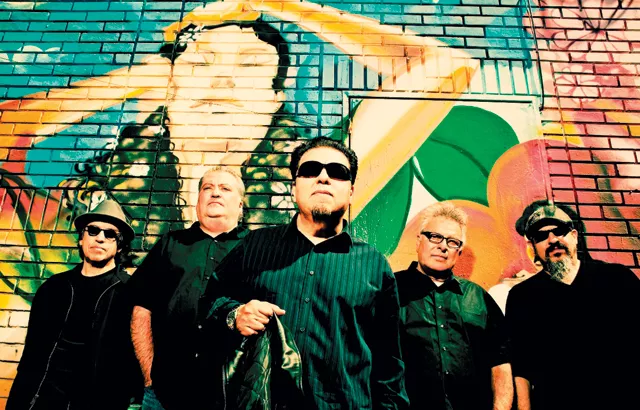 "It was a life-changing experience as a songwriter," Los Lobos' multi-instrumentalist and co-songwriter Louie Pérez says about the making of Kiko (1992), the band's career-defining album. "Something happened."
What happened, actually, began to take shape five years earlier. In Luis Valdez's acclaimed La Bamba, Los Lobos' version of the title song (a 1958 Ritchie Valens hit based on a traditional Mexican folk song) had catapulted the band to the top of the charts. But the sudden mainstream success wasn't all roses for the band.
"We had released a bunch of cool records and then 'La Bamba' happened and we became this big thing," Pérez says. "It almost eclipsed everything else that we had done before. I think the band went through a little bit of an identity crisis because here we were, 'The La Bamba Band.'"
The band had to regroup fast, and they took immediate, drastic measures. First, they released the all-Spanish, gorgeous (and, to some, disconcerting) La Pistola y el Corazón (1988), a return to the band's folkloric roots, and then followed with the strong The Neighborhood (1990), which served to calm the nerves of those into Los Lobos' more blues-based, rootsy sound. With all bases covered, the band members asked themselves, "Now what?"
"With Kiko we were opening up ourselves to a lot of possibilities," Pérez says. "David [Hidalgo] and I just started writing down some songs and it just went somewhere else. There were no more rules. We went into the studio to just let things happen," Pérez says.
The band began rehearsals at a dilapidated studio on L.A.'s Skid Row. After a few demos, the band showed the demos to the label heads, and a key turning point occurred.
"Why don't you talk with Mitchell Froom about this?" Lenny Waronker, then president of Warner Brothers Records, had said. Froom, along with engineer Tchad Blake, had already worked with Los Lobos on "La Bamba" and "C'mon, Let's Go" for the La Bamba movie, and the chemistry (and success) had been great. It was a brilliant idea that would put the cherry on top of Kiko's pie. The sessions moved to Sound Factory studio in Hollywood, and the making of a magical, surreal, psychedelic classic continued.
"Among the experimental things we did was to use drums in a very small room," Blake recalled on the liner notes for the 20th anniversary edition, "using heavy compression and distortion on many instruments, contrasting that with some very clean sounds."
At times ("Angel With Dirty Faces"), Hidalgo recorded a guitar solo and then played it backward; cheap pawnshop amplifiers were used often; a Shure SM57 microphone would be placed in the bottom of a trash can; electric guitars would be mixed with jaranas, and they wouldn't move to the next song until each song was finished.
"[Blake] was just a genius in the studio," Pérez says. "And although everything was very lush, nothing was overproduced."
The album didn't take Los Lobos back to the No. 1 spot (in fact, it only peaked at 143 in the Billboard 200 charts), but it solidified and augmented the band's reputation as a rockin', grooving and experimenting band. "The creative success of Kiko carried on with Los Lobos into the work they did afterward," said Froom on the new edition's liner notes.
Even though Los Lobos have never released a bad album, it's hard to argue with the fact that Kiko has been, until now, their finest hour. "I didn't want to say 'peak' because whenever you think of reaching a peak the only place after the peak is down," said Pérez. "As an artist, it's very difficult to accept that."
But it is a damn good album, isn't it?
"No shit," he laughs.
The altered states of Kiko
E.L. Sgt. Pepper's was supposedly the Beatles' acid record. Did altered states have anything to do with how magical Kiko came out?
Louie Pérez: I don't think that is something you would ask Gabriel García Márquez. It's like asking him, "Were you on drugs?" No, I wasn't on drugs. Where did that thing come from? I don't know. I just really don't have an answer. All I know is that we just got to that point where it became a sort of transcendental sort of experience. And I still look for that when I write. When I am working on a song, there is another place that I go to, and a lot of artists and writers probably do the same thing. They go to another place where there is no time. It is just a zone I get into. When I'm writing a song I have no sense of time or anything. All of us went into this chamber of altered states.
The 20-year-old Kiko:
Thrice the magic
Kiko (20th anniversary edition)
(Shout! Factory)
The original classic, remastered and with demos for "Whiskey Trail" and "Río de Tenampa" and live versions of "Peace," "Arizona Skies/Borinquen Patria Mía" and "Kiko and the Lavender Moon."
Kiko Live
(Shout! Factory)
A raw rendition of Kiko without the studio gimmicks. "When you put the original and Kiko Live together you really see how all the songs were really there," said Pérez. "That's what I'm really proud of."
Kiko Live (DVD and Blu-ray)
(Shout! Factory)
A two-disc collector's item that includes the full show at San Diego's House of Blues and interviews with the band and those close to the making of Kiko. Nothing fancy — just a serious rock band still superbly rockin' after all these years.