This Saturday, Trinity House in Livonia hosts an epic tribute to Blind Willie Johnson, the great sanctified musician who recorded in the 1920s and '30s.
Tribute to Blind Willie Johnson Benefiting Neighborhood Service Organization
goes down this
Saturday, Jan. 7 at 8 p.m., and is $20 for general admission, $17 for subscribers
.
This news caused me to dig the following piece out of my personal archives and throw it up here, since it's abut Blind Willie Johnson and what might be the greatest piece of music ever recorded (or not —
you
decide, hah). I originally published it in an issue of the journal
Yeti
which I edited and published from 2000-'14.
Voyager Song: Blind Willie Johnson's "Dark Was the Night, Cold Was the Ground"
Nine notes are played in
rapid succession on the fourth string, then repeated in a slurred style using all the strings in an open tuning with a slide capable of producing a steely rattle (most likely a knife). The singer moans and then plays a similar simple-but-affecting line, stringing those notes out, wringing a tremendous silence from between the mostly wordless song's verses.
The 78 "Dark Was the Night, Cold Was the Ground" appears on (backed with "If I Had My Way I'd Tear This Building Down") was a bestseller in its day, moving more than ten thousand units (according to OG blues historian Sam Charters) before later going through multiple pressings on Columbia and subsidiary labels. The only contemporary review I've found is from a New England magazine published in the '20s called
The Bookman
. The notice speaks of the record's "violent, tortured and abysmal shouts and groans" and Johnson's "inspired guitar playing in a primitive and frightening Negro religious song."
Blind Willie Johnson recorded for Columbia until April 1930, when the Depression hit and ruined the market for what were called "race" records. "Dark was the Night" was his third release. He was thirty years old at the time. Some of his 78s outsold even Bessie Smith's, at least for a brief while. This record was the last to be released from his initial Dallas, Texas recording session on Saturday, December 3rd, 1927. And it's the only song from that session to have been completed in a single take.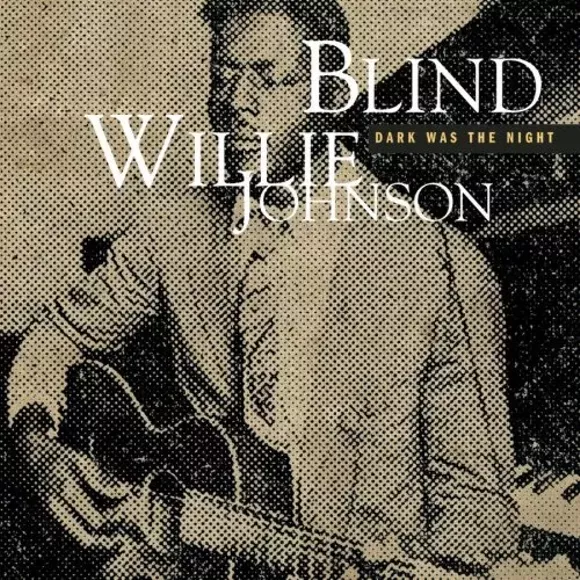 I would like very much to avoid the sort of traps that so many well-meaning white people get into when confronted with awe-inspiring works created by African- American artists some eighty years ago. My aim is to briefly contextualize this song (the most haunting piece of music I've heard)—in particular to discuss it in relation to the street corner evangelists and bluesy gospel musicians of the time, noting that gospel as we know it today, rooted so heavily in the arrangements of Thomas Dorsey and (later) James Cleveland, did not yet exist, and that modern gospel as a musical form is in fact younger than jazz.
The song seems like it's always been there, like I've always heard it, always known it, though I've only become obsessed by it in the last few years. I've heard it so many times by now I can simply think of it and hear the entire thing in my head, start to finish. This one song has greatly influenced some of the music I like, or liked when I was younger, most notably the work of guitarist John Fahey, who would seem to owe much of his career to it (along with a smattering of Elizabeth Cotten and the work of Willie McTell, of course). In fact, Fahey became physically ill when he first heard Blind Willie and admit he was unable to get the sound out of his head. So it was there, I just didn't know it yet. Johnson's influence was also apparent in covers of his songs by Led Zeppelin, the Grateful Dead, Dylan, and Ry Cooder. With his gruff vocal style, intense lyrics, and nimble slide guitar technique, it's easy to see why rockers were and remain so attracted to Johnson's work, which has been covered more recently by White Stripes and Jack Rose.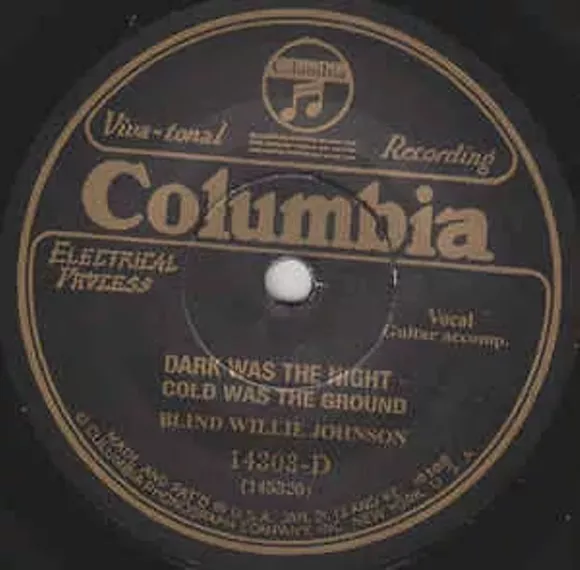 Many people's first introduction to Blind Willie Johnson is the song "John the Revelator," thanks to Harry Smith's inclusion of it in the "Social Music" section of the famed and venerated
Anthology of American Folk Music
set (Folkways, 1952). It's a fairly typical Blind Willie song: a man's voice growls "Who's that a- writing?," and is answered by a sweet female soprano (believed almost certainly to be Willie B. Richardson, later Willie B. Harris, Blind Willie Johnson's first wife), who sings "John the Revelator" three times in a row, until they both croon in unison, "A book of the Seven Seals." I cannot think of any other song that makes the act of writing (which here sounds to me like "riding," but then again I also misheard the subsequent line as "book of the seventh seal," which shows how many times I ditched Bible study) sound so intense, so active. It makes sense when you consider the song is about the Apostle John penning the onslaught of apocalyptic imagery that is the Book of Revelation.
Love in Vain
director and screenwriter Alan Greenberg has written that "in the history of recorded blues and spirituals, there is no greater singer and songwriter than Blind Willie Johnson," perhaps unaware that most of Johnson's songs are rewritings of older hymns and spirituals, but no matter. Greenberg goes on to praise Johnson's vocal range and talking guitar. After singling out "Dark Was the Night" and three other numbers, he asks the reader to "try to find equally visceral conviction any other place or time."
Johnson sings in two clearly distinct styles—at times he sings an octave lower and with different intonation. On "City of Refuge" it can be argued that the two styles denote separate people, though the song is told in a third-person narrative. In her book Who Set You Flowing, Farah Jasmine Griffin describes how Johnson begins the song narrating a scene in the style of a "blues singer," but by the end has adopted a preacher's tone—deeper, raspier, almost a shout. "Dark Was the Night" is also a dialogue of call and response, in its own way. Francis Davis writes in History of the Blues that "to an even greater extent than Son House's, Johnson's music was charred with purgatorial fire. He was a man of God, perhaps even a religious fanatic, but he ranted like a man possessed by demons." Johnson could just as easily be seen as channeling the intensity of a rural black preacher from a Pentecostal, Holiness, or Baptist church. (Many blues writers and scholars, with the notable exception of the great Paul Oliver, seem compelled to issue caveats when discussing gospel blues, essentially saying that such and such bluesy musician is authentic even though she or he sings spiritual songs.)
There's one known picture of Blind Willie Johnson. To me, he doesn't look like much of a religious fanatic in it, though it can be hard to tell these things. Johnson is seated in front of a piano and a tin cup hangs from the tuning pegs of his guitar, evidence of the way he made his living, singing on street corners and in churches across his hometown of Beaumont, Texas, and beyond. Johnson was born near Waco, Texas, in 1892. He was not blind at birth. There are several stories about how he lost his sight; the most credible has his stepmother throwing lye into the child's face at the age of seven to get back at his father. From an early age, Johnson was drawn to music; his father made him a guitar out of a discarded cigar box until he could afford a real one in his teens. Willie was a popular performer at dances as soon as he began to play them, but the call to glorify God prevailed. So he infused his blues with a gospel message—a new and radical thing back then.
It was not called gospel blues at the time, but this music was a pretty popular form in the 1920s and '30s. These sanctified singers can be grouped in several categories. There are the so-called guitar evangelists, the first of whom to record was Blind Joe Taggart and the second the Reverend Edward Clayborn, whose label credited his early recordings as simply "The Guitar Evangelist." He's often derided because his jaunty yet vaguely halting little songs all sound basically the same, but I rather like that about him. Then there are the street-corner singers—with whom we'd surely group Johnson—who often affected booming or otherwise ear-catching vocal styles so as to be heard from blocks away. There are also the recordings that shout-singing preachers made with their congregations. Many early bestselling records were preacher recordings (this was in the period before radio became a mass phenomenon). A further sizeable element of sanctified blues is composed of the spiritual and gospel songs recorded by blues singers and blues-affiliated songsters—many pre-war country blues singers cut gospel songs, including Charlie Patton and Bukka White, both of whom recorded sanctified numbers under aliases for a variety of reasons.
If we are to place "Dark was the Night" into any sort of tradition simply based on the way it sounds, it would most likely be under the small but exciting heading of sanctified blues numbers recorded with idiosyncratic accompaniment. This also includes, for example, the work of Luther Magby. His "Blessed Are The Poor In Spirit," (from his only 78, on the OKeh label, of which supposedly only one copy still exists!) is just mumbly, gruff vocals set to organ and tambourine. I love Magby's voice and think of him fondly as the Biz Markie of this kind of music. The instrumental coda sounds like somebody tap-dancing along to a carousel pump organ. The tune's title refers to a bit of scripture from Matthew: "Blessed are the poor in spirit, for theirs is the kingdom of heaven." Writing about Magby in the All Music Guide, Prof. Eugene Chadbourne makes the rather unbelievable claim that "in 2002, he was still maintaining a busy performing schedule, including gospel shows at a variety of state fairs." How this could be true and yet Magby remain unrecorded beyond two songs from 1927 is tough to fathom.
Then there's the Texas-based Washington Phillips, whose recordings usually consist of a short sermon followed by vocals accompanied by an unknown instrument which has best been described as a "celestial ice cream truck" (I forget who said that). The instrument was long been presumed to be either an autoharp or a dolceola. For years, experts (including musician/ producer Jim Dickinson) leaned towards the dolceola, a sort of miniature piano that was sold door to door in the '20s and never took off in popularity.
More recent research
has found that Phillips actually played two zithers simultaneously, with both hands!
The final song in this category I want to address was recorded in Memphis ten months before "Dark Was the Night." It's Blind Mamie Forehand with her husband, AC (or Asey). "Honey in the Rock" seems to me the perfect companion song to "Dark," from the similar way the slide guitar is used to "answer" certain lines (though of course that is a common conceit of country blues). Mostly it's just the tune's ethereal, ghostly nature. Gospel historian Horace Clarence Boyer wrote about Forehand's recording in a songbook for the group Sweet Honey in the Rock, relating how "the song became widely popular among Pentecostal, Baptist and Methodist congregations but, as often happens, it underwent a slight textual change on its way to popularity." So while Forehand titled it "Honey in the Rock," as various congregants sang the tune later, they added "Sweet" to the title and it became known as such. In the early '70s, Bernice Reagon formed an all-female a capella gospel act which took their name and part of their inspiration from Mamie's tune. That's understandable; it's unbelievably beautiful. A friend who'd never heard it before enthused, "holy moly—that's ambient blues!" One bell, which is either a triangle or (most likely) an untuned service bell, is struck repeatedly throughout. And then there's Mamie's strong yet quavery voice, which never moves above a moan, though you want it to. It's that restraint, and the absolute strangeness of the arrangement, that forces me to listen to the song over and over.
The 1920s and '30s, when all this music was made, was a time of great religious fervor and upheaval throughout the United States. Entire new denominations and sects sprang up, many of them newly energized by the torrents of the Azusa Street Revival, held in Los Angeles from 1906 to 1909. Among other things, the Azusa Revival begat the Church of God in Christ (COGIC). In the excellent study by C. Eric Lincoln and Lawrence Mamiya, The Black Church in the African American Experience, the COGIC is shown to have given unprecedented roles to women; it had uncharacteristically interracial origins as well. Today it is by far the largest African-American and Pentecostal church, with almost six million members.
In the liner notes to a compilation on Dust to Digital culled from his extensive collection of 78s, Joe Boussard writes of "Dark was the Night": "I think it's a moaning song that was probably sung in the slavery or Civil War days when they were picking cotton. I think it was handed down. It is incredible that they would make a record of a song like that. But they did it. It shows you the kind of feelings people had in those days." I personally don't think emotions themselves have changed too dramatically in eighty years, but I have come to realize in my research that the song is sort of a moaning song, one that's part of the kindred tradition of lined-out hymnody.
"Lining out" is the practice of rapidly singing or stating the upcoming lines of a hymn for the congregation by a song leader or preacher. Leadbelly is quoted in Harris's book as saying that "sisters in the Amen corner" just as often performed the role. Today it's the principal form of singing—purely a capella lined-out hymns—in the Southern Old Regular Baptist church; there are several excellent recordings of this material on Folkways. What "Dark Was the Night, Cold Was the Ground" is above all else—and this would have been instantly familiar to his audience at the time—is an example of a capella hymnody that just happens to be largely wordless. Those first nine notes picked out on the fourth string mimic the song leader, and the moaning melody is then repeated back using the slide.
The original hymn "Dark was the Night" was written by Thomas Haweis, an English physician and clergyman who wrote hundreds like it. First published in 1792 and originally titled "Gethsemane," it was one of the many hymns taught to American slaves in the 1800s by British missionaries. Gethsemane was the garden where Christ prayed and suffered for the sins of the world, the night before he was crucified. According to Luke 22, Jesus's anguish in Gethsemane was so deep that "his sweat was as it were great drops of blood falling down to the ground." It was also on that night in Gethsemane that Christ was betrayed by the disciple Judas Iscariot, an event that was dramatized in Pasolini's 1964 film
Gospel According to St. Matthew
using Blind Willie's song as the soundtrack.
Also worth hearing is a version of the hymn sung by a woman named Mary Price, recorded in the mid-1950s by Frederic Ramsey Jr. The fieldwork that led to Ramsey's recording came about when he "sought to explore sources that would lead listeners back to the decades between the emancipation of the slaves in 1863 and 1900." This version is a solo a capella performance, but in the space between verses you can hear Price speak-sing the "lead" line rapidly before repeating it back, as the congregation would.
Johnson is justly revered today (
All Music Guide
calls him "perhaps the finest singing evangelist of all time"), but he never recorded after 1930, though he continued to sing on the street, attend revivals, and eke out a living playing music. Michael Corcoran writes of further sightings of Willie, most notably his appearance on the radio in the Second World War when he sang about God moving on the water, updating his tremendous song about the Titanic to reflect current fears of German submarines and warships. Johnson died an awful, pauper's death in 1945. After a fire destroyed his home in Beaumont, Texas — and after being denied treatment at a local hospital because he was blind, or black, or both—he returned to his house to sleep in his rain-soaked bed, where he died of pneumonia days later.
I wanted to save some of the accolades for last; they've all come since Blind Willie passed away, in any case. Ry Cooder has described "Dark Was the Ground" as "the most soulful, transcendent piece of American music recorded in the 20th century," while Joe Boussard says, "There's more feeling and meaning in that record than anything I have ever heard." Samuel Charters weighs in with this: "What Willie did in the studio was to create this mood, this haunted response to Christ's crucifixion. It was the only piece he played like this, and nothing else similar to it was ever recorded. It remains one of the unique masterpieces of American music."
Perhaps the greatest honor is this, however: the song is currently hurtling into the farthest reaches of our solar system, included on the Voyager Golden Record, copies of which are attached to two separate space probes launched by NASA in 1977. The probes themselves were conceived not only as a means of collecting information about Jupiter, Saturn, and the outer reaches of our galaxy, but also as a friendly "What's up" to any alien intelligence out there.
The Voyager Golden Record comes with its own self-playing stylus and contains 90 minutes of music from the history of recorded sound. The anonymous blogger who calls himself Celestial Monochord argues that Voyager record compiler Carl Sagan, who got his PhD around 1960, at the height of the folk revival, was clearly influenced by the humanistic, global aesthetic of the Folkways label in deciding what to include on his golden record, adding that Alan Lomax served as an advisor. Lomax made specific recommendations that are known to have wound up on the record, such as John Cohen's 1964 recording of a young Peruvian woman's wedding song; Beethoven and Chuck Berry also are included on the record. I just love the idea that this song with the word "ground" in its title, this work that's simultaneously so visceral and ethereal, is hurtling farther out into the cosmos every day, as if to say, "Hello there; please don't hunt us down and kill us. I mean we can't be too bad—look, we recorded Blind Willie Johnson!" to alien species who might encounter the thing and play it on their intergalactic hi-fi.