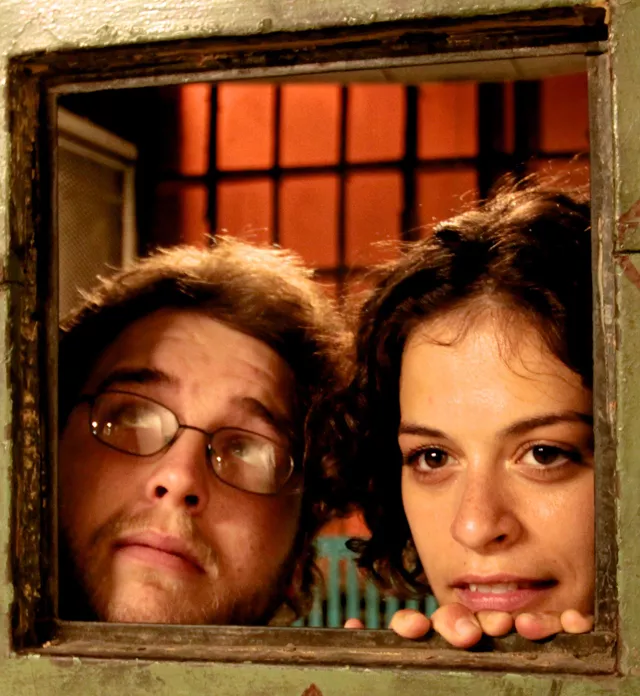 Steve makes sure that when Jen sings, "Get maaad," the music gets mad too. Illy Mack is a minimalist soul-pop duo (singer-keyboardist-guitarist Jennifer David and bassist-drummer Steve Kendzorski) whose charm is born of raw emotion and the ability to translate it into a song and a stage show.
David, who's a lively brunette and a lifelong pianist with a dynamic balladeer's voice, sings and plays keyboards set upon an ironing board, with a guitar and saxophone strapped to her back. Kendzorski slaps the bass from a stool where he bangs the snare and kick drums with each foot. For the songs, David brings melodies and wordplay to her would-be bro Kendzorski (a guitar teacher at Detroit School of Rock and Pop Music), and they take it from there.
The pair doesn't shy from candid and crude onstage banter. Turns out they don't shy away from fighting each other either (yes, even with fists). But, as it is with most collaborations in the arts — evoking emotion is key.
Metro Times: You mentioned someone writing the word "gimmick" about your lo-fi, yet elaborately wrought live setup. ...
Steve Kendzorski: I felt charged with a mission after that. That when we recorded the songs for the 7-inch [recorded at BGC Studios for Five Three Dial Tone records], they would stay true to what we could perform but also to where you can listen to it and not be distracted by any possible gimmicky-ness.
Jennifer David: It's easy to say gimmick, but I can only make songs because it's just me and you. I just feel so fucking comfortable around you, Steve.
Kendzorski: There's other chemistry involved too. Me and Jen will fight, but that's made us grow closer. For a while we literally fought, physically.
David: I mentioned about when you spat in my face.
Kendzorski: Oh, god, dude. ... Did you mention the rest of the story?
David: No, we did not need to bring that up.
Kendzorski: Oh, but we can bring up me spitting in your face. I held her head back so she couldn't close her mouth and I spit in her mouth.
MT: What makes the live show work?
David: Because it's like we're just hanging out on stage. Me and Steve can be raunchy when we hang out and say raunchy stuff and try to gross each other out. People get into it.
Kendzorski: For our first few shows people thought we were dating, 'cause of the shit I would say.
David: I met Steve five years ago, but there was never any sexual tension between us because I was so in love with the lead singer of his other band [James & the Rainbros]. I kept bugging Steve to give me guitar lessons and we finally wedged in and did it and it was, at first, more an excuse to get wasted and yell and get all this anger out playing guitar and Steve just smashing the drums. Besides, I'd annoy anyone else into quitting the band.
Kendzorski: [nods] She's so fucking annoying.
MT: Still, it seems you're sensitive to each other's talents and foibles as well as sensitive toward the songs.
Kendzorski: Because it's just us two, when we write songs and have these passionate arguments it's like birthing a baby. We're argumentative because we care about the baby, and when we play a show, it's like fucking passing the baby around and saying, "Will you all hold this baby? Yeah, it looks like both of us, but do you think it's cute?"

Illy Mack Trivia
Yes, they are named after the local caricaturist, Illy Mack. (David volunteered at a soup kitchen and saw his name on the sign-in sheet.)
The duo began in late 2008, after meeting in Sterling Heights.
Kendzorski is 26 and lives in Ferndale. The 22-year-old David lives in Detroit.
This is David's first band. Kendzorski has been in five or six, including James & the Rainbros.

The Illy Mack dual 7-inch vinyl release show with the Satin Peaches happens on Friday, Dec. 10, at the Belmont, 10215 Joseph Campau, Hamtramck; 313-871-1966. For more info go to fivethreedialtone.com.