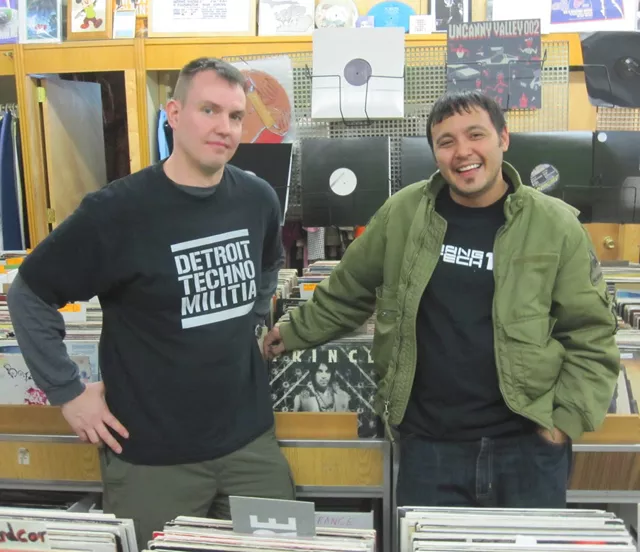 It's midway through a slushy March, 10 weeks and change away from what is probably the world's biggest dance party on concrete.
You say it's too early to begin talking trash about Movement, the three-day electronic music festival (May 28-30) that celebrates Detroit techno and the multitude of electronic subgenres that came in its wake? Nah. The other day at Detroit Threads, where the scene, man, the scene is the primary topic of conversation year round, we ran into super-gadfly Brian Gillespie, whose life has been ruled by ill beats since some of you Girl Talk zombies were just a twinkle in your suburban daddy's eye. For a dude who helped program and promote parties during the infamous Packard Plant rave years of the mid-1990s, and has worked his grimy groove thang in nearly every bar along the Woodward corridor from the riverfront to Pontiac, he still looks, well, sorta great.
Gillespie was at the Threads listening station — come check it out, vinyl heads, there are four turntables to test out the tens of thousands of records in Mikel Smith's one-stop club shop in Hamtramck — listening to gospel records. He took his headphones off. "I need to get the spirit back," Gillespie says. "I'm going all the way back to the roots. What's new that's worth my time? Not much."
It should be said that Gillespie — one half of Starski and Clutch with Todd Osborn — is famously unimpressed with everything. Which is part of his charm. Question: Hearing any gossip about the festival, Gillespie? Answer: "Same shit every year. So and so is supposed to play, bring out some old dudes and break out some new shit nobody's heard of," he says. Translated, he thinks it's going to be pretty fucked-up awesome no matter what because that's just the way Detroit is.
Some of the lineup is already buttoned up, with lots more still to be announced. We tried at 11:59 p.m. before going to press to squeeze out a new name or two without luck. Though Paxahau spokesman James Canning promises a new round of announcements soon. We wring our hands and wait.
The highlights so far: Sven Väth, a love generation party animal pushing 50 whose most important contribution to dance culture might be his role in establishing the idea of the superclub and the execution of pristine big system rigs. Not, as the assholes who write his press releases chirp, that he's "one of the first DJs in the whole wide world to spin trance records." Who cares? What matters is that Väth began documenting mixes from the summer season at Ibiza in 1999 and branded the Cocoon club scene there and in Frankfurt as the ultimate live techno experience. There's some history for you.
Without pure hedonist-entrepreneurs like Väth leading the way the four over-stimulated tech-nerds who make up Visionquest probably don't exist. Berlin-based with Michigan roots, this live-DJ-hybrid quartet is made up of Seth Troxler, Ryan Crosson, Shaun Reeves and Lee Curtiss. If you've been to a basement party on peculiar drugs in the past 10 years you've no doubt stumbled into these guys at some point. Their collective star has been rising higher and higher since a podcast they did for London's Fabric went viral last fall.
Not your thing? No worries, get your righteous dub fix with Echospace, the deep underground duo led by Rod Modell and Steven Hitchell. The group last played the festival in 2008 and has since remixed or collaborated with King Midas Sound, the Sight Below and Mike Huckaby as Echospace and related projects Deepchord, cv313, Intrusion and Variant. They've been incredibly busy and only a handful of discerning heads around the world know about it. Modell and Hitchell produce music just the way we like to roll in our basement — like night slugs: dark, dirty and ugly.
And make sure you carve out space near the sub-bass for Scuba, who's making his second Detroit appearance at this year's festival. Check out the Subterraneans blog for more on the first 20 acts announced, and stay tuned for updates and schedules as they break out.
Detroit Techno Militia
Speaking of breaking out, while at Detroit Threads we bumped into Tom Linder and Bill Stacy, better known to you crazy kids dancing up front as T. Linder and DJ Seoul of the Detroit Techno Militia.
They were getting ready to perform at a special Fat Tuesday showcase (techno and paczki, a marriage made only in Hamtramck) along with Punisher, A. Garcia, and Jennifer Paull and (full disclosure) yours truly of nospectacle.
They were geeked. And for good reason. Both will represent DTM on an upcoming Euro tour beginning in April in Italy, slide down to Barcelona a few days later and veer east again for a date in Marseilles. Other dates include stops in Croatia, Belgium, Amsterdam, Paris and Berlin— where they will play at Tresor, which has represented the historical bond between the scenes in Detroit and the largest German city for a quarter century. Sounds like the big time to us. It is, and well-deserved at that.
"Finally, we're going to play Tresor. It's like a dream come true," Linder says. He's beaming, like a kid in a (psycho)candy store.
"Now is our time to go for it," Stacy says. "I'm 37, my wife is very supportive. We're doing what we love at such a high level."
They sure are, and doing it the right way. Pulling a strong team approach together — comrade DJ Psycho, who's not going on this tour, just brushed past as we talked — along with technical and family support are keys to their success. Angie Linder, Tom's wife, aka technochick313, is an integral part of the DTM dream in terms of publicity and, hell, everything else that matters in keeping the machinery moving forward. They bring in extra gear to enhance sound wherever they play — including a record store on Jos. Campau.
But the best thing about the Militia aesthetic is that it is Detroit through and through. They do techno like Mills, Hood, Banks, May, Parrish, Shake and Craig do techno. They rock in 4/4, 3/4, play the classics, rip the unknown white labels, zigzag back and forth across the universal spectrum, taking ownership of all the music they play, having serious fun wherever they go. Roll out the hardcore .... Godspeed.