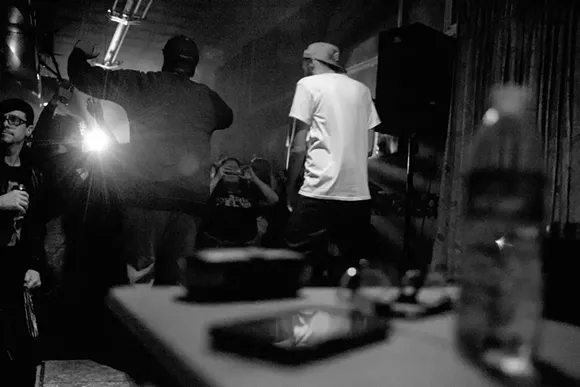 A couple days ago, Detroit's royal hip-hop duo
Passalacqua
dropped a seriously excellent video for their new song "At the Party." If this song (originally released on the
Banglatown EP
a year ago) doesn't make you want to get off your keister and have some fun, you ought to check your pulse.
Even clueless millennials will recognize that sample used as a hook from the get-go. The lyrics are eminently quotable, too, from the "don't touch me/ that's nasty" line to every swipe at how lost in social media so many party-goers are these days.
The video was directed by
Good Pals
and shot last summer, at an actual party. It's innovative and a lot of fun. They get a lot of mileage from the one dolly-plus-selfie stick/however-they-did-that effect.
Bryan Lackner discusses the track itself and the video in a post on the band's Facebook page:
Prior to the 2015 Rap Round Robin tour, we thought it would be good to have some new material out in the world. I had purchased this beat from Dr. B for a different project that never came to fruition, and was thinking about all of the house parties i'd been at where i felt super uncomfortable and didn't know how to interact with anyone. i always try to find the cat or the record collection — if they don't have those, then i tend to hover over the food.

We'd never performed At The Party prior to the RRR, but once we started playing it, we realized how many people related to the sentiment. We shot the video last summer with GOOD PALS, because they are just that.

This is a reminder to embrace the awkward and take it easy.