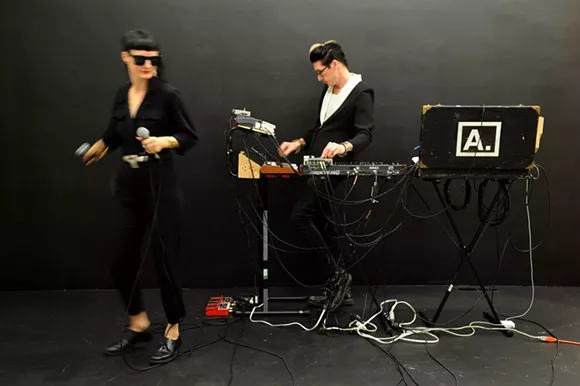 We first
wrote about the ambitious project
over two years ago: Husband and wife electronic music team ADULT. invited a handful of prestigious musicians from around the world to visit them in their Detroit home to work on an album together. The effort was funded in part due to a matching arts grant provided bu the Knight Foundation*. The resulting album is to be called
Detroit House Guests
and will be out on March 17 by the label Mute.
Late last week, the act offered up the following on
their Facebook page
, while also sharing a YouTube link to the track "They're Just Words," featuring Nitzer Ebb's Douglas J McCarthy:
Delighted to share with all of you that our new collaborative album DETROIT HOUSE GUESTS will be released this March on Mute Records. Collaborators include: Dorit Chrysler / Shannon Funchess (LIGHT ASYLUM) / Michael Gira (Swans) / Robert Aiki Aubrey Lowe aka Lichens / Douglas J McCarthy / Lunna Menoh
*
One caveat: The author of this piece was also awarded a matching grant by the Knight Foundation.