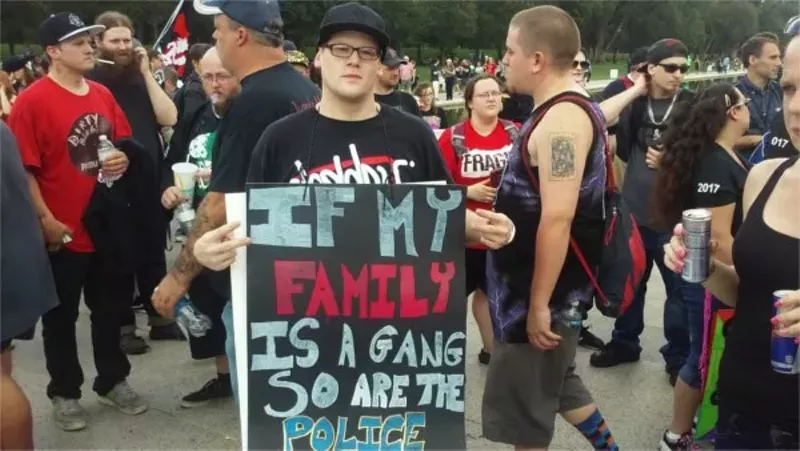 After years of press conferences, legal wrangling, spirited protests, and speeches, the Detroit hip-hop duo Insane Clown Posse has lost its bid to reverse an FBI decision to label the group's followers, known as Juggalos, "a loosely affiliated hybrid gang."
The bureau first identified Juggalos as a gang in 2011,
and as the ACLU has said
, "individual Juggalos are suffering improper investigations, detentions and other denials of their personal rights at the hands of government officials" or denied employment as a result of this unjust designation, according to the lawsuit filed today in the U.S. District Court for the Eastern District of Michigan.
We first reported on the story in January of 2014, in
a cover story by Brett Callwood
showing how Juggalos faced a number of unjust investigations, unfair detentions, and other infringements on personal rights by the federal agencies.
As ICP's Violent J put it
, "Juggalos have been fired, denied housing, and subjected to searches, just for wearing a shirt. They're punishing fans for listening to us, and that's bullshit. We've been around for 20 years. Some people got a hatchet tattoo 15 years ago, when they were young. They might be dentists now, raising their family. They get stopped, the cop sees the tattoo, and suddenly they get put on the gang database. It's insane."
The energetic fight even brought thousands of Juggalos to Washington, D.C. for a fanciful protest that saw speeches from the ICP guys.
The Detroit News reports
that the appeals court affirmed a Detroit judge's decision that did not find the FBI at fault.