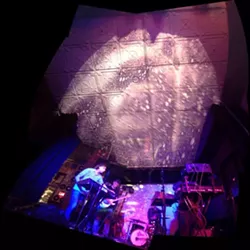 As we
wrote about last month
, the Ann Arbor-based synthesizer driven group Hydropark have released their debut LP on Detroit label SyncroSystem. The record has been streaming on their Bandcamp page, but the physical copies have arrived, and the band will celebrate its release with a rare live performance at the Elks Lodge in Ann Arbor this Friday, June 17.
Hydropark features the synth explorations of Fred Thomas and Chuck Sipperley, the bass grooves of Jason Lymangrover and the motorik drumming of Chad Pratt. Live shows have always been few and far between for this band, even more so now that Thomas spends most of the year living in Montreal.
Joining them at the Elks will be Ann Arbor's Blue Jeans, who themselves just released an excellent pop record which was recorded by Thomas. Formerly known as the Santa Monica Swim & Dive Club, Blue Jeans are led by Tim Sendra, known for leading the '90s lo fi pop group Veronica Lake. Live appearances have also been few and far between for Blue Jeans, so this is a rare opportunity to catch them, too. Their album is streaming below.
Also performing on Friday is Haunted, whose
Minor Trials
is streaming below:
More details can be found on the
Facebook page for the double record release party
. And remember: Gentlemen, no hats.
Doors open at 9 p.m.; 220 W. Sunset Blvd.; Ann Arbor; $5 at the door; 21-plus.