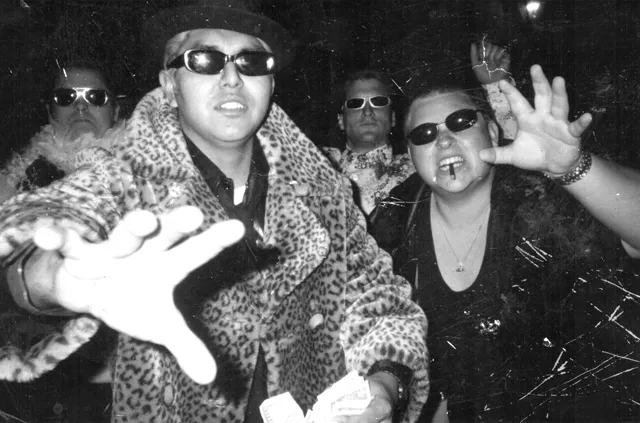 The Bump N' Uglies play Friday, Sept. 21, at the Corktown Tavern, 1716 Michigan Ave., Detroit; 313-964-5103. They'll appear with Public Sex, D.A. and Amazing Larries.
To many, the sport — or rather show — of wrestling is absolutely ludicrous and essentially unwatchable. Everybody but perhaps (and only perhaps) the occasional pre-school fan knows that the result is predetermined. We know that much of what is going on is choreographed. Years before Mickey Rourke played The Wrestler, we knew that the good guy usually gets up from his seemingly unrecoverable injuries, then proceeds to smash the bad guy, trash talk and all, into the canvas, and sometimes out of it. We all know that. Yet the whole ridiculous thing has legions of fans and followers. And it even works at the strange intersection of choreographed mayhem and manic songcraft occupied by the Bump N' Uglies.
Part of it might be context. When singer Bubba Mackenzie (aka Playboy) and drummer Josh Movado (aka Dr. Dynamic) are on stage, with or without wrestling masks, kicking seven layers of shit out of each other, we are able to enjoy it as a spectacle. Who cares about the details? This shit is awesome. That sort of thing. Didn't James Brown take that same idea when he would collapse on stage, and then miraculously recover? We didn't ever think that he was really hurt. Alice Cooper did the bad guys thing in a similar fashion to the Undertaker in the '80s (look him up).
Then there are musicians like Handsome Dick Manitoba of the Dictators, AntiSeen, the Dwarves (guitarist Hewhoshallnotbenamed often wears only a wrestling mask on stage) or ICP. All flaunt their wrestling credentials while performing, on sleeve art and at every other available opportunity. The uncomfortable truth for many serious music fans is that the connection between wrestling and rock 'n' roll has, for a long time, been a lot closer than he or she might like to think.
All of that said, few have ever put the two elements together in a more entertaining manner than the Bump N' Uglies. Formed in '95 by Mackenzie and a singer named Matt Spaghetti Webster, with Brian Burnell on drums, the band played a couple of shows with no bass player and then found Rob Rossetti. Shortly afterwards, Movado joined on drums and then, around '96, Amado Guadarrama came in from the band Catfish. Mackenzie switched to vocals, and the lineup was complete.
"By the end of '96 I was playing shows with them and by '97 we were all writing together," says Guadarrama. "That's when it turned it into the band that people really know us as. Before then, it was like a Meatmen-type, comedy, offensive juvenile rock band."
"All the good toilet stuff was written by Spaghetti," says Movado. "But it was fun. For myself when I joined, I was 16 so it was right up my alley. Toilet humor, bitches being on the rag, statutory rape, jerking off — it was fun. There were no rules and it was punk rock. We knew where we were going. Then we brought in the wrestling angle, and it took on a whole new angle."
The wrestling thing was not a gimmick. Mackenzie and Movado wrestled as a tag team, also called the Bump N' Uglies and, while Mackenzie has basically hung up his tights, Movado still wrestles.
"We're all wrestling fans," Mackenzie says. "Amado had brought a lot to the table with the songwriting. Me and Josh wrestled as a tag team and we just starting calling ourselves the Bump N' Uglies tag team. That was the wrestling division of the band. We would wear the crazy stage clothes like the Hawaiian shirt and feather boa, the goofy costumes — that's what we'd wear to wrestle in and we'd pair it up. We knew enough about wrestling at the time. Our buddy Dirty Dan would come out on stage and be our arch-nemesis. For me, it was like, when you go see a band live, you want to see something, even if it's just in terms of energy. I'm an old Kiss fan. I like showy bands. In the end, it almost seemed like we were painting ourselves into a corner with it, but at the same time, it's what we're known for."
"Bubba and Josh are the wrestlers, but we're all fans," Guadarrama adds. "It's like, why not take this bar of chocolate and dip it in the peanut butter? That's basically what we did with punk rock and wrestling. It worked out. We had a pretty good run, and we had a blast."
The Bump N' Uglies took that wrestling showmanship to the limits on stage too. Tables would be set on fire, glasses would be thrown around, and blood would be spilled. If they were to pull those same stunts in 2012, the venue's insurance agents would be having fits. "We played the State Theater, the Fillmore now, and we had two tables on fire," says Guadarrama. "One on top of the other. Josh came on a giant ladder and jumped through both of them. We poured water on it all, which ironically was the problem because there were thousands of dollars of sound equipment up there. They haven't invited us back since."
To be fair, that's hardly surprising. The Bump N' Uglies didn't ever struggle to find gigs though, because they could play with anyone. On one busy night, they played with both ICP in Toledo and then hardcore punks the Feisty Cadavers on the east side of Detroit.
"It was a weird transition," Rossetti says. "You had the tough guy hardcore punks around town who had been around for a while, and it was time for a changing of the guard. We didn't fit in with the tough guy bands, although we played with them. We could play with almost any band. We fit in anywhere and nowhere."
"I think I can speak for everybody when I say that the only time we've ever played an arena was opening for ICP in Toledo. There were 5,000-ish people. We had a show booked that night that we didn't want to cancel, and it was early enough that we could play both. We go play this show in front of all these people. They hated us at first because we weren't ICP, but we ended up winning them over. We did the show, had to load out and made it to the next show, in a bar on the east side with the Feisty Cadavers, and there was fucking 20 people there."
"I had food poisoning too," Movado adds. "Shitting my brains out in the alley, puking between songs."
That's rock 'n' roll. An arena show booked, one member crapping himself into a puddle, and they still played the show to 20 people. God willing, there will be no food poisoning incidents when the band plays its annual(ish) reunion show at the Corktown Tavern this weekend. The band admits that much of the (literal) fire and glass-throwing is gone from the show. What we will get is the awesome punk 'n' roll songs from the Finer Things in Life and So Powerful So Beautiful albums, and a whole load of energy.
"We used to not care if people got hurt, but now we don't want to see our friends injured," says Mackenzie. "There will always be something unexpected there. We don't want people staring at their shoes or getting angry. We want them jumping around and having fun."
Brett Callwood writes for Metro Times. Send comments to [email protected]