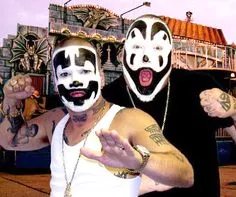 Hoo-ray, it's Juggalo Day!
Juggalo Day is upon us y'all! The official day celebrating the Insane Clown Posse and their devoted fam was February 17th, but the real party is
this weekend
. The annual Detroit event takes place with shows tonight at St. Andrews Hall and Saturday at Harpo's. Tonight's show will feature the first-ever full concert set of the Killjoy Club, and Saturday's show will feature the Insane Clown Posse doing a rendition of "The Ringmaster" in full.
Both shows are sold out, but if you pray to the Juggalo Gods/have a crap ton of money to drop you may be able to score a ticket being resold. If not, grab your face paint and a bottle of Faygo and celebrate Juggalo Day on your own.
We'll have a photographer on hand so be sure to check back Monday for photos! Here's some of the
best pics from last year's Gathering
in Ohio, too, just because.