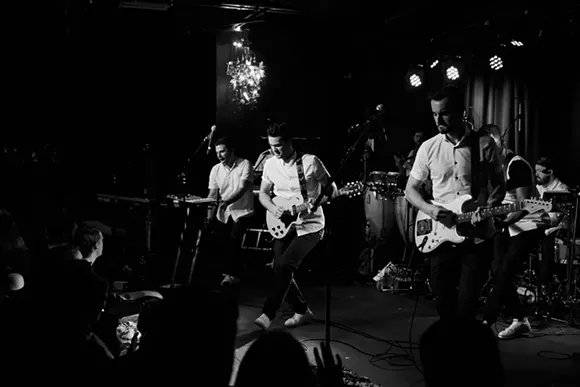 As Detroit's annual Mo Pop festival draws near, local music lovers eagerly await the festival's stacked lineup, including big name artists like Solange, Run the Jewels, and Alt-J. However, the festival's lesser-known acts are equally impressive, representing a wide range of genres. Among these acts is the Shadowboxers — a three-piece band bred from a love of soul, funk, and choreographed dance moves — that is bringing the spirit of Motown to Mo Pop.
Hailing from Atlanta, the retro-funk trio made up of Matt Lipkins, Scott Schwartz, and Adam Hoffman had been playing together for five years when none other than Justin Timberlake sought them out after being impressed by their YouTube cover of his "Pusher Love Girl," thereby changing their fate forever.
"He DMed us on Twitter and then took us to dinner when he came through Atlanta on his tour two weeks later," vocalist and guitar player Schwartz remembers. "We obviously freaked out about it and it changed the whole trajectory of our band and what we were looking to do, how high we set our sights."
Since connecting with the group in 2013, Timberlake has served as a mentor for the Shadowboxers, helping them funnel their diverse influences, voices, and strengths into a concrete sound. "We do have a lot of influences, and it's taken us years to figure out what our identity is," Lipkins says. "I think one of the great things about working with Justin is he just left us and let us kind of discover what that was."
"He 'Miyagi-ed' us," Schwartz says.
The trademarks of the band's unique sound are their soulful harmonies and self-choreographed dance moves, akin to legendary Motown groups like the Temptations and the Four Tops. Schwartz says for a while the band wore burgundy suits, reminiscent of the iconic Motown performers who they imitated "melodically and performance-wise."
"A lot of the derivative, if you draw the line back, comes from [Motown]," says Schwartz.
With only a few songs currently available to the masses ("Woman Through the Wall" and "Build the Beat"), the group's captivating performances more than make up for their lack of repertoire.
"One of the things that's exciting for us is we haven't put out any music, really. We've put out a couple songs that are sort of like breadcrumbs toward what we're doing, but it forces us to have to make the show really fun and entertaining without really knowing the music," says Schwartz. "If you don't know any of these songs, you still have a good time."
The band says they hope to release their record before the end of the year. "We finally feel like all of us are 100 percent confident about this music that we recorded in the way that we wanted to record it, and it sounds exactly like we want it to sound," Hoffman says.
Until then, the trio will be offering a sneak peek of their newest material to anyone who comes out to see them at Mo Pop.
The Shadowboxers perform on Sunday, July 30 at the Mo Pop festival; West Riverfront Park; 1801 W. Jefferson Ave., Detroit; mopopfestival.com; Tickets are $90.