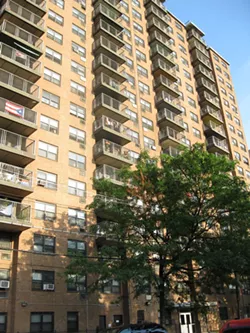 We highly recommend checking out this
recent article
on the Fader about ties between urban planning/architecture and hip-hop. It's smart, original and — because we're always looking for that Motor City tie — its main source is a Detroiter.
Mike Ford, who was born in the D and studied architecture at University of Detroit Mercy, breaks down for the site how bad urban planning (think towering projects with no nearby amenities) in the Bronx gave birth to hip-hop.
Starting with the shitty architecture, Ford gives a quick history lesson on how the iconic "concrete jungle" came to be. Like many United States cities, New York displaced many black communities with the creation of a highway. In this case it was the Cross Bronx Expressway. Developed by infamous urban planner Robert Moses in 1948 — and constructed between 1955 and 1972 — the highway cut right threw traditionally black neighborhoods. In an attempt to curb the displacement his plan caused, Moses pushed the concept of "towers in the park" — an idea that had been conceived by French modernist architect Le Corbusier.
While Corbusier's idea — which was never put into action in Paris — included "social, political, and economic resources for residents" Moses just took the physical plans and left off the important social goods.
"Under Moses, there were no markets, no fresh food, no recreational activities. Not even the parks that Le Corbusier described," explains Ford. "The shadows that are given off by those towers, there's no way that green spaces could flourish. Moses then looped this bad sample over and over throughout the Bronx. So the projects — now completely void of amenities or employment opportunities and coupled with a pre-existing racial bias in America — literally and figuratively represented structural racism."
He then goes on to explain how these tight living conditions were the genesis for hip-hop as they pushed together a number of disenfranchised people who were living, essentially, on-top of each other.
"Hip-hop was born in those towers," he explains. "1520 Sedgwick Avenue is acknowledged as the birthplace of hip-hop — it's a Corbusier-inspired structure, built [on] the advice of Robert Moses. The resulting conditions are what necessitated the birth of hip-hop culture. The lack of private space created a high concentration of people whose cultures cross-pollinated and resulted in the four elements of hip-hop: DJing, MCing, B-boying, and graffiti."
The full article is incredibly interesting and we highly recommend it. Also, if you need a good news peg — check out Netflix's The Get Down, which also details the birth of hip-hop in the Bronx's neglected projects.