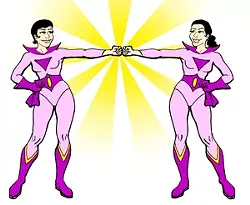 Last Saturday, the Wonder Twins headed to AJ's Music Cafe for Winter Fling ... a Craft Thing, a just-in-time-for-the-holidays collection of crafty wares and DIY goodness for the buying. While pawing through hand-stamped greeting cards and upcycled lace jewelry, they pondered the six degrees of Kevin Bacon-like connection between Detroit's craft and music scenes.
Laura: A lot of people involved in the local arts and crafts world are also either directly or indirectly tied to the local music world.
D'Anne: True. Which makes sense, seeing as there's that common thread of creativity. This starts with the event's organizer herself, Shannon McCarthy.
Laura: Not only does she have her own little craft company, Comfortably Lovely, she's also done a lot of music writing and gave a lot of Detroit bands' their first press. She also joked that virtually every female vendor there was married to or dating a musician.
D'Anne: We got to AJ's right when it started, and the place was already pretty busy. Shannon was running around like crazy, but we snagged her for a couple minutes to ask her about the event.
Laura: Yes. And she brandished scissors at us.
D'Anne: But she did so with a smile on her face, so I think that negates the scissor-brandishing as a hostile move.
Laura: I suppose. Since crafting is a labor of time-consuming, hot-glue-gunning love, I asked her why she devotes her time to making stuff.
D'Anne: She said, "I've always been crafty, and I grew up with not a lot of money, so I often made gifts for people."
Laura: I love homemade gifts and wish I had even half her talent. Since I don't, the people I love will be getting either a Chia Pet or a Snuggie.
D'Anne: Using her craft skills, Shannon could probably make even a Snuggie the perfect gift.
Laura: Um, no. She's a crafter, not a magician.
D'Anne: True. I liked that some of the area's local music aficionados DJed the event.
Laura: Yes. So instead of being forced to hear "Do They Know It's Christmas?" a million times over like at the mall, Winter Fling shoppers got to peruse unique wares while being treated to the likes of obscure lounge tunes and Brit Pop.
D'Anne: Steve McCauley of the local band Scarlet Oaks was spinning the tunes when we got there. We interrupted his DJing and asked him about his craft ties.
Laura: At first he claimed he didn't really have craft abilities but using our fine journalistic skills, we quickly got the truth out of him.
D'Anne: Yes. Apparently he's a damn fine cabinetmaker. He promised to make me Heart Dreamboat Annie-themed cabinets for my kitchen. I'm holding him to that in print.
Laura: And I am absolving him of this promise to you. In print. Though Heart-themed cabinets would be totally sweet.
D'Anne: He asked us for song requests. You asked for a Pulp song. Because you're totally gay for the U.K.
Laura: Well, you requested a Neil Diamond song — because you're totally gay for Jewish adult contemporary artists who have put out Christmas albums.
D'Anne: Let's see ... Neil Diamond, Barbra Streisand, Barry Manilow. Yup. Totally true. I requested "Shiloh." That's my favorite because it's about an invisible dog.
Laura: What? No, it isn't. What is wrong with you?
D'Anne: Yes it is. I learned it on VH1 Storytellers. But he didn't have it — instead he played "Girl, You'll Be A Woman Soon." A classic song about menstruation.
Laura: You have serious problems.
D'Anne: Shannon also introduced us to Willa Ford.
Laura: That is not accurate. She introduced us to Willa Adamo, a high school senior who teaches the Rock 101 program with Augie from the Hard Lessons at School of Rock Rochester.
D'Anne: This automatically makes her cooler than Willa Ford.
Laura: Willa was volunteering at Winter Fling. Her defining contribution was that she blew up all the balloons and taped the snowflakes to the ceiling.
D'Anne: That might not sound impressive, but AJ's was very nicely decorated — there were perhaps a million balloons and paper snowflakes, which required mad taping skills, not to mention helium-producing lungs.
Laura: When we asked Willa why she liked crafts, she said, "I could go buy a shirt at Forever 21 and three other girls would have it. Here you're supporting something local, you know where it came from and it's unique."
D'Anne: Ironically, the dress that Shannon McCarthy wore was from Forever 21.
Laura: We can't all make our own clothes.
D'Anne: What do you mean "we" — like you've ever made your own clothes? Writing "I (heart) N.K.O.T.B. 4-Ever" on your jeans with a Sharpie doesn't count.
Laura: Well, writing it with puffy paint does.
D'Anne: Next we talked to Rob Mills — he was there selling his paintings of swearing sloths, apathetic cephalopods, and gas-passing unicorns. Perfect for any kid's bedroom.
Laura: He also plays bass and sings in a band called Black Chantry. A chantry is when you have a church in your basement.
D'Anne: You are obviously a chantry expert. About his music-art connection, he said, "I'm a creative person — if I don't create stuff, I feel weird."
Laura: You know what makes me feel weird? When you randomly ask people who were nice enough to talk to us if they ever paint using their own blood.
D'Anne: Look. If I'd never asked him, he probably wouldn't have busted out his serial-killer portraits for us to see.
Laura: OK. Fine. You win. Because those were awesome.
D'Anne: Also perfect for any child's bedroom.
Laura: People looking for whimsical, colorful, kid-appropriate paintings would also like Jason Gibner's work. As he said, "I paint rainbows and robots and monsters — stuff that I like."
D'Anne: He went to art school in Grand Rapids, and said he used to paint more serious stuff. He's now a stay-at-home dad, which might help explain his current thematic interests.
Laura: And in addition to his art-making, he's also one of the founders of the Bang — a popular mixtape dance party in Ann Arbor.
D'Anne: It sounds really fun. The Bang New Year's Eve has a Back to the Future theme. I think that means everybody must come dressed as a DeLorean or a clock tower.
Laura: Or you have to come dressed as your parents when they were your age. I also think Calvin Klein briefs are mandatory.
D'Anne: I'm not sure about the briefs, but you know what should be mandatory? Supporting your local DIY crafters. Detroit has an abundance of talented makers. If I were a DJ, I'd dedicate the song "She's Crafty" by the Beastie Boys to the Motor City.
Laura: That song, I'm pretty sure, is more about a cunning tramp with street smarts than a woman who knows her way around a sewing machine.
D'Anne: Fine. Well, I'll just commission one of these crafter-musician types to write a proper song.
Laura: Perfect.