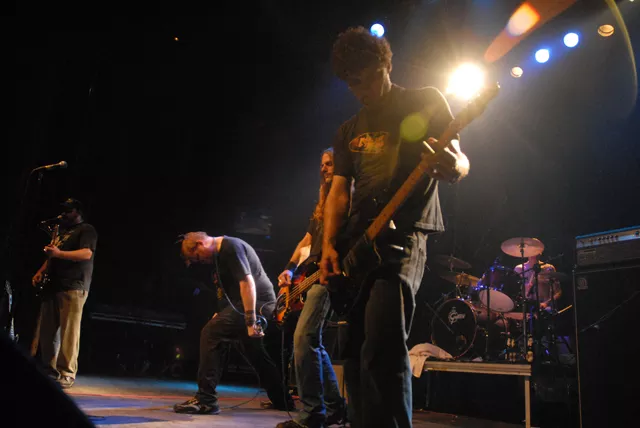 Since 1995, the sweaty, hairy, monolithic blues machine called Five Horse Johnson has been dragging its overexposed ass across the globe in search of like-minded beer swillers in an attempt to spread the gospel of Midwestern heavy-as-fuck retro hard rock. In that time, the band has released six albums, toured with stoner rock legends Clutch, and changed drummers more times than Spinal Tap.
The band, consisting of Eric Oblander (vocals-harmonica), Phil Durr (guitar), Brad Coffin (guitar-vocals), Steve Smith (bass) and Eric Miller (drums) is preparing to go into the studio to record its seventh full-length record after a four-year hiatus. They'll follow that with a European tour in June. Metro Times spoke to Oblander about Black Sabbath, Detroit ties and his band's not-so-mysterious popularity in Holland.
Metro Times: Five Horse Johnson: A stoner band?
Eric Oblander: For some reason we have been embraced by the stoner world. ... What it turns out to be is that we all drink from the same pool, like Zeppelin, Sabbath and all that kind of stuff. For some reason, the stoner-rock kids decided that we were the flagship stoner-blues band. That's what we get called, especially in Europe.
MT: So you do well in Europe?
Oblander: We do well in London, but we have a tougher time in smaller cities. Our bread-and-butter in Europe is Holland, Belgium, and we do really well in Spain. Those are the places that we draw the best and that we return to the most. I have no idea why. Holland was the first country that invited us over. We pretty much carpet-bombed that country for a good five years of playing every place where they had a venue bigger than 200 people. Holland is so little, it's like touring Ohio.
MT: You're a Toledo band. Why so many Detroit ties?
Oblander: Our guitar player Phil Durr [of Big Chief, Luder and others] is there. He's great. Our label's there. We've had revolving drummers and most of them have been from Detroit. When we're somewhere far from the Midwest and we're trying to describe where Toledo is, a lot of times it's easier to say we're from Detroit.
MT: Where does the band name come from?
Oblander: It kinda fell out of Brad's mouth when we were trying to come up with a name. We were talking about motors. It's a boat motor, and I think he had a Five Horse Johnson. We thought that it was a cool name; it sounded like some old blues guy. As my dad says about that boat motor, "It makes a lot of noise and doesn't get you very far."
MT: When was the last time you played Detroit?
Oblander: Oh, man, it's been a while. Probably when we opened for Clutch at the State Theatre, somewhere around '08. It's been a long time.
MT: What are your plans for the release show?
Oblander: This show's a pre-tour kickoff show. We're gonna try to run through as many of the songs as we can and not fuck them up. ... We'll see how that works out.
MT: Future plans?
Oblander: If this tour goes well, we'll record a live album from it. That will probably take a long time to get released. We haven't been to Europe in a long time. I think we'll see if we want to do it anymore after that.
Five Horse Johnson plays May 21, at the Corktown Tavern 1716 Michigan Ave., Detroit; 313-964-5103; with Luder.