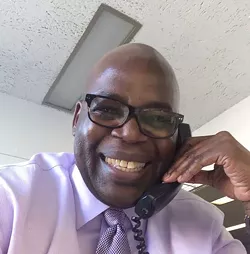 If you have had anything at all to do with jazz in the city of Detroit, you've appreciated the work of Wesley "Skip" Norris, even if you didn't know it at the time. That's what it means to be a booker/promoter/manager — all the logistical, behind-the-scenes work without the glory of stardom. By all accounts, however, Norris was not a man seeking stardom — he was a man whose heart thundered with so much love for the music that he made it his life to uphold the jazz tradition in a city steeped in so many of its styles.
Norris tirelessly booked and promoted jazz in Detroit, right up until his untimely death in January at the young age of 58. His lengthy, distinguished career as a concert presenter and artist manager was built by his deep knowledge of and affinity for the jazz idiom; he presented everyone from Sonny Rollins and Chick Corea to Nancy Wilson and Branford Marsalis.
Not only did he serve as the artistic director at numerous notable venues such the historic Baker's Keyboard Lounge, the Jazz Café at the Music Hall for The Performing Arts Center, and Jazz at the Centre located in the Northwest Activities Center, but he also wrote essays on the history and evolution of jazz.
At the time of his death, Norris was the Director of Booking for Gail Boyd Artist Management, a company with a mission perfectly suited to his lifelong work: perpetuating jazz as an art form by supporting the artists who create the beautiful music.
Now the jazz artists behind the beautiful music are coming together to honor this man's beautiful life with a full concert planned for June 9th, 2017. It will be held at 8pm at the Northwest Activities Center; proceeds from the event will be given to the college fund of Norris' daughter, Sarah Norris. The Hartford Memorial Baptist, where Norris served as trustee, is administering the fund.
Norris was a deeply passionate advocate of jazz and jazz musicians, so it comes as little surprise that so many talented artists are coming to Detroit for a night of music to celebrate him and his efforts to preserve the vitality of the music.
Linda Yohn from WEMU is on hand as host for the evening; musicians you can expect to see include saxophonist Branford Marsalis (who has been referred to as arguably the most respected living U.S. jazz instrumentalist); pianist Joey Calderazzo; vibraphonist Joe Locke; saxophonist JD Allen; vocalist Tammy McCann; Brazilian vocalist and guitarist, Nanny Assis; pianist Eric Reed; vocalist Jean Baylor and drummer Marcus Baylor; and saxophonist Victor Goines.
Gary Schunk on piano, Ralphe Armstrong on bass, and Bill Higgins on drums — all Detroit born and bred — are the rhythmic backbone for an evening that is sure to be a vibrant exploration of the beauty of jazz music in its many forms.
$40 gets you in with general admission, while $100 VIP tickets include a pre-concert reception, special priority seating, and a meet-and-greet with the musicians, too. All attendees are invited to a CD signing featuring the various performing artists, as well.
Pay your respects at the Wesley "Skip" Norris Memorial Jazz Festival at the Northwest Activities Center on Friday, June 9th; Pre-concert reception at 6:30pm for VIP seats, doors at 7:15 for general admission; 18100 Meyers Road, Detroit; $40 general admission, $100 VIP tickets.