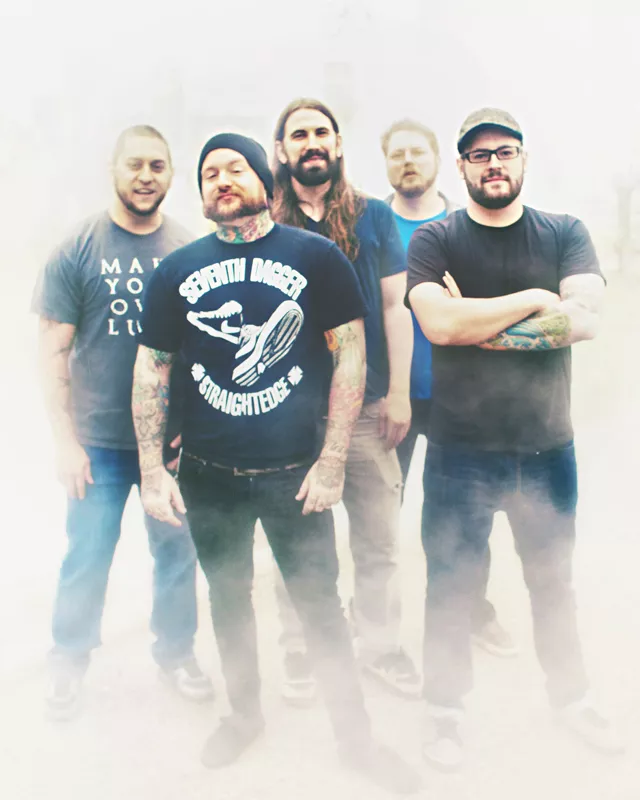 Homicide city
How come there ain't more bands like Black Dahlia Murder from Detroit?
Look up "death metal" in Wikipedia and it says "an extreme subgenre of heavy metal. It typically employs heavily distorted guitars, tremolo picking, deep growling vocals, blast beat drumming, minor keys or atonality, and complex song structures with multiple tempo changes."
Type in "grindcore" and get this: "inspiration from some of the most abrasive music genres — including death metal, industrial music, noise and the more extreme varieties of hardcore punk."
Others, including this writer's father, dismiss said subgenres as "just noise," or "Cookie Monster music" because of the vocals. I would advise those people to avoid the Black Dahlia Murder then, because this band straddles lines between those two styles, its sweaty sack tea-bagging the middle ground.
There are noisier, less melodic bands in Detroit than the BDM (Wolf Eyes immediately springs to mind), but there are few who employ a tactic of chaotic brutality with such style and panache. When they opened for English grindcore pioneers Carcass in Detroit back in May 2009, they were in no way out-classed or out-pummeled. They did what all support bands should do — they raised the bar and laid down a "follow that" challenge. 
So, yeah, BDM live is something to behold. The band genuinely doesn't rest until it's done everything possible to smash you around the head where the only appropriate response is to kick seven shades of shit out of each other in the pit. The music is an acquired taste, to be sure, but those who dig it really dig it and the appeal of this band stretches far outside of their home state. "Everywhere we frequent, we're well-received," guitarist Brian Eschback says. "Europe, South America, Japan — there's Black Dahlia people everywhere. That's how we do this full time now — but it's a hard world out there for a touring band. We always try to bring as much energy as we can to the stage, and it helps when the crowd is bringing the energy too."
Considering how the music biz is in the outhouse alongside the world's economy, it's impressive that this Michigan band of frightful suburbanites earns a living getting in a bus and screaming at the world. The band, completed by front man Trevor Strnad, guitarist Ryan Knight, bassist Ryan "Bart" Williams and drummer Shannon Lucas, is metro Detroit based, and aside from Shannon (Virginia) and Ryan (Georgia), Michigan born. 
You could say the band is fish out of water here too. While the area has obviously produced some of earth's best music, there are shockingly few local metal bands that made a name beyond Detroit. We could cite Seduce, maybe, but there are fewer still from the world of extreme metal that fit, you know, Wiki's death metal-metal grindcore definitions. (The local band Walls of Jericho are an obvious exception.)
Perhaps because of the bleak, busted brick and heavy metal landscape, Eschback thinks they live in the perfect spot. He says. "People want to make stuff. Would we sound the same if we were from someplace else? That's hard to say. There are so many variables, so many different things that happen every day. When you look at the space-time continuum, who knows what would have happened if we came out of Toledo. 
"There's a little bit of everything here," he continues. "There are literally hundreds of bands in the metro Detroit area, all doing all sorts of different stuff. There's fervor for the arts in general in southeast Michigan. I just know that we love playing this kind of music and our whole life has been gravitating towards this."
When considering harsh landscape and economic climate — a true breeding ground for art and music — of Detroit, it's surprising that more extreme metal hasn't risen from the city yelling and screaming and made itself known on international stages. What could it be about the San Francisco Bay Area, for example, that birthed bands like Metallica, Exodus and Testament? Detroit had a hardcore punk scene in the '80s that had an international underground following, featuring the likes of Negative Approach, the Crucifucks, Meatmen, Violent Apathy, L7 (not the '90s girl punk band) and the Necros, and those bands could inspire a violent mosh pits much like the metal bands. But when it came to technically gifted, hard-riffing metal music, the vast majority of the bands that we had (and have) stayed in Detroit. The Black Dahlia Murder, and fellow local metal heads Battlecross, are helping to change that.
Also, BDM's international cult success is due in part to long-standing Metal Blade Records. For the band, as well as Battlecross, it's the ideal home. "They've nurtured the band from the second we signed with them back in 2003," Eschback says. 
The new BDM album, Ritual, dropped this year. It's the band's fifth since forming ten years ago, and it's also the best. Still brutal, the band's clearly growing, and there are songs on Ritual that even include — wait for it — a string section. 
Uh, strings? Really?
Eschback: "We do have a song with strings on it," he says. "We added some strange influences — stuff that fits into our style but is different. ... There's a straight up punk/grindcore song. Everyone's on the same page as far as what we want the band to sound like. Everyone had ideas that they were bringing to the table. I would say it's our most eclectic release to date. It's an ambience party, man. You've got swells and valleys in the sound."
No, Black Dahlia Murder hasn't softened, so chances you still wouldn't like 'em. If the idea of brutality, vulgarity, sweat and tinnitus doesn't appeal, stay away. But for those into music that kicks them in the face and then demands applause for the honor, treat yourself.
Friday, Aug. 5, at St. Andrew's Hall, 431 E. Congress St., Detroit; 313-961-8137.