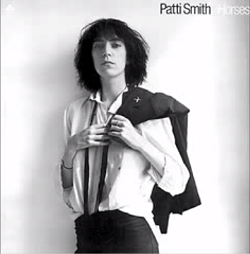 You guys, 2017 is already better than 2016 with this epic announcement from the Royal Oak Music Theatre today.
The godmother of punk rock, Patti Smith, is playing with her band here in metro Detroit on Saturday, March 11 and we are so excited.
Smith will be performing the entirety of her 1975 debut album
Horses (
then known as the Patti Smith Group) with her band. The album propelled the poet into the punk underground at CBGB in New York City with other punk/new wave groups like the Ramones, Talking Heads, Blondie, and the Dead Boys.
Smith is no stranger to metro Detroit as she lived here for many, many years. Smith married the former guitar player of Detroit's MC5, the late Fred "Sonic" Smith, and lived in St. Clair Shores.
Pre-sale tickets go one sale Wednesday, December 28 and can be found
here
.
If you want to brush up on your Patti Smith knowledge (because why wouldn't you?) you should check out her book
Just Kids
that chronicles her early life in New York City and her relationship with the late photographer Robert Mapplethorpe (who took the photo of Smith for the
Horses
cover art). Or check out her most recent memoir
M Train,
also a fantastic read.