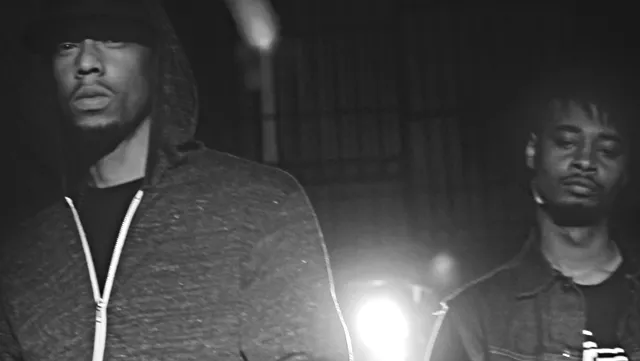 It's just after 3 p.m. in the middle of America, and Detroit rapper Danny Brown does not want to be bothered. He's pushed this interview back twice and genuinely wouldn't be answering the phone if it weren't at his publicists' nudging. Brown, who graced the cover of Metro Times earlier this year, spent the past three weeks crisscrossing the United States promoting XXX, his latest solo album — between constant traveling and road life, he's grouchy at first. The sleep-deprived Brown has been doing press phoners all day to help promote Black and Brown, a 10-song EP that he co-created with freakishly skilled producer-rapper Black Milk. He jokes that he was a "total dick" to Adam Graham of the Detroit News who somehow rubbed him the wrong way before our phone call, and it's not until he admits this that he starts to loosen up a bit. That's Danny.
It's not surprising that reporters are calling. The record generated a considerable amount of buzz on the Web when it was first announced, and both Detroit artists are individually seen right now as two of the more creative hip-hop forces in the country. Considering the concept was to let Brown spit his sex, drugs, and rock 'n' roll words over Black Milk's crisp arrangements and intricate productions, it's obvious that this two-on-one EP would pique curiosity from one coast to the other.
What are folks hyped about?
Black and Brown, released this week on Fat Beat Records, is basically a continuation of the studio sessions both artists initially did while Black Milk was recording his highly touted Album of the Year. On that project, "Black and Brown" was merely a three-and-a-half-minute track they did together, which, realistically, is where most folks figured it would stop. The fan and critical reaction to that song, and the chemistry it created, showed Milk that more songs should follow. So the two cranked out more material. Black Milk reworked it all to create a full EP.
But nothing is ever that simple.
And Brown, who's loved in these parts for his brash, natural cockiness, is surprisingly modest about who did all the heavy lifting.
"It's all Black, man ... he did everything," Brown says. "It's all Black's idea. I didn't do none of this. He came up with the song titles, the concept, everything ... all I did was rap."
It's the truth. Though in fairness, Brown's from-the-hip lyrics will likely capture the most attention.
Though he's abroad touring with Random Axe, Black Milk phoned from Norway to talk of Brown and the EP.
"He had laid some verses down for the Album of the Year and I immediately knew I wanted to take it a step further," Milk says from his Oslo hotel. "We did, like, three or four songs before we even came up with the "Black and Brown" track. I still had all those verses, so I wanted to put 'em to good use."
Though the two briefly discussed creating a longer project during those initial sessions, many months went by before anything happened. Brown got signed to Fools Gold Records and was thus consumed with recording XXX while Milk had to crank out everything for Random Axe. In reality, Black and Brown almost didn't happen. And there were no guarantees that it'd work: these guys are very disparate artists. Brown creates killer rave rap that people dig on Adderall. Milk is more boom-bap, undergroundy, yet with a balanced dose of Detroit flash. Their audiences don't always connect.
"I remember him hitting me up to come to the studio, but, honestly, I was more focused on recording my own shit," Brown says. "I was thinking, 'I'm not gonna interrupt what I'm doing right now to go work on something else.' But at the same time, I've always wanted to do an album with Black Milk ... and the shit came out way better than I expected."
"Both of our schedules are hectic," Milk adds. "When you work with cats with solo things going on ... you take what you can get. I wish we could have done even more material. But whatever. I really wasn't trying to put something together that made a lot of sense anyway. The album is unconventional. It's a different kind of listen."
That much is certain. The EP itself is a scant 22 minutes long and fits Internet attention spans perfectly, which is basically Brown's forte, and most songs clock in less than 2:30. As for content, it's Brown's topically coarse raps and borderline 2 Live Crew-esque pornoriffic lyrics that keep listeners hanging on for close listens. In the past, his lyrical magnetism had been attributed to the uniqueness of his voice and, particularly, the helium-pitched lilt he used throughout The Hybrid, his previous solo effort. Yet on Black and Brown, he raps in his natural voice and his lines are essentially just as magnetic. It's no secret that Brown drops the type of one-liners that could make porn star nipples stand up and salute, but on Black and Brown he takes things in an even raunchier direction. Everything from his deep love of licking clitoris to romping barely legal girls is fair game. His fondness for pill-popping is prevalent, but it's exactly his willingness to admit what most folks hide that makes him so damn listenable.
"His subject matter is wild," Milk says, with a hardy laugh. "It's hood, and super ghetto but it's still fresh. He always has you drawn in to listen. There are points on the album where it's like, 'This dude is out his mind.' At one point he said in the studio, 'I make music I wouldn't want my kids to hear.'"
After a few cursory listens, many folks in the blogosphere into petty comparisons will think Brown's "did he really just say that?" punch lines outshine Black Milk's production prowess. They actually do. But Milk purposely lets Danny get the shine, chooses not to rap at all for the most part, and focused on curating a project where they're not stepping all over each other.
"I'd say he's the only real producer I know in rap music, I respect him a lot," Brown says of Milk. "He would send me some beats then I would record to them, and when I came back it was a whole new song. That's being a producer to me. There's only one beat that I rapped to that made the album. The rest he totally flipped after I left."
Both artists seemed to enjoy the process of crafting a co-album and dig working together. Milk says Brown was beyond easy to work with and wouldn't rule out revisiting a part two in the future. And in Brown's twisted head, it'd be great if that came out on Fat Beats as well.
"Fat Beats passed up The Hybrid, Brown says, as his cantakerous inner self starts to resurface. "They said it was too iffy. They didn't sign me. I wanted to put it out on Fat Beats and they turned me down. They crushed my dreams," he says with a laugh, "and now they dick riding. It's funny how everything comes around full circle though. Now everyone is rah-rah Danny Brown. Shit, two years ago, I couldn't get a Black Milk beat to save my life. But I'm not gonna complain and be a dickhead ... as long as fans like it, I'm cool."
The Black Milk and Danny Brown EP Black and Brown is out now.