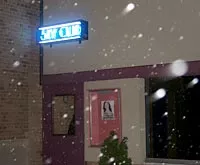 Oh, Royal Oak. The more you change, the more you stay the same. The Sky Club, on the second floor above the Spanish-tinged Sangria restaurant, epitomizes everything that is both fun and passe about this love-it-or-leave-it city.
One has to wonder if the general idea behind the Sky Club was to import Hamtramck hot spot Lush into the suburbs. The vibe is eerily similar — dimly lit room, late '20s/early '30s clientele, house and trance music. But, in contrast to Lush, which is located in an old building with antique ceilings and a real lounge feel, the Sky Club can't help but feel like a converted office space. To its credit, the best feature of this cozy, small room is large loft-style windows that surround the dance floor. These should give a wonderful view of the street below, but on the night I visited they were entirely covered with condensation. The place needs a defogging system.
Money has been spent on the decor of the Sky Club. The room has both sofa-style seating and high tables — and, of course, the bar itself — for all your socializing needs. Tables are adorned with requisite black tablecloths and candles. Perhaps the oddest features of the room are faux statues and soft-colored paintings hung askew on the walls. This seems to be in keeping with the restaurant downstairs, but at worst appears rather tacky.
The point of all this seems to be one thing: give the young, suburban Royal Oak professionals a place to meet and greet. The room and dance floor, especially on weekends, are crowded with folks gettin' down to tracks spun by the DJ. Everyone seemed to be having a grand time, and everyone is affable and sociable enough.
To make up for the $3 cover on weekends, the price of drinks at the bar are quite reasonable. Furthermore, the drink that I ordered was very strong — all the better to get people loosened up and keep them coming in the door. But if Royal Oak is going to keep issuing liquor licenses, the powers that be would be wise to remember that atmosphere is not something you can buy, it's something that you create.
The Sky Club is short on legit atmosphere, heavy on the superficial niceties that give it that appearance. Chances are the club will be quite successful and continue to draw a steady clientele. Nothing wrong with that, but just remember there are other places in the area with much more to offer for your time and money. It all depends on what you want and what you expect. Expect more.