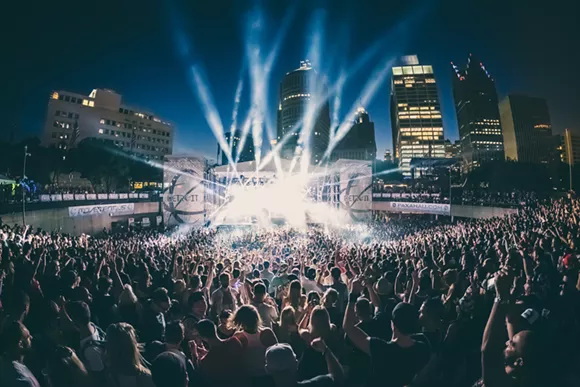 Today, Paxahau announced the full schedule for this year's Movement Electronic Music Festival, down to not only the individual artists, but the showcases and which stages each artist will perform on (some of the stages have different names this year). Also of course they have revealed which day each artist will perform, so you can start mapping your own movements in and out of Hart Plaza ahead of time.
The festival takes place in downtown Detroit on May 27-29. As always, you can purchase a ticket over at
movement.us
(where you'll find the most up-to-date schedule should anything change).
Movement 2017 Schedule:
Saturday, May 27
Main Stage
4 p.m.-5:45 p.m. Luke Hess
5:45 p.m.-7:15 p.m. Josh Wink
7:15 p.m.-8:45 p.m. Nicole Moudaber
9 p.m.-10:30 p.m. The Belleville Three
10:45 p.m.-12 a.m. RICHIE HAWTIN presents CLOSE
Red Bull Music Academy Stage
2 p.m.-4 p.m. Distal
4 p.m.-5:30 p.m. John Arnold - live
5:30 p.m.-6:30 p.m. River Tiber - live trio
6:45 p.m.-8:15 p.m. Larry Heard aka Mr. Fingers - live
8:15 p.m.-9:45 p.m. Leon Vynehall
9:45 p.m.-10:45 p.m. Factory Floor - live
11 p.m.-12 a.m. Earl Sweatshirt
Stargate Stage presented by Thump
12 p.m.-2 p.m. Waajeed
2 p.m.-3:30 p.m. DJ Deep
3:30 p.m.-5 p.m. Mirko Loko
5 p.m.-6:30 p.m. Cassy
6:30 p.m.-7:30 p.m. Octave One - live
7:30 p.m.-9 p.m. Stacey Pullen
9 p.m.-11 p.m. Carl Craig
Resident Advisor Underground Stage
2 p.m.-4 p.m. Altstadt Echo
4 p.m.-5:30 p.m. Matrixxman
5:30 p.m.-6:30 p.m. Rrose - live
6:30 p.m.-7:30 p.m. Headless Horseman - live
7:30 p.m.-9:30 p.m. AX&P (Adam X & Perc)
9:30 p.m.-11 p.m. Function - live
Pyramid Stage
2 p.m.-4 p.m. Golf Clap
4 p.m.-5:30 p.m. Coyu
5:30 p.m.-6:30 p.m. Rodriguez Jr. - live
6:30 p.m.-8 p.m. Dusky
8 p.m.-9:30 p.m. Ben Klock
9:30 p.m.-11 p.m. Pan-Pot
11 p.m.-12 a.m. Robert Hood - live
Made in Detroit Stage
3 p.m.-4 p.m. Alton Miller
4 p.m.-5 p.m. Earl Mixxin Mckinney
5 p.m.-6 p.m. John Jammin Collins
6 p.m.-7 p.m. Norm Talley
7 p.m.-8 p.m. Keith Worthy
8 p.m.-9 p.m. DJ Minx
9 p.m.-10 p.m. Kai Alce

Sunday, May 28
Main Stage
4 p.m.-5 p.m. John Johr
5 p.m.-6 p.m. Francesca Lombardo
6:10 p.m.-7:10 p.m. Death In Vegas Present Transmission - live
7:10 p.m.-8:40 p.m. Joseph Capriati
8:40 p.m.-10:20 p.m. Adam Beyer
10:30 p.m.-12 a.m. Testpilot
Red Bull Music Academy Stage
2 p.m.-3:30 p.m. Octo Octa
3:30 p.m.-5:30 p.m. Red Axes (dj set)
5:30 p.m.-7 p.m. Honey Dijon
7 p.m.-8:35 p.m. Shiba San
8:40 p.m.-9:40 p.m. Paranoid London - live
9:50 p.m.-10:50 p.m. Dopplereffekt - live
11 p.m.-12 a.m. Juicy J

Stargate Stage presented by Thump
2 p.m.-3 p.m. InSOUL
3 p.m.-4:30 p.m. The Saunderson Brothers
4:30 p.m.-6 p.m. Heidi
6 p.m.-7 p.m. Audion - live
7 p.m.-8:30 p.m. Cajmere
8:30 p.m.-10 p.m. Seth Troxler
10 p.m.-11 p.m. Kevin Saunderson as E-Dancer - live
Resident Advisor Underground Stage
2 p.m.-4 p.m. Anthony Jimenez
4 p.m.-5:30 p.m. Orphx - live
5:30 p.m.-7 p.m. Ryan Elliott
7 p.m.-8 p.m. Sleeparchive - live
8 p.m.-9:30 p.m. DVS1
9:30 p.m.-11 p.m. STERAC
Pyramid Stage
2 p.m.-4 p.m. Brian Kage
4 p.m.-6 p.m. ANNA
6 p.m.-7:30 p.m. Daniel Avery
7:30 p.m.-9 p.m. Michael Mayer
9 p.m.-12 a.m. Dixon
Made in Detroit Stage
3 p.m.-4:30 p.m.Thomas Barnett aka Groove Slave
4:30 p.m.-5:30 p.m. Dj Psycho
5:30 p.m.-6:30 p.m. Gary Chandler
6:30 p.m.-7:30 p.m. Scan 7 - live
7:30 p.m.-9 p.m. DJ Seoul
9 p.m.-10 p.m. BXT - live
Monday, May 29
Main Stage
4 p.m.-5:30 p.m. Dru Ruiz
5:30 p.m.-7 p.m. Mathew Jonson - live
7 p.m.-8 p.m. Soul Clap live feat. Amp Fiddler
8 p.m.-9 p.m. Barclay Crenshaw
9 p.m.-10 p.m. Carl Craig presents Versus Synthesizer Ensemble
10 p.m.-12 a.m. Carl Cox
Red Bull Music Academy Stage
2 p.m.-3:30 p.m. TT The Artist - live
3:30 p.m.-4 p.m. Sheefy McFly
4 p.m.-5:30 p.m. Teklife: DJ Spinn & DJ Taye
5:30 p.m.-6:30 p.m. Mount Kimbie - live
6:45 p.m.-7:45 p.m. S U R V I V E - live
8 p.m.-9 p.m. Thundercat - live
9 p.m.-10 p.m. The Gaslamp Killer
10 p.m.-11 p.m. Danny Brown
Stargate Stage presented by Thump
2 p.m.-5 p.m. DJ Harvey
5 p.m.-6:30 p.m. Kate Simko
6:30 p.m.-8 p.m. Patrick Topping b2b Nathan Barato
8 p.m.-9:30 p.m. Kerri Chandler
9:30 p.m.-11 p.m. Jamie Jones
Resident Advisor Underground Stage
3 p.m.-5 p.m. Project 313 - live
5 p.m.-6:30 p.m. DJ Hyperactive
6:30 p.m.-8 p.m. Rebekah Hybrid Set
8 p.m.-9:30 p.m. Drumcell
9:30 p.m.-11 p.m. Ben Sims b2b Truncate
Pyramid Stage
2 p.m.-4 p.m. Asher Perkins
4 p.m.-6 p.m. Ambivalent
6 p.m.-7:30 p.m. Mind Against
7:30 p.m.-8:30 p.m. Recondite - live
8:30 p.m.-10p Paco Osuna
10 p.m.-12 a.m. Chris Liebing
Made in Detroit Stage
3 p.m.-4 p.m. Haz Mat - live
4 p.m.-5 p.m. Twin Cousin
5 p.m.-6 p.m. Remote Viewing Party
6 p.m.-7 p.m. Keith Kemp
7 p.m.-8 p.m. Ataxia - live
8 p.m.-9 p.m. Terrence Parker feat. Merachka
9 p.m.-10 p.m. Terrence Dixon as Population One - live