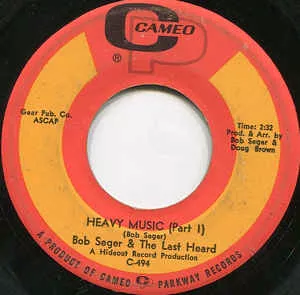 Yesterday, for no reason that I can discern (because there is no way it could have had anything to do with his participation in
a tribute to the Eagles
), a Facebook friend posted a link to
Tal Rosenberg's excellent Chicago Reader piece (on Bob Seger's pre-"Like a Rock" music)
from six years ago.
Titled "Better than a Silver Bullet: A bootleg compilation proves that Bob Seger made his greatest music before he got famous," the feature talks about... well, the subhead tells you much of what you need to know. It's truly not easy to find the recordings Seger made with the
Last Heard
, or
the System
, or his earliest
solo records
.
The piece talks about one best-of bootleg pieced together from all of those sources. Thankfully, the article is more than just a look at Seger's finest pre-fame jams; it goes into detail about how this bootleg came to be in the first place (on the once-beyond-frantically updated
I Love Music website
), why it even needed to exist in the first place, and how it had something of an impact.
The friggin'
Guardian
even
wrote a feature
on what's little more than a CD-R boot which got passed around online.
Now, you and I know that Seger in the 1960s and early '70s made exceptional, hard rockin' recordings in several variations on garage-based music. We haven't covered this era of Seger too extensively in recent times, largely because there hasn't been anything to pin it to — only the
one, kind of anemic CD reissue
. Former music editor
Bill Holdship did write here
about a series of photos which document Seger's rise to fame and were collected into a book. So, there's that.
Anyway,
we
shall never forget how great this stuff is. And continue to hope for a legitimate reissue of that large cache of rare, hard-to-find music by Michigan's rocker laureate.