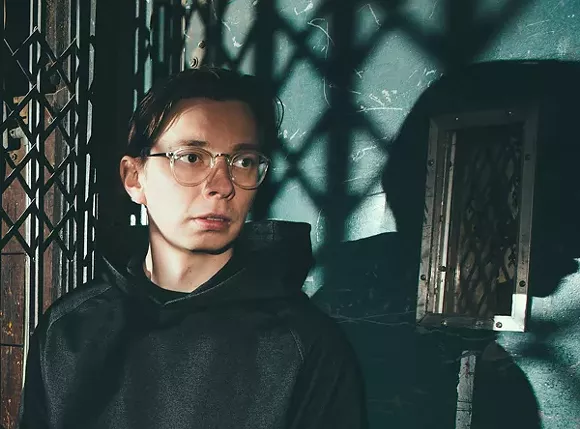 Jakub Alexander plays ambient dance music under the name
Heathered Pearls
. And while he's based in Brooklyn now, metro Detroit fans might recall his days record collecting in Mount Clemens and spinning records at Goodnight Gracie and still claim him as one of our own. He continues to release records on Ann Arbor's
Ghostly International
, after all.
2016 is looking to be a big year for Jakub. In addition to touring Europe, he will also perform at
Moogfest
. Held in Durham North Carolina May 19-22, Moogfest is an annual event dedicated to synths and electronic music. He's also working on stepping out of his graceful ambient comfort zone and on towards more turbulent techno grooves.
Have you been to Moogfest?
No I haven't, but I have heard good things about it.
It is shaping up to be a fantastic experience this year. Almost like a SXSW for electronic artists.
It really is. I think it took off last year so they are picking up on a lot of new artists. It feels very well curated. I feel it's really special for me to be there. It's not like a regular festival I was just put on. I have a 2003 Honda Element that me and my dog hang out in and I'm going to drive that down to North Carolina. I can put a queen mattress in it and just go anywhere.
When were you asked to be one of the performers?
It was just out of the blue that they contacted me. I received an email from the curators a couple months ago. They asked me if I wanted to perform and for my manager to contact them. I told them I don't have a manager and I would love to play there.

Which artists are you excited to see play?
I know there's plenty of them. Gary Numan's playing, so that going to be super insane. I definitely want to see Actress. I have seen him before but it's been a while. I have always loved Kyle Hall. And, you know I really like Veronica and her DJ sets and Juliana Barwick is a close friend of mine.
Do you have a history with the Moog?
I have been to their factory. I love their delay pedal, the Lowpass Filter, and it's crazy, but I played in Detroit over 10 years ago with Roger O'Donnell, the synth player from the Cure. He uses this unique white Odyssey. I opened up for him.
It's interesting to hear all the different processes that go into creating electronic music.
Running things through guitar pedals, using soft synths — it's not that much work, but that's been my process and it allows me to avoid buying the big synths. I just don't have the room for that, but I have a lot of pedals. Tycho, he's my boss, I've been working with him for 9 years and a few years back we were putting together his live show we used a bunch of synths.

I saw you play a few years ago at the Laneway Festival at the Ghostly stage.
Yes, that was perfect timing for me. I got to play a couple festivals and it was great fun. That was my cassette rig set up; it was more ambient. I'm more focused on techno elements now.
Your latest music on Body Complex is a bit different, more danceable.
Yes. The story behind it is I used to go to a lot of underground raves in Detroit in the late '90s. I remember you'd have this drive home really late and you'd have to stay awake for it, so the music you played during the drive was pretty important. And that's what my music is aspiring to be.
You have a European tour coming soon, correct?
It's with Shigeto and Lord Raja. Like me, Lord Raja is on his second album. I've known Zack (Shigeto) since high school and I'm 34 now. It's going to be crazy, I've never done this before, but when I got the offer, I took it, because Shigeto is very big in Europe. I don't know what Zack has set up, but my set starts a bit ambient then I bang out some tracks that other people like.
Have you played Europe before?
This still blows my mind. I grew up in Poland, so I go back there and play. I have played Italy, too. I used to European distribution for Ghostly, so I've been to a number of cities. I also tour managed Tycho through Europe and he played a bunch of these cities, but that was a very laid back tour. This one is much more aggressive. It scares me thinking about it.
So you're doing more of a DJ set?
Yeah, but I'm working on something real special for Moogfest using mostly pedals instead of relying on DJ equipment. How many times am I going to get to play Moogfest? Probably once, so I want it to be unique.

Are you working on new music right now?
Not right now. But I'm thinking about my music. The more I listened to Body Complex, I realize it was a good way to pivot away from ambient. But I want to make even faster techno, like 127 bpm. That's what I play for crowds and what I'm into now. I still want it to have an underlying melody and warmth but I'm going full throttle for my next EP.
What I like about Body Complex is you can just have it on as background music while you're doing something else, but it's also captivating enough to just focus on it.
That makes me happy to hear. That's what I listen to when I'm not playing out. When I finished it, I thought that sounds like me. It's still relaxing but I'm ready for a change. It's going to be an honest effort for me. I'm hoping to get it out by summer.
You have been an artist for quite a while in a genre of music that constantly changes.
We're at a perfect time for me. When I started, there were record stores you could check stuff out and stay on top of it. Then, there was a dip where dance music disappeared. With the scene now, I can pull those old records back out and they sound fresh again. Knowing that techno is back and being in love with the thing people come out for is great.

What do you tell new artists that are just playing out?
I would tell every new artist to keep a job to go to along with your music. It only frustrates you to go out and play and put your music out and then have that downtime after where you feel you are not doing enough. When you have a job, you have your music to look forward to and use it as motivation for when you have time off. It takes time to get to a place where you can play outside of your town. When you get to a place where you get requested to play out 200 nights a year, then you can think about leaving your job.