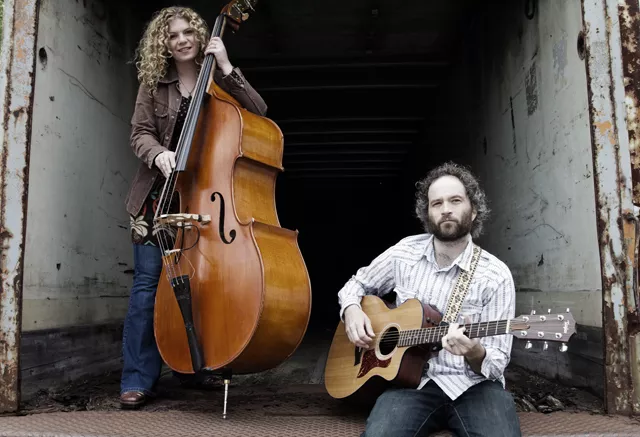 The Marvins' self-released Waves of Strange is available at themarvinsmuic.com and through iTunes. See the Marvins perform live at 5 p.m. Saturday, Sept. 8, at the Art & Apples Festival, in Rochester Park, Rochester; artandapples.com. Their record release show is scheduled for 8 p.m. Tuesday, Oct 2, at Callahan's Music Hall, 2105 South Blvd., Auburn Hills; 248-858-9508; atcallahans.com.
Husband and wife Peter LeClair and Carmen Paradise are drinking coffee at their modest Rochester home. Multi-instrumentalists, their house is neatly packed with seemingly hundreds of instruments. They're a friendly, enviably laidback couple, comfortable in each other's company.
No strangers to the Detroit music scene, the two run School of Rock Rochester. Paradise is the manager and LeClair the music director. Many local musicians work for them. Korin and Augie Visocchi from the Hard Lessons and Eddie Baranek from the Sights, for instance, are faculty members. 
The couple met at Rochester High School, where they played in the Sunshine Blues Band. Paradise was searching for a guitar sub for her during spring break. She found LeClair, who would eventually steal her spot.
"They basically replaced me with Peter," Paradise says. "And they were like, 'Well, you can still play reverse cymbal on the keyboard and stuff.'"
Though Paradise was "a little" mad, she and LeClair became good friends and began to play music together.
It all started when LeClair would tease her about her middle name, "Electra," making her a "Carmen Elektra." Oddly enough, Paradise has the same birthday as the celebrity model. 
She made a joke back. 
"I was like, 'What's your middle name? Marvin?' And he's like, 'Yeah, it is, actually.' I totally thought he was serious. So I have always called him Peter Marvin."
Thus was planted the seed for the Marvins.
Paradise shows a picture of them from high school playing a show and they still look just as laidback and approachable in their jeans and T-shirts. LeClair's curly hair runs to his hips and looks almost identical to Paradise's in the picture. 
"I'm not happy about this," LeClair says about the photo.
The Sunshine Blues Band eventually broke up. After graduation, Paradise toured the country playing bass with her band Calliope, which was signed to Chicago-based Thick Records. LeClair, still a junior, stayed in Michigan to finish high school, keeping his hand in music everything from instructing at summer camps to playing weddings and funerals.
Some years later, Paradise was signed to Thick Records a second time with the Good Mornings. She planned to move with the band to Portland, Ore. But Paradise and LeClair were also playing as a two-piece. They had clicked and not just musically.
"Carmen fell in love with me and had to be near me," LeClair says. 
"It was weird to have known somebody for so long and then one day just be like 'Oh, my god, I totally love you,'" Paradise says. "It hit us really quick. I was like, 'Well, I guess I can't go now.'"
So much for Portland. The two moved back to their hometown in Rochester and married in 2008.
"One of the things that really made us stay is that my brother passed away six years ago," Paradise says. "It was really sad. Actually, that's where a lot of our last record [Lucky Stone] came from. That whole record, actually. My family lives a block away from us. Peter and I both thought it was important to be here."
That's when the two became involved in School of Rock Rochester.
"The School of Rock came to me because I rented the Rock School documentary," Paradise says. The documentary follows the misfit kids in a Philadelphia program as the school's founder, Paul Green, pushes them to expression and self-discovery. By the end, she was crying, and soon after, she and LeClair had a cause. 
For a while, Paradise says, they tried to figure out how to purchase a franchise. "We slowly realized we didn't have enough money to do it. Right when we were ready to give up, we saw that a School of Rock was opening literally a block away from our door."
Paradise wrote to the owner, and the two were hired. They helped open the building from planning to painting the walls.
"Seeing those kids rock out ... it's amazing," Paradise says. "You get these little nerdy kids that come and that are scared and don't have self-confidence. Their parents are like, 'Oh, they're never going to be on stage.' And I'm like, 'Just you wait and see.' Four months later, I get to watch that parent's face when their kid is transformed into this rock star and full of self-confidence on the stage, and the mom's excited and I'm, like, crying. That is definitely the best part, because then you see that self-confidence bleed into other areas of their life. And you hear the stories from the parents that say: 'Oh, my god, this has changed everything.'"
So, is it uncomfortable managing a bunch of fellow local musicians?
"It works because we get how it is to be a musician," Paradise says. "For example, Eddie [Baranek of the Sights] got to tour with Tenacious D this summer. That's the coolest thing. I feel like at another job a boss would have been like, 'Yeah, that's great and everything, but what about us? You're fired!'"
Not at the School of Rock. "Plus, we understand how musicians can be flakey. Whatever. We are too! We understand."
As for the Marvins sometimes they're an acoustic duo with just Paradise (guitar, bass, vocals, upright bass) and LeClair (guitar, banjo, vocals). Other times they are more of a band, with Sam Rice (guitar, drums) and Jason Demmon (keyboards, trumpet and vocals). They do a lot of their songwriting with their friends from the band Bear Lake.
Their new album, Waves of Strange, starts off with slow acoustic country lullabies and pop boy-girl harmonies. Soon the songs that evoke a relaxed and sleepy state (in a good way) begin to pick up more attitude; the lyrics start to get darker. Drums and electric guitar creep up, creating a garage rock vibe that shifts to funky psychedelic grooves, then to pop-rock. 
"I think a lot of it has to do with being at the School of Rock and immersing ourselves in so many different styles of music," Paradise says. "When you direct a show, you're learning all this different music to teach the kids."
The Marvins have committed to promoting their new album by traveling across the country via train as a two-piece, hitting Chicago, Wisconsin, Oregon and other stops. 
The whole idea of crossing the country by train is "cool," Paradise says. "You wind up talking to different people and hearing different stories. I'm the kind of person that's really inspired by that. I'm really hoping that, with this trip, we'll get some good stories and be able to turn those into songs."
Essentially, Paradise and LeClair work together, make music together and live together. Does that ever get overwhelming?
"You have this rock 'n' roll schedule of a band essentially that we're managing, and our own band on top of that," Paradise says. "Trying to balance everything, it's a juggling act." 
LeClair adds, "The thing that we definitely have a hard time with is leaving work at work. A kid broke his foot and can't come to shows anymore, this other kid at the last minute told us he's going to be in Italy for three months. Finding time to sit down and like, watch television and, uh ... eat a cookie and play a game of Scrabble that's the thing that we have a hard time with."
Paradise explains marriage has made things easier.
"If Peter were making music with another girl, I feel like I would be really jealous," Paradise says flirtatiously. "You would be jealous too," she adds as she glances at LeClair. "No, you wouldn't." Paradise says, laughing.
"Nope," LeClair replies.
Despite seeing each other constantly, LeClair insists that alone time "doesn't really exist" in their relationship.
"I think we're lucky in the sense that we have been bandmates and best friends for 15 years," Paradise says. "So it's not hard for me to see Peter all day, every day because it's just what I'm used to. I think it would be harder if we had different jobs ... at least we get to do it together."
Rachelle Damico is a freelance writer and former Metro Times intern. Send comments to [email protected]