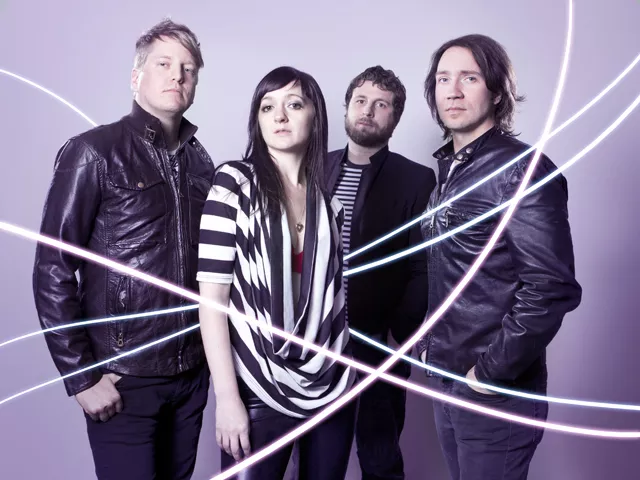 When Liz Wittman was playing bass and singing for indie-pop trio the Friendly Foes alongside Ryan Allen, there was much to admire in how their voices blended, and how the raven-haired Wittman handled her instrument and looked demurely cool doing it. There was little to suggest that, without the bass and allowed the freedom of the stage, she'd become a frontwoman to be desired by boys and girls, a stylized, sexy-coy singer coming into her own who happens to own the stage. But that's exactly what has happened with Lettercamp.
See, before the Foes split, Wittman began experimenting with electronica in her basement, creating demos to show off to friends and bandmates, showcasing her affection for quirky pop influenced by Bjork and Portishead. "Being in the Friendly Foes, I started playing [Lettercamp's music] for people," Wittman says, with a half-embarrassed smile that goes lengths to define the charmingly modest singer. "You only get older, so I decided to just do it and I started recording the album."
Record an album she did, last year's delicious Raccoon Panda. The record, essentially a solo album at that point, is a gem, each song a crafted piece of catchy pop. The songwriting's smart, accessible, all-inclusive and stays in the head for days. The only thing missing was a real band. "After the record came out, I wasn't ready to do it live, but we had to play a party," Wittman says, grimacing. "Then everyone left to do their own thing. Matt [Lannoo, guitar] and I stayed together. Derek [Dorey, bass, formerly of Millions of Brazilians] and I were playing Scrabble on our phones and I asked him if he knew anyone who could play bass for me. He was like, 'Yeah, dummy, me.' So Derek joined. I met Panic [Gerald Roesser, drums, rechristened Panic to reflect his highly strung personality] at one of our shows. I posted our video for 'You Won't Want Me' on Facebook, and he left a comment saying 'I have to be in this band.' Three months later, Panic gets what he wants."
Anybody who saw Lettercamp in the past year knows the foursome bonded into a formidable live band. Lannoo has added a powerful, almost industrial crunch to the sound that's absent on Raccoon Panda. Dorey and Roesser are a tight rhythm section, also contributing the electronic loops and pulsing beats. All of which allows Wittman to gyrate and sing, and she relishes the opportunity to express her femininity and sexuality. "If I ever found out [that people had my picture on their wall], I'd wonder if there was a dartboard next to it," Wittman says, grinning shyly.
"I'm really oblivious. The reason why I'm letting myself be so sexual and out there is that I spent so much time in other bands being one of the dudes playing bass, not sensual or sexual at all. I'm not trying to make this sexual, but I'm finally being comfortable with myself as a girl and embracing that. I don't feel that I have to hide it, and if I want to play songs or sing in a way that might be a little sensual, then that's how I want to sing it. I'm writing intimately about stuff that's going on in my head. If somebody puts my poster on my wall, just don't tell me about it."
Seeing the band interact socially is fascinating too. This interview was conducted in Lannoo's Royal Oak house. The guitarist, a technician with General Motors by day, often travels around the globe with his job and he recently arrived home from India. His house is immaculate — everything is in its place and he allows his bandmates to sit on his spotless white sofa. More, the quartet sips red wine from real wine glasses.
They're also playful with each other, and regularly wind up squabbling. Drummer Roesser insists on praising the Zoos of Berlin at every opportunity, leading to giggles and eventually groans from his bandmates. When asked where they see themselves in a decade's time, Dorey says "not in fucking Lettercamp," leading to a death-glare and a cry of "Goddammit" from Wittman. He half-rescues himself by elaborating that he meant, "not in Lettercamp, unless we make it big."
The three dudes are comfortable with Wittman as the band's visual focus. They encourage it. "We always talk about having just Liz's picture as the icon of the band, rather than band pics," Dorey says. "She's a good look for the band." On stage, Lettercamp's something to watch, a show — an indie anomoly! — partly because the large white screens Wittman moves behind leaves audiences qawking at a sexually charged silhouette. It's equal parts slow tease and '60s go-go girl.
"We were sitting around at practice wondering what we could do to make the live show look cool," Lannoo says. "We were just brainstorming ideas and Derek mentioned the screen thing, and we all got excited ..."
Screens aside, sonically Lettercamp is unified. The singer chose her musicians carefully. "Everyone has their own sound," Wittman says. "If you were to listen to us live and then listen to the first record, it sounds completely different, because the way Derek plays bass is different from the way I play bass. I tend to be more locked into the groove and Derek moves around a lot more. He adds more of a punch to it. Panic adds extra production. Matt has the job of totally creating a different element to the music. On the first record, there was no guitar."
"I figured out a way to add to it and play on top of it," Lannoo adds. "It made me think about playing guitar differently, as opposed to playing chords in a rock band. It was a completely different kind of thing and completely not me, but I love the music — I love pop."
As the interview dissolves while the band eats pizza, Wittman and Dorey continue their discussion about the bassist's lack of enthusiasm regarding longevity. Lannoo is optimistic: "The Electric 6 took 10 years before they achieved any success," the guitarist says. "You can't put a time frame on it. I've heard all these twentysomething kids say they don't want to be doing it in their 30s. They're turning thirtysomething now and I'm laughing my ass off. I'm not hanging up my guitar in 10 years."
"Once you get the bug," Wittman says, with an impish grin, "it's kinda hard to shake. So shut up, Derek!"
Raccoon Panda is out now via Five Three Dial Tone Records. Go to Fivethreedialtone.com.
Lettercamp's 10 LifeChanging Albums
Radiohead
OK Computer(Parlophone/Capital, 1997)
Portishead
Dummy(Go!, 1994)
Sugarcubes
Life's Too Good(Elektra, 1988)
Zoos of Berlin
Taxis(Self-released, 2009)
Cheap Trick
In Color(Epic, 1977)
Jason Falkner
Can You Still Feel?(Elektra, 1999)
Morrissey
Bona Drag(Sire, 1990)
New Order
Substance(Factory, 1987)
Erasure
Wild(Mute/Sire, 1989)
Prince
Purple Rain(Warner, 1984)