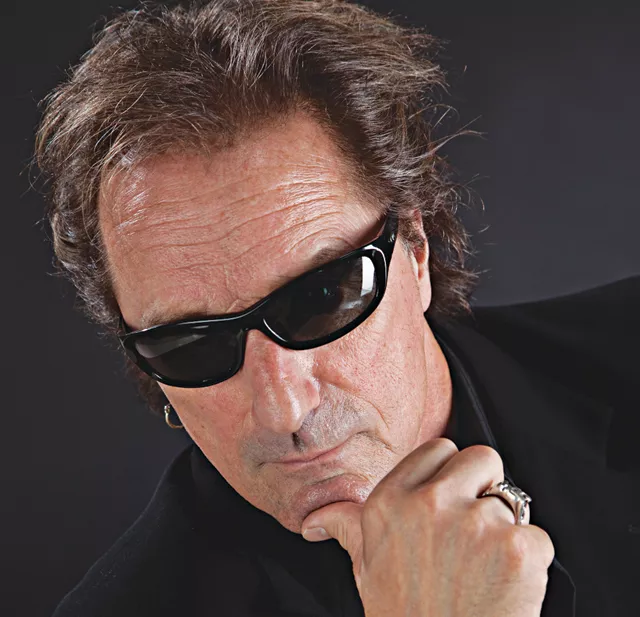 To many in these parts, particularly those deaf to the blues, harmonica-playing singer James Montgomery will not be a familiar name. Yet the Detroit native, who moved to Boston in the late '60s — and built his name in the northeast, headlining shows above Aerosmith and J. Geils — toured with many of the greats, from Bruce Springsteen and the Allman Brothers to B.B. King and Buddy Guy.
Too overshadowed by the sound of young America, it's easy to forget that Detroit has a rich blues history. Unlike Chicago, we don't ram it down people's throats with theme restaurants and such nonsense. No, Detroit blues is understated and beautiful, attributes once portrayed perfectly by John Lee Hooker. And so it was that back in 1966, 15-year-old James Montgomery saw his first jug band play and it, he says, "struck a chord."
"It was the first time I ever saw a band play live blues. There was a harmonica player, in fact two, and it was the first time I saw live blues with harmonica. At the Chessmate, anyone could go because it was all-ages. This was around '66. Detroit had a great blues scene back then, and, of course, it was only three hours out from Chicago. At the Chessmate you could go in and catch a Muddy Waters set and then see the backstage shows. They'd have jams in the dressing rooms with John Lee Hooker, Muddy Waters, James Cotton — it was just a really great time to grow up in Detroit."
Today, one can only imagine. As the young Montgomery made blues his life, he got to know Hooker, becoming friendly with the legend. "The last conversation I had with John Lee was about a month before he died. He said, 'Montgomery, I finally got what I deserved.' To hear a blues guy say that he was appreciated and got what he deserved before he died is rare. There's only about five or six of them that could say that."
When Montgomery speaks of his Detroit blues upbringing, it's tinged with affection and nostalgia — but he hastily admits that making his home in Boston as the '60s became the '70s was a smart career move.
"I still sell a lot of tickets in the Northeast," says one of the few blues artists ever to land multiple major label record deals. "It's such a different market; there's a lot of blues and jazz people out here. You can play one night in Boston, the next night Portland — there are so many big shows you can play. I'm not sure that's true in Detroit. This is a really great place to base a blues career, because there's always work. I've had Jimmy McCarty as my guitar player, and when he left I replaced him with Wayne Kramer. If you ask the trivia question, what band had both Jimmy McCarty and Wayne Kramer as guitar players ..." Who'd guess?
After four decades away, Montgomery considers himself a Detroit musician.
"The first version of my band did a triple bill with Iggy & the Stooges and the MC5," Montgomery says. "That would have been around '69. Something like that. When I started my band in Boston, everyone but the drummer in the original James Montgomery Band were Detroit guys, so it was basically a Detroit band out here anyway. ... I still love Detroit an awful lot. I get introduced every night as 'from Detroit, Michigan.'"
"No matter what happens in the world around Detroit, it always manages to crank out yet another huge star. ... I had an opportunity to record with Uncle Kracker at Kid Rock's house a few years ago."
Speaking of stars, query Montgomery on who he loves playing with and it's a who's who of classic rock 'n' roll linchpins.
"I'll always love playing with the Allman Brothers," he says. "I sat in with Gregg a couple of nights ago. They were the one band on the road, whatever they had, you had too. It wasn't like they had their dressing room and you had yours. You would join in with them and everything. Of course, I go back so many years with Aerosmith. I ran into Steven [Tyler] in a music store. He said, "Wow, you're James Montgomery. Can I play some shows with you?' I said, 'I don't know, what's the name of your band?' He said, 'Aerosmith.' I said, 'Yeah, I'll put you on four or five shows.' I really enjoy those guys too. But the blues guys are the guys that were my people in the business when I was young. John Lee Hooker, Jimmie Walker — these were really special people. Make sure you throw Bonnie Raitt in there too. She's great."
Despite performing what many call a dead musical language, Montgomery is adamant that the blues are as relevant as ever. "Blues musicians will always have work because it's cyclical. It's popular, then it fades out, then it's popular again. But there'll always be a niche market for it. Every now and again, you'll get a crossover artist. BB King had 'The Thrill is Gone.' Stevie Ray had that song 'Pride & Joy.' People often don't understand that they actually like blues because it's the background for a lot of the music on the radio. They like it, they just don't know that they like it. It's still the basis of all pop music. Every year, I hear 15-year-old guitarists who are studying B.B. King, studying Freddie King, studying Stevie Ray and Clapton. I just played a gig with a 14-year-old kid who was unbelievable. There will always be that wealth."
Montgomery headlines the Antifreeze Blues Festival in Ferndale in early January, with Rockets and Cactus man Jimmy McCarty on guitar. Montgomery can't wait. "I played the Magic Bag before when I was in Johnny Winter's band. I was with him for about four years," he says. "We played there a couple of times. I love the venue, I love playing with McCarty, I love playing Detroit. For me, it's almost like a high school reunion because, when I go back and play, I always see a lot of my buddies, a lot of the guys I went to high school with.
"We all get together on the day off ... and reminisce. McCarty and I go back such a long way. We've been playing together for 35 years or something like that. I think he's the best pure rock 'n' roll guitar player alive today. Nobody does what he does anymore. Everyone's really slick and overplayed. Jimmy's the only guy I know who will take his guitar, turn it around and point it at the amp to get sounds out of there that nobody wants to get anymore, but then when he plays them he's unbelievable. He's such a great player."
To conclude, I ask Montgomery what projects he has coming up, and he tells of his forthcoming record that includes surprise guests such as rap legend DMC. "I have a CD coming out with the Uptown Horns on it, I have James Cotton, Brad Whitford from Aerosmith, Johnny Winter, and DMC from Run DMC," he says. "I'm looking forward to getting that out. I'm sure I'll tour it, and come out to Detroit to promote it. The name of the CD is From Detroit to the Delta. Everyone's familiar with the journey from the Delta to Detroit, but not the other way."
James Montgomery plays the Antifreeze Blues Festival Jan. 6 at the Magic Bag; 22920 Woodward Ave., Ferndale; 248-544-1991. See themagicbag.com.