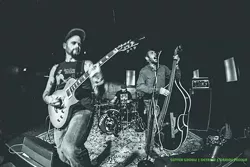 Psychobilly, rockabilly, murderbilly — call it what you want, but there's something fundamentally cool about a punk band that uses an upright bass. It's as if different eras are meshing. Of course, much of the early rebel music, be it blues or bluegrass, used an upright; somewhere along the way the instrument got forgotten. That bands like our own Gutter Ghouls, as well as classic psychobilly groups like the Meteors and Demented Are Go, drag the upright bass back and shove it in our faces is glorious.
Right now, few are doing the punk-billy thing better in Detroit than the Gutter Ghouls, with bassist-vocalist Branden Gelineau. The band, completed by drummer Kevin Hardy and guitarist Bill Causey, formed just one year ago. "I was in a folk-type band," Gelineau says. "I had just bought the upright bass probably a year before, and that fell apart. It all came together through Facebook, honestly. Our drummer messaged me January 2012 and asked if I wanted to put something together. He wanted to do something psychobilly, so we put it together and tried it out, and we didn't really say, 'Let's be this kind of band.' We wrote a couple of songs and they came out how they came out."
The band melds psychobilly with the sort of horror-punk made popular by bands like the Misfits and 45 Grave. "We're a punk band," says Gelineau. "We coined our own term of murderbilly just because anytime anybody sees an upright, the term 'billy' gets attached always. We're not rockabilly at all, not even close. It's punk with an upright. We take a lot of our influence vocally and lyrically especially from a lot of horror films. As far as music, Misfits is way up there. We like the Nekromantix, the Meteors and the traditional psychobilly bands, plus our drummer and guitar player like Type O Negative and Slayer."
The connection between horror and rock 'n' roll certainly isn't anything new, and Gelineau audibly perks up when told about the recent Metro Times cover feature on Bruce Campbell. "I like anything that's going to make me turn away," he says. "If it pains me to watch it, I'm into watching it. I don't want to watch the same stuff I've seen. I Spit on Your Grave was really cool. I like a lot of the B-movie-type stuff. I'm really looking forward to the Lords of Salem coming out, and I like House of a Thousand Corpses, Devil's Rejects, stuff like that. The Universal monsters are right up there too."
Another extracurricular activity intrinsically linked to psychobilly and punk is the world of body art, and Gelineau works full time as a tattoo artist at Liquid Chaos in Brownstown. In fact, on the day of this interview, the bassist had just won an award for Best Traditional Tattoo at the Motor City Tattoo Expo. "It was an owl with a rat's head on the side of a dude's head," he says. "That's my full-time job. I tattoo five days a week. I do it because I didn't want to do anything else. It's the only thing I was good at. It's the same with music, but that's harder to break into. They go hand in hand, absolutely."
Gelineau says that one of his band's best shows so far was opening for musical heroes the Misfits (even if the current Jerry Only-led version of the band is a little karaoke-ish). "Honestly, it was better than I'd hoped," he says. "I'd opened for them the year before with a different band. This time, Jerry Only came out and he watched our set. Afterward, he came and got me and asked me to come out and sing with them, so I went out and did a song with them. That was super-cool, considering I've been into those guys since I was 12 years old. That was really a good moment for us. Everybody had a good time, even people who had never heard us. Actually though, I prefer to play the smaller venues, intimate on the floor, where you're getting shoved into me. I'll shove you back. Those are the shows I like, where the kids are moving and sweating. It reminds me of being a kid myself. Those small, intimate punk shows are my favorite."
Of course, every band has had the occasional bad show too. "There's always going to be some show where you're sweating your ass off, playing as hard as you can, and people don't understand what's happening," Gelineau says. "To get booked on a show with bands you don't know that do not sound at all like you — being the odd man out — is tough, but we still try to give it 110 percent every time. If I get one person out of 50 at a bad show that likes us, that's one more person that likes us."
Gelineau, then, is a tall guy with an upright who tattoos for a living and likes horror films. To many, he's not entirely unintimidating. As is so often the case, however, the dude is soft spoken and a loving family man. When asked about his proudest moment, he answers, "When we released our album, the crazy amount of love that my kids showed for it blew my mind," he says. "They know every word and they sing it. To me, that's super cool. Other than that, we've been doing it for a year, and people still want to hear it. That's always a good feeling. We've played out so much and people still want to hear it, that's a good feeling."
The Gutter Ghouls will be playing at Small's on Friday with the Krank Daddies, a show presented by the Detroit Psychobilly Alliance, and Gelineau is excited. "The Krank Daddies are a really strong rockabilly band, extremely talented," he says. "It's going to be a diverse show. With us being the high-energy punk and the Daddies being dance-y, it should be a good show. Hopefully there'll be no standing around. Our set changes every time we do it. We feed a lot off crowd energy. The more people are moving, the more rowdy we're going to get. It just depends on the night and how things are going. Hopefully we can make some friends and give them a reason to keep coming back."
And after that? "We're going on a weekend tour March 15, hitting Columbus, Cleveland and then playing St. Patrick's Day here at the Crimson Lounge in Riverview," Gelineau says. "In April, we have Motor City Nightmare, which is a horror convention that we got offered to play. It's like a celebrity meet-and-greet for films, and they asked us to play the afterparty, so that's super flattering. We'll be playing for Jason and Freddy."
That is, indeed, super cool. The Gutter Ghouls look set to have a good go at this punk rock game, though the band is relatively new. Should we be worried? "I don't seeing us going anywhere," Gelineau says. "We just put an album out, it's on Amazon, called Motor City Murderbilly, and it's just too fun to stop. As long as people keep showing up, I'll keep showing up."
The Gutter Ghouls appear with the Krank Daddies and the Devil Elvis Show on March 8, at Small's, 10339 Conant St., Hamtramck; 313-873-1117.
Brett Callwood writes City Slang. Send comments to him at [email protected]