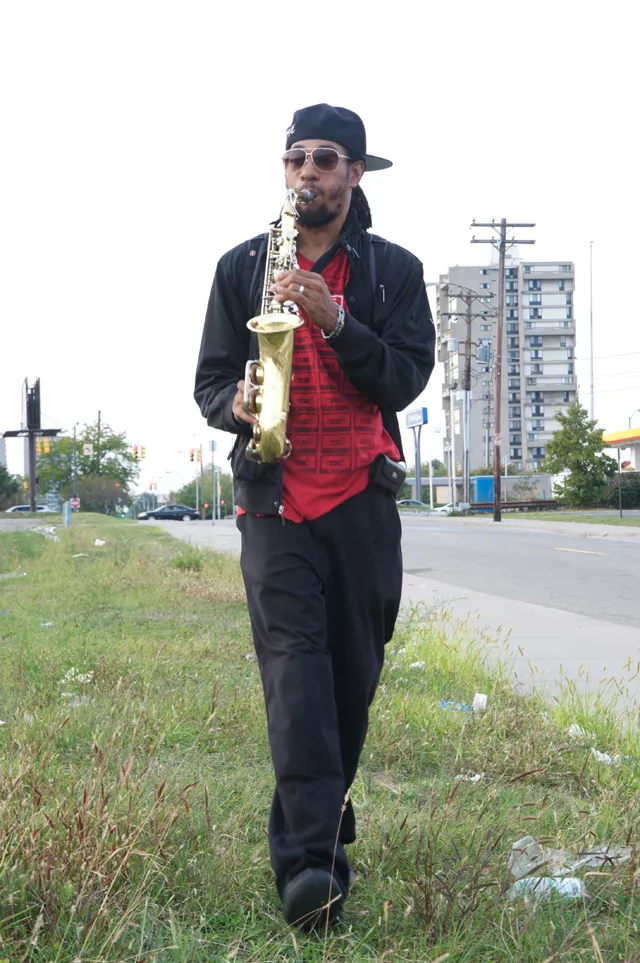 LaDarrel Johnson walks along the dirty curb on Chene near East Jefferson, playing his sax. His cheeks swell like a kid blowing bubbles, and he starts, stops, thinks and begins again. The guy's on a lunch break from his day gig at Staples office supplies, just up Jefferson. He's not playing today to release stress or kill time — he plays because he must.
"This is me right here, man," he says, gesturing at his horn. "All day, every day — this is the space I like to be in."
See, 25-year-old Johnson is one of those guys who doesn't get all the sexy press like a good emcee or rock singer might — he's a sax player, a side man. But he can rock the stage with any jazz crooner, rock singer, poet or emcee. He's played with Dwele, Neyo and many others, and he has recorded solo.
Here's Johnson's backstory, quickly: Born in 1985 to an unwed mother and guitar-whaling pop Demetrius Smith, Mom kick-started her son's music career when she presented the 5-year-old with a Radio Shack keyboard. Dad led by example, of course; he was a local musician who played in various bands around Detroit. "We would sit in the living room while he played the blues," Johnson says in a tone tinged with nostalgia. "I would even try to play with him."
Dad died of a heart attack while playing a pick-up game of basketball. Johnson was 9 years old: "Growing up without a dad, I felt just like another number. It was pretty tragic; it hit me harder a little bit more down the road."
From Plymouth Elementary School to Detroit High School of the Performing Arts (where he graduated with MTV Making the Band drummer Thaddeus Dixon), Johnson threw himself into his music. The man who sometimes calls himself "Saxappeal" rubs his hands together and sounds like the Pinball Wizard when he says, "Man, I played in everything — concert band, marching band, symphony band, I did them all."
Along the way, Johnson was good enough to be mentored and taught by a few top jazz musicians, namely Felton Jones and Marcus Belgrave. ("Those two cats helped me find my place in music.")
So, by 2005, in the middle of Johnson's senior year in high school, he was juggling music scholarship offers from Florida A&M, University of Alaska, University of Michigan, Michigan State University and others. "Something inside of me told me to stay in Detroit," he says, actually staring off at the Renaissance Center a mile or two to the east.
Johnson chose Wayne State University, majored in music, but longed to get his feet wet in Detroit's local café and club music scene. He soon met neo-soul ambassador Dwele, had an impromptu jam session, and the singer invited the saxophonist to join him on a local Hamtramck gig.
"Musically, we just clicked," Johnson says. He wound up touring with Dwele on his Some Kinda tour.
In 2006, Johnson was turning down opportunities. He joined a new band 101, which had a steady gig at Detroit's Hard Rock Café, and he began working on his debut album Stay Saxy. He also contributed to Detroit balladeer's K-Jon's album I Get Around, and was gigging with area divas Vina Mills and Monica Blair.
More, he met his future wife LaKeisha at his 21st birthday party. Johnson smiles, runs his fingers across his horn, and says, "It was kind of weird, I had already known her but we weren't friends. She came to my party and we just started talking and never stopped."
Musically, Johnson is a man for all seasons, which you almost have to be to earn a living playing sax; he's jazz, he's hip hop, he's blues and he's rock 'n' roll. He can match any musical energy, and doesn't appreciate getting placed inside any musical boxes. But, if pressed, he says he'd sidle up to the soul category. "It's just about playing music from your own experiences. You don't have to be an emcee to do that."
And to play soul, you need disappointments, and Johnson soon began to understand what the term "paying musical dues" means. A tour that saw him in Young Jeezy's band was canceled. Then a Neyo tour was canceled days before he was set to hit the road. His band 101 split apart.
"That thing with Neyo really got me down," Johnson says, shaking his head. "With 101, we all had our hand in too many different projects, but it was nothing personal."
And then last year Johnson married LaKeisha, sold around 1,000 copies of Stay Saxy — out of the trunk of his car — and shared the stage with Erykah Badu, Frankie Beverly, Bootsy Collins, Julie Dexter, Leon Ware and Raheem DeVaughn.
Sure, Johnson's got mad skills, which means nothing without some confidence, and he's got some of that too. But at the end of the day he's still a sideman longing to be the main man, a musical nomad looking for that place where success can come full circle.
Johnson walks a little along that curb on Chene, kicking rocks and empty pop cans, like a kid. "I think everybody wants to hear their stuff on the radio," he says. "It's hard for cats like me, I've had some luck with online radio, but that's it, really."
With the economy tight and good paying gigs scarce, Johnson had to get a 9-to-5 gig. But the music's coming. He's now working on his second CD, titled Unmarketable, and is gearing up for a three-week gig with R&B singer Montell Jordan in Nova Scotia. He now hosts a monthly gig and artist mixer in Detroit, where he performs with a live band. Though he knows the musical opportunities in New York and other places trump those in the Motor City, he refuses to leave Detroit.
Johnson smiles, "I'd much rather have my story be told from Detroit. You could be playing a million frames a minute and it may be dope to you, but Detroit cats will tell you if they love it or hate it."
Saturday Cipher featuring Saxappeal is a monthly mixer at 5E Gallery, 2661 Michigan Ave., Detroit; 313-283-7177. The next one is 9:30 p.m.-12:30 a.m. on the night of Saturday, Dec. 18.