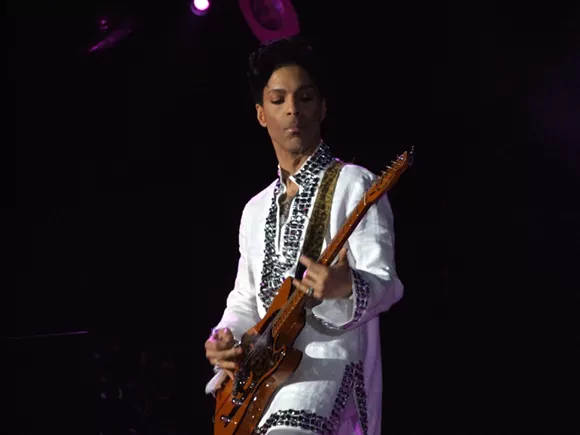 This really hurts to write these words, and I never thought that I would even have to write these words, but music legend and icon Prince passed away today at the age of 57.
I didn't grow up during the 1980's when
Purple Rain
was released, hell, I was just an idea since my parents got married in the mid-80's, but his musical stamp has shaped my idea of what music and greatness is.
The first Prince song that I truly remember hearing for the first time was my Dad's favorite, "Raspberry Beret." I had no clue what the lyrics were talking about - my parents tell me I used to call it "Raspberry Sorbet" - but it was that beat, those synths, the funk, and Prince's falsetto voice that really stuck with me and influenced my own personal taste in music.
Prince was a revolution in pop music - he was sexual, androgynous, creative - and yet totally relatable at the same time. What David Bowie was to the strange punk kids, Prince was to the strange kids from the inner city. It was okay to wear eyeliner and tight pants, because Prince did, and man did he look cool doing it.
There are some artists who pass and we remember them for what they did, but life goes on. I don't think that will be the case for Prince. His music already has a lasting impression on bands and artists who make music today. You can see him in Beyoncé, Justin Timberlake, The Roots, and countless other musicians and artists.
It makes me sad that I will never see Prince live in my lifetime. My mom was just telling me about when she saw Prince at the Fox Theatre in Detroit back in the 80's with my aunt and her their friends. They had nosebleed seats but they danced their asses off the entire time. It didn't matter if you were listening from the front row or from your car stereo - that music hit you and just made you happy. I think that's why so many people my age actually enjoy his music. It's universal. It's everywhere.
I really thought this day would never come. It just seems like the act of dying was something that would never happen to Prince. Like he just couldn't be bothered with death. Now, it feels like we've lost one of our planets, or the color purple has left the rainbow indefinitely. It's only been an hour since the news broke and it already seems like there is a shift in our culture.
Prince says in one of my favorite songs "Let's Go Crazy,": "Dearly beloved, we are gathered here today 2 get through this thing called Life." If any lyric that Prince produced in his amazing career, this one seems to sum up what he was to so many people.
So, Detroit. You can grieve as long as you need (the tears haven't stopped flowing since I found out) but let's remember that greatness that was Prince. The music, the movies, the life that he brought to so many different types of people! You will surely be missed.