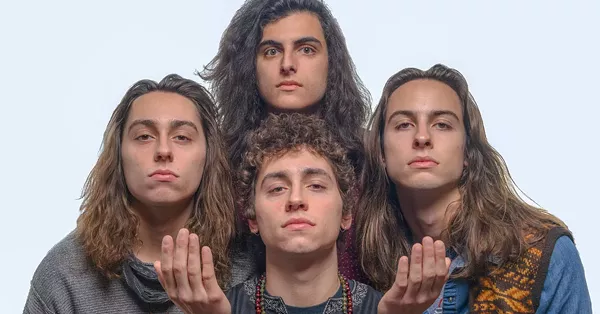 Frankenmuth's retro-rockers and recent Metro Times cover dudes Greta Van Fleet took a break from their usual curated social media antics — trippy performance shots and cutesy "day off" tour snaps — for something a bit more conceptual.

Frequent users of the term "flower power," GVF mysteriously posted an image of four white roses against a black background Friday, July 13. Fans quickly began speculating. A countdown? A new album? A newfound interest in botany?

"I FEEL LIKE NANCY DREW TRYNA FIT THE PIECES OF THE GODDAMN PUZZLE TOGETHER," one commenter wrote on Instagram. Another went on to say, "I can't take this bs anymore. Plz just release the album, I need it like oxygen."

For the next three days, the band would continue to post the same photo, each day eliminating a rose. That is, until last night — when the band made a late-night reveal of its latest single "When The Curtain Falls," a catchy commentary on fame that feels like it was written with the sole intent of being the first song on their upcoming tour setlist. (You know, when the curtain literally falls.)
One user allegedly suffered an asthma attack following the release saying, "I AM ACTUALLY WHEEZING, I HAVEN'T NEEDED MY INHALER IN YEARS", whereas another just straight up sacrificed their remaining years exclaiming, "I would die for y'all!"
"Well, listen, darling/ It's been swell/ What can I say, you've got it all/ You're one with me/ But I'm not gonna lie to you,"
Robert Plant's worst nightmare
Jake Kiszka howls, painting an
Almost Famous
type portrait of life on the road — something the young foursome has been doing continuously for most of 2018.
What is perhaps most surprising about GVF's latest single is that they are not rebelling against the tireless comparisons to Led Zeppelin by taking their sound in a completely different direction. They stuck it out with what works best, and what works best is their brand of Generation
Z-eppelin
.
Without a full-length record (the band is still peddling eight songs from 2017's
Black Smoke Rising EP),
Greta Van Fleet has managed to sell out most of its tour in advance, and has still managed to send its first two singles,
"Safari Song"
and
"Highway Tune,"
directly to No. 1 on the mainstream rock charts. The question is, will "When The Curtain Falls" follow suit?
"I clicked out of PornHub to see this," one fan confessed of the release. "I'm crying."
So, our bet is on yes.
Listen to "When The Curtain Falls" below.
Stay on top of Detroit news and views. Sign up for our weekly issue
newsletter
delivered each Wednesday.