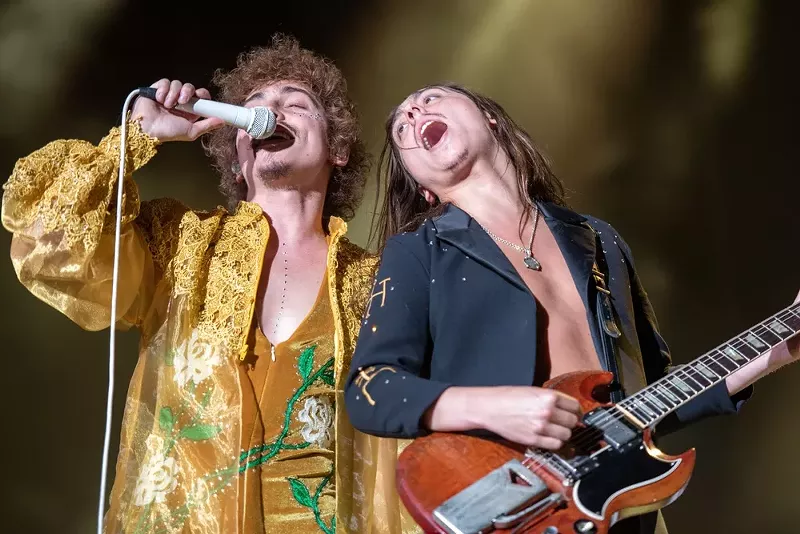 After skipping Detroit on its last tour, Michigan rock band Greta Van Fleet has announced a concert at Little Caesars Arena.
The Friday, Sept. 8 show is part of Greta Van Fleet's 2023 world tour in support of its forthcoming third studio album Starcatcher, out on July 21.
Tickets go on sale at 10 a.m. on Friday, April 21 at 313presents.com, livenation.com and ticketmaster.com. A presale for the band's Electric Tomb fan club starts at 10 a.m. on Wednesday, April 19. The full list of Greta Van Fleet's 2023 world tour dates is available online.
Greta Van Fleet is joined by Reno, Nevada surf rock band Surf Curse on the tour.
GVF has released Starcatcher's first single, "Meeting The Master," which you can listen to below. The album was recorded at Nashville's RCA Studios.
According to the band, which formed in Frankenmuth in 2012, it sounds like the new album digs into Led Zeppelin-esque fantasy themes and establishes a sort of Greta Van Fleet extended universe.
"We had this idea that we wanted to tell these stories to build a universe," drummer Danny Wagner said in a statement. "We wanted to introduce characters and motifs and these ideas that would come about here and there throughout our careers through this world."
It also sounds like the boys have started smoking that Lord of the Rings pipe-weed.
"When I imagine the world of Starcatcher, I think of the cosmos," bassist Sam Kiszka said. "It makes me ask a lot of questions, like 'Where did we come from?' or 'What are we doing here?' But it's also questions like, 'What is this consciousness that we have, and where did it come from?'"
"We didn't really have to force or be intense about writing, because everything that happened was very instinctual," guitarist Jake Kiszka said in a statement. "If anything, the record is our perspective, and sums up where we are as a group and individually as musicians."
Coming soon: Metro Times Daily newsletter. We'll send you a handful of interesting Detroit stories every morning. Subscribe now to not miss a thing.

Follow us: Google News | NewsBreak | Reddit | Instagram | Facebook | Twitter