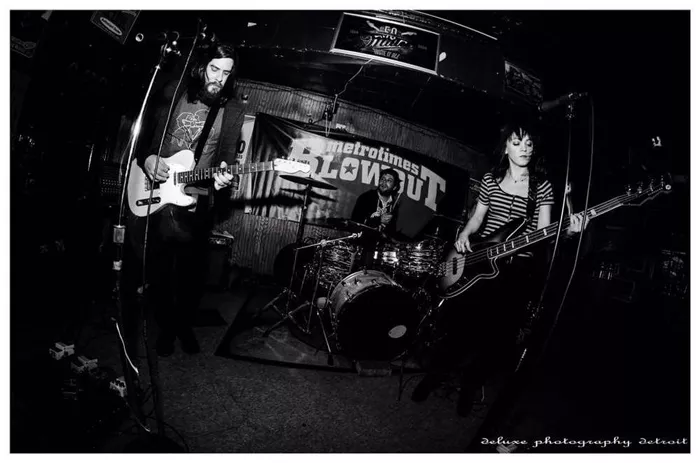 Gregory Beyer starts writing a few songs in the middle of this interview. His fingers drum the table to a 5/8 beat and then he air-guitars the fingerings for the melodies he's humming with his high, hazy singing voice. This isn't provoked; ditties just sort of pop out amid his exposition because of his meandering conversational style. If there's anything Beyer's good at, it's talking. Songs seem to come fast for the Detroit-based guitarist-singer-songwriter and full-time freelance bassist. After Dark Amusement Park is a band formed around a surge of Beyer's songs recorded by producer Eric Hoegemeyer and released in late 2012 — a blend of punchy, gritty, glam-rock chargers with an alluring swagger in the singing that mashes up his biggest influences (David Bowie, Marc Bolan, Prince). He has opinions on Kid Rock, Rodriguez, and Ty Stone, too.
Metro Times: What influenced you the most, musically, when you were growing up?
Gregory Beyer: My aunt had this big old Alvarez guitar, and she showed me a D chord and an A chord, and I mastered those instantly and played "Proud Mary." I played cello in fourth grade, just on a whim, then in fifth grade they forced us to play brass, so I tried trombone. I joined the choir class after I quit band class. I was 15 when I recorded my first record, though, just 13 songs in Eric [Hoegemeyer]'s old studio above Janet's Lunch in Grosse Pointe. I just love local music; I bleed local music. I used to see all those big bands from years ago.
MT: Music was pretty prevalent, then, throughout your childhood?
Beyer: My older brother raised me on Zeppelin and Sabbath, and he's a huge Cure fan. My sister raised me with Wham, Madonna, Devo -— everything I love; that stuck. My mom was more soft — Neil Diamond and Bread, but then my dad liked U2 but also the Jam. Then I found Hendrix and Smashing Pumpkins on my own.
MT: That list gives you style, presentation, strong lyrical writing, shredding, and some pop.
Beyer: You've always got to have pop. I don't mean ketchup-pop — I'm talking that pop flair, where a hook and melody come from. I try to see the good in everything, in all music. I feel like everyone had that middle-school phase where we all tried kissing these other genres just once and we could see the beauty in it, but then we evolve. I had a Skinny Puppy phase and a Metallica phase.
MT: You've got Dave Dionise on drums and Leann Banks on bass, so this isn't exactly a formal solo project. You're writing the songs, though.
Beyer: Leann and Dave were the missing links to having a kick-ass band. Everyone can play their parts if they come in (to the studio), but I'm so quick at writing a song. If we had a guitar right here, we could write a song together in five minutes and it would be 80 percent good. You'd just have to tweak it a bit. I was taught to write whatever comes to your mind, right then and there. I'm probably the one person who spends the least amount of time on songs.
MT: People might take that the wrong way.
Beyer: Like I don't put enough effort in? I feel like if you're working on a song for a year, there's no point in ever releasing that song because what's the point, then? It's about vibing. The first two chords I strum, I'll make a song of it. I don't know much music theory, but I know enough. I tell you what, just learn your keys. Like the major scale notes, with the whole-whole-half and whole-whole-whole-half. I'm probably speaking, like, hieroglyphs right now. I'm so random, I apologize.
MT: Talk about After Dark's aesthetic; it's usually three-minute driving pop, straight and to the point.
Beyer: Right, like 'this is the moment!' There are simple chord progressions, but if you watch a show, we're dynamic, we're tight as nails. It's all about the ending of a song, when you hit it and everyone stops — thunk! That main speaker hisses like the crowd's letting out an exhale. I thought I was a sloppy guitar player, but I'm just loose because I learned on acoustic. Watching [Sixto] Rodriguez that whole tour, I watched where his thumb would go, but I didn't learn anything I didn't' know.
MT: Right, you not only perform and tour with Ty Stone, but you recently got to back up Rodriguez — how'd that come about?
Beyer: I owe [drummer] Dave Shettler for that one. He called me up last minute for that tour. I'm a working bass player; I've played with Doop & the Inside Outlaws and Troy Gregory. I think the best bass players are guitar players, like Paul McCartney. I don't consider myself an excellent musician, by any means. I just understand it to a point where I can get by. But, yeah, I've stayed with Ty Stone's band. I wanted to do that Kid Rock tour, opening up; I wanted to play every arena in America, and I did.
MT: And yet you seem pretty down to earth and humble after all that.
Beyer: Don't get me wrong; I run my mouth and speak my mind, but you have to be humble. It's the only way that gets you through it. Basically, someone famous — they're the same as us; they just have a lot more money. They're all people, really.
MT: What's next for After Dark?
Beyer: I'm moving forward. Hoping to do some touring, Chicago and down to Nashville. There's the final second album, too. I'm looking forward to New Fortune Fest, especially the High Strung. They've got some great songs. And their lyrics! See, that's what I go for — songwriting. They've got the songs.
After Dark Amusement Park plays New Fortune Fest (label showcase) with Detroit CYDI, Dutch Pink, the Ruiners and more at 2 p.m. on Sunday, May 25, at the New Dodge Lounge, 8850 Joseph Campau, Hamtramck; 313-87-45963; $8-$10.