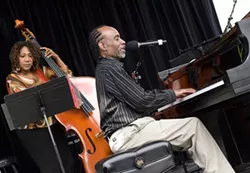 Pianist Johnny O'Neal's peers have likened his playing to the late, great Oscar Peterson and Art Tatum, which is a heck of an acknowledgement. He's an orchestral pianist, meaning that, like Peterson and Tatum, O'Neal swings across every inch of the piano, hammering chords and tickling melodies. Blues licks lurk beneath the surface of his solos, gospel too, and he sometimes breaks into singing, either seriously or bawdily, in a deep cavernous voice.
A late bloomer, O'Neal started playing jazz piano well into his teens and mostly taught himself. His fascination with the mammoth instrument started in church and grew after hearing his dad, Johnny O'Neal Sr. — who was popular around town back then — sing and play the piano at a neighborhood house party. And young O'Neal wanted to follow in his footsteps.
"He bought me my first piano, and he told me that I had two choices: I was either going to play the piano or I was going to eat it," O'Neal recalled during a telephone interview from his new home in Newark, having recently relocated from Detroit. O'Neal talked about his musical roots and wanderings, and how his return to the New York jazz scene in June — Detroit's loss — has reignited his music career.

First love
O'Neal was into gospel music when he got started on the piano, backing up church choirs around Detroit, and even winning an award in a contest organized by the godfather of gospel music, the late Rev. James Cleveland.
"I never thought that I would be a jazz musician. I was totally into gospel, but my dad made me listen to all his jazz records. My dad was the most influential person in my life. He was my coach. He was adamant about me learning to play all the standards. He said I should learn the standards because singers are always looking for piano players and that I would always have work," O'Neal said.
In his dad's record collections were recordings by Peterson and Tatum, and O'Neal was drawn to their voicing and elegant command. Eventually, he came to idolize them. When he was sure jazz was going to be where he made his mark, he didn't try to copy their licks, but he set out to cop their concepts. Many of O'Neal's peers feel that he's done a damn fine job.
"Johnny came in on the tail end of the tradition set by Oscar Peterson. Now Johnny is the ambassador of that tradition, and the architect of its future," says drummer Sean Dobbins, who's played off and on in O'Neal's trio for many years.
After graduating from Central High School in 1974, O'Neal moved to Alabama to live with his grandmother. He landed a job there by strolling into an Italian restaurant, noticing a piano and asking whether he could play. Out of the blue came an offer to play solo piano for $150, working six nights a week. In 1976, he went to St. Louis to work with a singer there. That gig never panned out, but he found employment at a happening jazz hub called Connor's Jazz House in a group led by an ill-tempered drummer who'd grab him by the shirt collar and berate him for the sin of a wrong note. On the upside, that was the band where he learned bebop, which has served him well ever since. A year later, O'Neal returned to Michigan and worked with drummer Benny Carew's trio in Kalamazoo, and he toured the Midwest with a show band called the Murphys that performed Top 40 and R&B music before O'Neal got his big break.

New York, Take 1
In 1981, O'Neal moved to New York and set out to find Basie-Ellington veteran Clark Terry, whose path he had crossed earlier in Atlanta: "I pick up a Village Voice to find out where Clark was working. I called him and asked who he had playing piano, and he said I was. That night I opened for him at the Blue Note. I wasn't in New York for 24 hours."
With Terry, he caught the ear of drummer Art Blakey, whose Jazz Messengers group has featured luminaries and up-and-comers from Wayne Shorter and Lee Morgan in 1950s through the Marsalis brothers in the '80s — just to name a few.
"Playing in Blakey's band at the time was challenging. Before then, I was playing mostly standard tunes. Donald Harrison and Terence Blanchard were in the band and they were writing modern tunes. I give them credit for enhancing my playing. They helped take it to another level."
For a year, O'Neal toured with Art Blakey and the Jazz Messengers, and, in addition to gigs with big-name leaders, he freelanced up and down the East Coast and throughout Canada, becoming a fixture on the Montreal and Toronto scenes in the '90s. (His discography as a leader includes On the Montreal Scene [Justin Time], a reference to his time there.)
But bigger things were in store.
The casting director for the biopic Ray, called O'Neal and said pianists Oscar Peterson and Oliver Jones had recommended O'Neal to play Art Tatum. O'Neal thought it was a prank:
"Jazz musicians are always playing practical jokes," O'Neal said. "I looked at the number on the caller ID and it was from California. I sat straight up in the bed. The woman on the phone asked if I could fly to New Orleans for a screen test. That evening I was in New Orleans auditioning. Halfway through the tune, the director stopped me and said that I had the job."
In the 2004 film, Foxx's Ray Charles asks, "Are my ears deceiving me or is that Art Tatum?" and the camera cuts to O'Neal's Tatum prancing on the keys.
Being in the movie increased his popularity some, but it did not bring the amount of work he expected. It was also during that period that O'Neal moved back to Detroit to help his aging mom, his father having already passed. He performed with his trio in Detroit and in Ann Arbor and still traveled overseas occasionally.

New York, Take 2
After his mother moved to a nursing home last year, two jazz friends, pianist Mulgrew Miller and former Detroit saxophonist Kenny Garrett, convinced him to move to New York. Back in the Big Apple, O'Neal found work right away, performing at Small's Jazz Club and Smoke Jazz Café & Supper Club-Lounge, where the Peterson-Tatum-esque style packs 'em in.
To O'Neal, it feels as if his career has gotten a second wind. A-list jazz musicians such as trumpeters Roy Hargrove and Sean Jones show up at O'Neal's gig to sit in. And when he isn't wowing audiences, he's giving private lessons to a select group of budding pianists.
He's taken his newfound popularity in stride, pointing out that most jazz musicians don't get their props until they hit 50. Having just turned 54 on Sunday, he's pretty much on schedule.

Johnny O'Neal plays Wednesday-Saturday, Oct. 13-16, at the Dirty Dog Jazz Café, 97 Kercheval Ave., Grosse Pointe Farms; 313-882-5299.