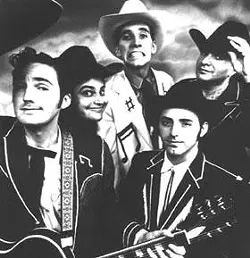 1
After reluctantly letting our drummer Doc drive the van (pre Mallard RV) home from St. Louis after a show, we awoke at 5 a.m. with our van being towed to Greenup, Illinois (pop. 1500) and we figured out Doc may have been driving for hours in second gear on the freeway. We spent five days in the town, including Easter Sunday, courtesy of the Zang brothers at Zang Salvage & Recovery, who just happened to have a "a re-done motor, which is just what you boys need." The loaner car was filled with empty cat food cans and Shorty found a pistol in the glove box. The only restaurant was a Dairy Queen. The motel room (also owned by the Zangs) had numerous small holes in the oddly stained walls. Our personalities were changing, the populace was strange, Doc disappeared and we feared for our lives.
2
Transmusicales Festival in France/Switzerland tour. Although our tour manager-driver explained he had to smoke "jazz cigarettes" to stay awake, and Goob almost died when the confused crowd did the Red Sea when he stage dived, we played on a TV show with Link Wray, toured with Morphine (not the narcotic) and, inexplicably, the French bales of straw were the best we ever used.
3
En route to Chicago our van broke down outside Albion, so we borrowed a two-seat loaner cargo van with issues from a relative (also with issues). Most of the band had to sit on the floor with the equipment. Naturally, we hit black ice on I-94 and totaled the loaner in a multi-car pileup near Sawyer. We went up on the two driver's side wheels on the guardrail for about a quarter mile, and then came back down on the freeway. Had fate decided to tip us the other way on the guardrail, it was 100-feet down to some train tracks. Thankfully no one was injured too badly. We don't know if Goob's driving saved us or if it was Junior's high pitched screams from the shotgun position.
4
While sitting in the Fox Theatre's dressing room waiting to open for Bob Dylan, we were told Bob needed to listen to our record and then he would decide if we could go on. We thought we had the "gig" since they hired us and we had done a sound check. We waited tensely — pretty sure he was playing mind games with us. Goob got lost coming back from the bathroom and ran into him, with a woman from his entourage "just helping him tuck his shirt in." He looked Goob over up and down and said "How you doin'?" and we were then told we had been approved.
5
It's a tie: Riding to the stage through the crowd on horseback for a concert at The Phoenix Center Amphitheatre, and the horses nearly spooking, but no one getting thrown.
Then, outside of Russell, Kansas, on I-70, mile marker 174 if memory serves, around 3 a.m.: Junior driving. Boss Hoss, Shorty and Doc sleeping. Goob shotgun, reading and looking at pictures in McCall's magazine, looks up and appreciates Junior's effortless execution of a textbook lane change. Proper hand position, turning indicator duration, mirror checks. Junior would later pen a driving manual for our drummers called Eyes on the Prize (Road). #1 tip: Stay awake. —Travis R. Wright
Goober & the Peas play on Friday, Aug. 5, at the Magic Bag, 22920 Woodward Ave., Ferndale; 248-544-3030; themagicbag.com; $12.