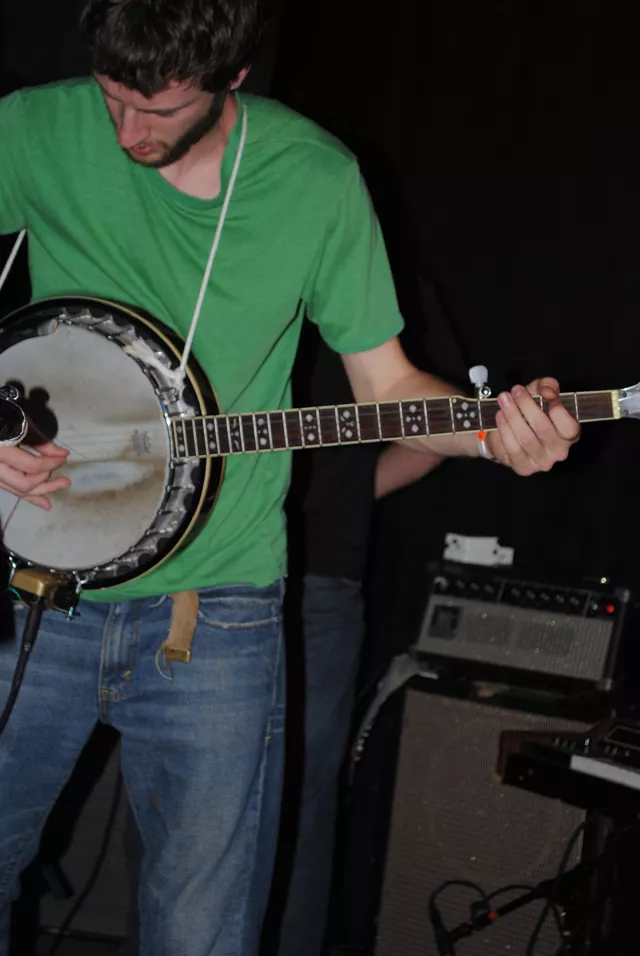 When guitarist Scotty Iulianelli asks if I wanted to meet Brandon Moss, drummer for his band Bars of Gold, it's a surprise. The guy's in Washington D.C., where he lives with his family — at least that's the story. Besides, we're in Ferndale, and he's nowhere to be seen. I figure the guy's on a beer-run, so I take a seat at Iulianelli's back porch.
I didn't expect to be introduced to a computer. But Iulianelli fires up Skype, the miracle software, for a video chat. In the time it takes for Moss' digital image to travel from D.C. to Ferndale, Moss cracks open a beer and is hanging out with us from his D.C. basement.
Moss' story, although a bummer, isn't strange for anyone who's ever made a band pal in any local music scene. In 2009, Moss' obligations to his pals in Bars of Gold were outweighed by his duties as a new father. When he lost his job as a teacher and his wife was offered a better-paying job in Virginia, Moss' fatherly instinct kicked in.
"I couldn't ask for anything better, but I lost my gig," Moss says. "I couldn't rationalize staying in Michigan for a band. It was kind of the father in me kicking over the musician. I grew up poor and I didn't want to do that to my 4-year-old."
So around the beginning of 2010, Moss and family moved, leaving his Bars of Gold bandmates hundreds of miles away.
And when Moss left, his band didn't hunt for a new drummer. No, Bars of Gold's tale is sweeter, and likely more genuine than any long-distance relationship story you've heard.
The Michigan residents of Bars of Gold are gathered around Iulianelli's laptop on his porch. They bring Moss up to date on what's new in their lives. They talk about Iulianelli's new job, bassist Nick Jones and guitarist Ben Audette's recent trip to Pennsylvania, vocalist Marc Paffi's ever-growing beer-cap collection and how Moss' kid is doing. It's borderline mundane stuff that's interesting only among friends. As each band member steps in view of the computer monitor, Moss' pixelated image greets them with a lively "Heeeeeyyyy!" This is as close as rock 'n' roll will get to looking like Cheers.
Bars of Gold is fronted by Marc Paffi. Yes, that Marc Paffi — the same broad-shouldered badass who turned heads in the early 2000s with with his gnarly larynx and sanity-challenging stage antics in Bear vs. Shark. Paffi is backed by Moss, Iulianelli, Audette and Jones. These are the same guys who made up Wildcatting, an instrumental group so scatterbrained that their slower songs put the breakdown of "21st Century Schizoid Man" to shame.
Sporting some of the busiest songs around Detroit, Wildcatting's model didn't leave much room for vocals — the band wanted a singer, but it was going to be hard, if not impossible, to write vocal parts when there wasn't room for them.
"[Wildcatting's music] was all over the place, which, if you don't have a singer, is great," Moss says, "but it must be hard if you are trying to sing to that."
"But who else could do it?" Iulianelli adds, turning to Paffi.
Moss and Paffi have some history. Most notably, they shared the stage in Bear vs. Shark, but, before that, they were two guys who met on their first day of high school, discovering they both really cared about music.
"I learned to play music to be in a band with Marc," Moss says. And so Bear vs. Shark was born — a band of dudes bonding over punk rock, whose friendships went all the way back to, in some cases, preschool.
But as the band that started out of fun in high school grew into something bigger, the situation got heavy for a few guys who were just out of college. The heavy, post-hardcore Bear vs. Shark had signed to the reputable Equal Vision Records and had a touring schedule as exhausting as a marathon's 22nd mile. With everything on the line, a newly married Moss clashed hard with the band. He constantly fought with guitarist Derek Kiesgen, and discovered just how difficult it is to earn money in the music biz, even if the band has a sizable national following. The band, and Moss, knew it was time for the drummer to go.
"[The split] wasn't amicable at all," Moss says. "It was much uglier than I think was made public. It was ugly because these were people I was friends with since sixth grade. People would get in fights over the dumbest shit, like bringing stuff up from sixth grade. But that's what happens when you have old, old friends."
Although Moss was quickly replaced by drummer Ashley Horak, Moss wasn't left behind or forgotten. In fact, the band was on the verge of collapse.
"Touring and getting rid of Brandon kind of messed a lot of us up. It was awful." Paffi says.
But though the band split, Moss and Paffi found common ground.
"Around 2005, when [Bear vs. Shark] broke up, [Paffi] was home all the time, and we started jamming," Moss says. "It wasn't until a couple of years ago when he started coming to Wildcatting practices that the two groups I was in joined up."
The Wildcatting guys, it turns out, were also old friends. Moss met Iulianelli through his little brother because they were skateboard pals. Jones' old band had opened for Bear vs. Shark numerous times, and Audette is the brother of one of Moss' friends.
"It's funny being in a band with Ben [Audette]. I remember when he was a little teeny kid and he would cower away from [his brother's] burly stoner friends." Moss says.
It was Moss's creative bond with Paffi that told him that if there was ever a guy who could sing over Wildcatting's ADD-fueled jams, it was Paffi.
After a few months of rehearsal, Bars of Gold debuted live in March '09, at the Screamin' Eagle, a now-closed dive-bar in the heart of Ypsilanti. All elements that curious onlookers could've wanted played out that night — the tweaky, spastic instrumentation of Wildcatting set the backdrop to Paffi's inspired display of raw energy; but the sound never felt forced — instrumental parts stepped aside, without losing edge, to make room for Paffi, whose paint-peeling croon often sounds like an instrument of its own. And that's saying something.
The show was bootlegged and posted online; both Bear vs. Shark and Wildcatting fans buzzed. The gig — Paffi's first live outing since Bear vs. Shark's 2005 breakup — was a success.
Bars of Gold's debut LP, aptly titled Of Gold, dropped in September and features eight dynamic, kick-ass songs. Aside from the obligatory guitars and drums, the guys are multi-instrumentalists; banjos, mandolins and the Suzuki Omnichord (look it up, gear heads) are prominent instruments for the band.
See, it doesn't matter what instruments are in front of them, BoG will utilize them to create thoughtful, energetic rock music.
Of Gold's "The Hustle," for example, isn't bluegrass, and it isn't punk rock. Audette's banjo licks, backed by Jones' thumping bass lines, melodically plunk atop a stomp-along drum part — it's the perfect backdrop for Paffi. The song plays out as if Isaac Brock actually were a tough guy and he jammed with a bunch of D.C. punks with Tennessean roots.
The sound is its own, the band's own, but what is its genesis? If you're looking for the guy who plans this stuff out, you won't find him. There's no single songwriter here, and their rehearsals aren't exactly organized. Here's how the songs come about: The guys go down to their studio-basement with a couple ideas and a case of beer. That's it. If anything, this method of songwriting shows that you can't underestimate simple human chemistry.
And the rehearsals themselves are comical. For example: When a jam ends, the room erupts into conversation; everyone talks at once. After minutes of this rising chatter, they somehow know how to fix the song. It's equal parts intuition and camaraderie, and each member has equal say. So now you know why it's so important to the band that drummer Moss stays, regardless of where he lives.
"To be honest with you, Brandon is fuckin' Houdini," Paffi says of Moss. "You can't set your mind and your heart to [Moss' playing] because you have no idea what he's going to do. I would never tell Brandon [Paffi mocks a drummer playing a straight 4/4 drumbeat], 'Check this out, what if you did like, a solid beat?' That would never work out."
Like any long-distance relationship, the band stays connected to Moss, mostly on Skype.
"It's a strength and a weakness," Moss says, "If we could just interchange people like Legos, things would go a lot better and smoother and there'd be lots of shows. But I think the strength is we trust and love each other enough to the point where nothing gets done with someone missing."
Paffi agrees.
"This is definitely one of the bands where if one person decided they were moving to L.A. to start a marketing job for a really nice firm and buy a nice Saab and get a really nice townhouse, the band would probably be over," Paffi says, "I like these four dudes, we fit well together."
Moss is usually with his Michigan bandmates physically once a month, at least. BoG makes the most of Moss' monthly visits — Iulinelli's basement-turned-recording studio was built for this reason alone.
"We all tried to put all of our effort into it," Paffi says, "Just to have a place you could play any time of the night whether Brandon came in at one in the morning and we could get a jam session in. It's set up to be ..."
"It's like a music factory," Iulianelli interrupts, "Everything in there is handy, and it makes a sound, and if it doesn't, it doesn't stay around long."
Iulianelli isn't just boasting about his basement setup, which doubles as BoG headquarters — the home-studio is fitted with a control-room and a live-room to record the band, using gear Iulianelli accumulated through years of music store jobs. There's enough music-junk here to provoke envy in any semi-pro producer.
BoG also controls their merchandise; they screen-print their own T-shirts down here.
Iulianelli uses the studio to keep tabs on the band's new blossoming songs. With songwriting based around jamming fueled by beer, it can be a challenge to remember certain parts.
"It's like, we just wrote the perfect song last week," Moss says. "Hey, anyone remember it?"
It's a Wednesday night and BoG is preparing for a show that's a day away. For now, they've a fill-in drummer; the band's set won't exactly be acoustic — but it is as close as they'll come. Moss watches via webcam, he's a face on the computer screen.
"That was weak!" he blurts out between songs.
The band, maybe piqued by Moss' criticism, rips through an inspired but stripped-down version of "Birds," whose lyrics are Paffi's tribute to a life away from constant touring. When the instruments drop out, you can hear a misplaced, delayed bit of percussion.
All the heads in the room turn suddenly toward the computer monitor. There's Moss wearing an ear-to-ear grin, wielding a percussion shaker in one hand and a beer in the other. Although he's hundreds of miles away in D.C., he can't help it — he helped write the song.
At 8 p.m. Sunday, Dec. 26, at the Magic Stick, 4120 Woodward Ave., Detroit; 313-833-9700; with Few and Far Between and Heads Will Roll.