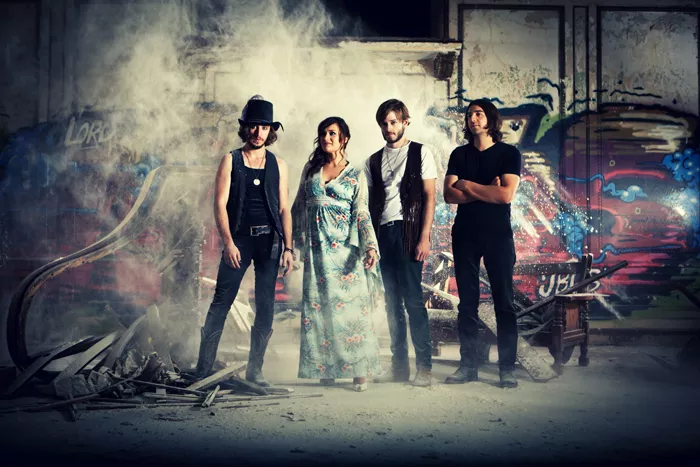 George Morris is one shy dude. The man with the slightest of frames wandered into MT offices for this interview with a deer-in-headlights expression on his face. Despite the fact that he's one of the most talked-about musicians in the city right now, a generator of buzz, he appears to have no clue about how to handle an interview. This is confusing too because, not only did his previous band the Satin Peaches flirt with major label success, but Morris appeared to be the driving force.
On stage, he was and continues to be a compelling frontman. With a unique vocal style that inevitably draws mockery from some quarters, Morris' eyes get wide and mildly unhinged when he's performing. He puts his all into his live performance, and seems wildly eccentric. In person, or at least in interview, he's the polar opposite — a humble, slightly meek but inarguably nice dude.
Maybe he's just a little older now. The Satin Peaches story isn't an uncommon one, but that doesn't make it any less painful. The band was signed to Island Records around 2006, very close to the beginning of its life. It should have been the beginning of a long and fruitful career — Owen Morris (who worked with the Verve and Oasis) bringing the band in. But, you know, the best-laid plans and all that.
"I don't think we were good enough, but we were told we were," Morris says. "I think by the time we had played enough and had gotten good, everybody who had signed us at the label was gone. All our representation was gone. I think we were one of the last bands to get a deal like that — they were just throwing money at people. That was 2008, I think. Right when the major labels were going down."
Though the Satin Peaches did reunion shows at the New Dodge Lounge and the Magic Stick a couple of years ago, there are no current plans to do anything else. "We're all doing our own thing right now," Morris says. "Aaron [Nelson] is playing with me, Jesse [Shepherd-Bates] is in the HandGrenades right now and working on his film stuff. Ryan [Wiese] is in Ronny Tibbs & the 305's, and Jeremy [Smith] is in Wisconsin."
Essentially, Morris is now a solo artist, though he's working with a regular group of musicians — the Gypsy Chorus. Aaron Nelson, Helena Kirby and Zack Pliska complete the lineup. "Zack played in Fur," Morris says. "Helena did a bunch of TV and radio stuff, and she's a really good keys player. The first album I did by myself is called Organ Solos. That's just an organ and a drum machine. I stripped everything down, and that's what I played around with for a while. I just put out an EP called Black & White EP, and that's got some of the newer tracks. I didn't put any restrictions on it when I started doing that."
Indeed, Morris put out a video for the song "Fuck It," directed by old friend and fellow Peach Jesse Shepherd-Bates. Some may have seen the black-and-white (appropriately enough considering the name of the EP) video as a little pretentious, Morris standing still and singing as hands paw him from all sides. Maybe it is. However, it's also a mark of Morris' progression, and evolution.
"[The solo material] is not as guitar-heavy," Morris says. "I think it's pretty similar. Jesse and I were the main songwriters when we were both in the Peaches, and Ryan and I collaborated a bit too. With this new material, I'm the sole songwriter."
Music aside, Morris says that the experiences of working with the Peaches and with his new outfit are not entirely different. "I guess when I was writing in the Peaches, I had plenty of control," he says. "I don't like too much control anyways. I guess when something needs to be decided, I can do that. Going solo, I played like a year by myself, just solo shows. That was OK. At that point, I was burned out with being in a band. After a year, that was enough, and I wanted to be in a band again." Hence the Gypsy Chorus.
And now, after bubbling under with the Satin Peaches and then going away, Morris is causing a stir once again. He's definitely one to watch in metro Detroit right now, and the attention is a far cry from his suburban upbringing. "I grew up further north — Commerce-Waterford area," he says. "It was boring. I went to school there. There were surprisingly a lot of people playing music there. There were always a lot of really talented people to play with. It was just one of those things. My parents both played in bands. My mom was actually in the Polish Muslims for a little bit."
Mom can polka, then. Perhaps it was his uninspiring surroundings that influenced his writing and singing style. "Honestly, I write about just basic emotions," Morris says. "I like to keep it pretty simplistic. I'm not good at telling a story, so I guess I try to convey a mood. My voice is just the way I sound, but I have worked harder at making it sound better. When we first got signed, I went to a vocal coach and kind of just blew it off. But I've since gone back and found all those tapes, and really tried to work at being better."
This weekend, Morris plays the Loving Touch, and then he'll get to work on an album. "I'm working on a full-lengther," he says. "It's pretty much recorded — I just need to figure out what's going to be on it and who's going to release it."
Meanwhile, he's determined to play a lot more shows. "We haven't played that many yet," says Morris. "The Jessica Hernandez show was a lot of fun, when we opened up for her. I think we're getting better as a band still, so each show's getting more and more fun. The New Year's show we played at the New Way was a blast. Our worst show was Dally in the Alley; because the guy they had running sound just didn't know what he was doing at all. I love Dally in the Alley, it's a lot of fun. But they need a new sound guy. It was probably a case of somebody backing out and he came in at the last minute. But it was horrible."
Horrible or not, Morris is still delighted to be a part of this rich Detroit scene. "I thought it was good in 2008 and I think it's still good," he says. "There are tons of talented bands around here. Talented everything, really. I don't think it's like that everywhere, at least from what I've seen. I think we take it for granted but how could we not — we're in it every day."
And for that, we should be truly thankful.
George Morris plays on Friday, Feb. 14, at the Loving Touch; 22634 Woodward Ave., Ferndale; thelovingtouchferndale.com.