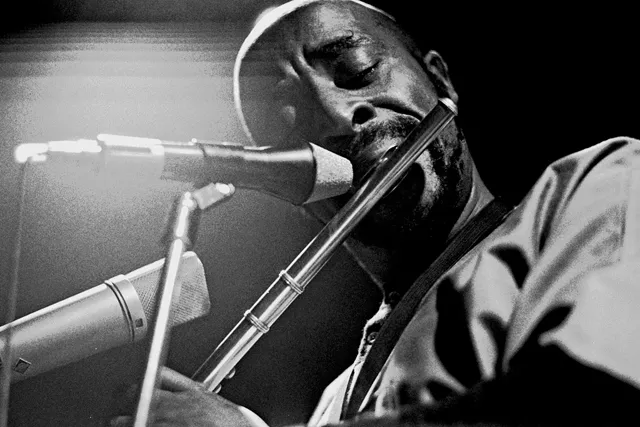 The Yusef Lateef tribute will take place at 5 p.m. Saturday, Sept. 22, at St. Matthew's and St. Joseph's Episcopal Church 8850 Woodward Ave., Detroit. The tribute and concert charge is $25, $40 with dinner. For tickets or information call 313-538-9811. 
When jazz saxophone giants are discussed, some familiar names are spoken of reverently, first names such as Sonny, Trane, Bird and Hawk, and then come such names as Dexter Gordon, Eddie "Lock Jaw" Davis and James Moody. And let's not forget a soft-spoken giant from Detroit.
He was born Emmanuel Huddleston in 1920 in Chattanooga, Tenn., but he grew up in Detroit's infamous Black Bottom, where his family changed its last name to Evans, and he became known as Bill Evans. After hearing a pit band at a neighborhood theater, he wanted to be a musician. He sold newspapers to buy a saxophone, with his dad chipping in half the cost, so the story goes. He attended Miller High School. At Wayne State University, he studied music, and, in 1946, he became a Muslim, changing his name to Yusef Lateef.
 "When I started playing, I never wanted to be a jazz musician. I wanted to be a musician, period," Lateef said recently during a telephone interview from his home in Amherst, Mass. 
In the early 1950s, Lateef made his name on Detroit's jazz scene, playing at popular jazz clubs such as Klein's Show Bar and the Blue Bird Inn. Alvin Jackson, Bernard McKinney, Barry Harris and the little-remembered Jack Town are some of the musicians he's written about playing with. 
Then it was on to New York where he began his recording career more than a half-century ago. He's made his share of what jazz pundits consider stellar discs, often with an Eastern flavor: Prayer to the East, Cry Tender, Into Something and Live at Pep's. 
Lateef doesn't consider them stellar jazz discs. He doesn't consider them jazz at all. Since the '70s, Lateef has called his music autophysiopsychic, which means music from one's physical, mental and spiritual self and includes music from all parts of the world. And for that matter, particularly since the 1980s, he's played a good deal of music that would lead a narrow-minded fan to agree he wasn't playing jazz. (Call out the jazz police, as they say.)
This week, Lateef returns to Detroit. The Societie of the Culturally Concerned — run by Barbra Cox, widow of the late jazz pianist Kenn Cox — will pay tribute to Lateef for his contribution to jazz and world music. Jazz saxophonist and educator Ernie Rogers will be the master of ceremony. Herb Boyd, who co-wrote Lateef's 2006 autobiography, The Gentle Giant, will be the guest speaker. Lateef's music will be played by SOTRE (Seekers of Truth Revolutionary Ensemble), led by Lateef's longtime musical associate protégé, the multi-instrumentalist Ralph Miles Jones. (Rounding out the band: Kamau Kenyatta, piano; Jaribu Shahid, bass; DJallo Keita, drums; Issa Abramaleem, percussion.)  Actors John W. Hardy and Council Cargle will provide narration, including Lateef's poetry. 
"Yusef has always been a deep thinker, and his music ranges from the blues to stratospheric," Boyd said over the phone recently. Just to note one small breakthrough: "He was the first to play the blues on the flute."
Nowadays, Lateef is a retired professor of music. At 91, he tours only twice a year, overseas. He just completed his second full-length symphony. 
Lateef is not the most talkative musician to interview. His answers to questions about his evolution as a spiritual man, a husband and a musician are short. Try to pick his memory for his fondest Detroit moments, and he'll politely suggest you check out his autobiography. Been there, wrote that.
The book is unlike the typical account by a jazz musician. If you're looking for dirt or thrills or confessions, read Miles Davis, Hampton Hawes, Art Pepper or Sidney Bechet. Lateef is a family man, devout Muslim, music intellectual and world traveler with an unquenchable hunger for knowledge. He's lived a clean and a wholesome life.
The autobiography details every aspect of his musical evolution. There's nary a hurtful word about any musician he's performed with and recorded with. Lateef has won a Grammy (notably for New Age Music, not jazz), and dined at the White House at the invitation of President Bill Clinton. In 2010, he was named a jazz master by the National Endowment of the Arts, the highest national honor bestowed on a jazz musician. Being a renowned lion of world music is one thing, but being honored where it all started is something else, he said. 
"I'm grateful to be honored in my hometown. I want people to know that after all these years I'm still in love with Detroit," Lateef said.
Charles L. Latimer writes about jazz for Metro Times and blogs at idigjazz.blogspot.com. Send comments to [email protected]