Sadly, there have been so many tragic stories in the Detroit arts community as of late. As we mentioned in this space awhile back, Gary Grimshaw -- not just one of the greatest rock poster artists from Detroit...but quite simply, one of THE greatest rock poster artists ever, period (and also a genuinely good guy) -- has been ailing since a major surgery, following a longtime condition, in late February.
This Saturday night, April 17th, at 8 p.m., there will be a benefit Dance/Concert -Poetry Reading-Art & Photography Exhibit at the Bohemian National Home to honor and celebrate Gary's life. Music will be performed in Grimshaw's honor by the Howlin' Diablos, Planet D Nonet, John Sinclair & His Blues Scholars, Howard Glazer & the El-34s, and special guests yet to be announced.
A poetry reading in commemoration of the life & work of the great Detroit poet Mick Vranich, who passed away earlier this month, will also take place during the evening, featuring Detroit poets James Semark, Sinclair, M.L. Liebler, and more to be announced. "Mick was also from Downriver (Wyandotte), Gary's same age (64), and spent his entire adulthood in the Wayne State area," said Gary's wife, Laura Grimshaw. "He fell off a scaffold while doing his carpentry work almost the same time that Gary's big troubles began. He also spent weeks in ICU. Mick performed with his W'rd Band for a benefit for Gary years ago when Gary was sued by a former employer. He was a good man and will be dearly missed."
Posters by Grimshaw and photography by Leni Sinclair will be exhibited in the BoHouse Gallery. And a commemorative poster is being created by fellow poster artists Carl Ludgren, Mark Arminski, Scott Dedenbach and Frank Bach.
"Gary Grimshaw is one of the most important cultural figures—and one of the most beautiful human beings—in our community," event organizer Sinclair said. "Gary is suffering from severe physical trauma right now and remains in the Intensive Care Unit at Veterans Hospital in Detroit.
"I wanted to get together as many of his fellow artists and cultural activists and all the people in our community who love Gary Grimshaw and his work to show him how much we care about him, and to send him our healing thoughts and prayers while he is struggling to regain his health."
"I've worked with Gary Grimshaw since I saw his first poster in the summer of 1966," Sinclair said. "He created the modern-day image of Detroit with his posters for the Grande Ballroom and for scores of bands, concerts and cultural events over the past 44 years. We would be nothing without Gary Grimshaw."
The Boho Home is at 3009 Tillman Street, Detroit; 313-737-6606.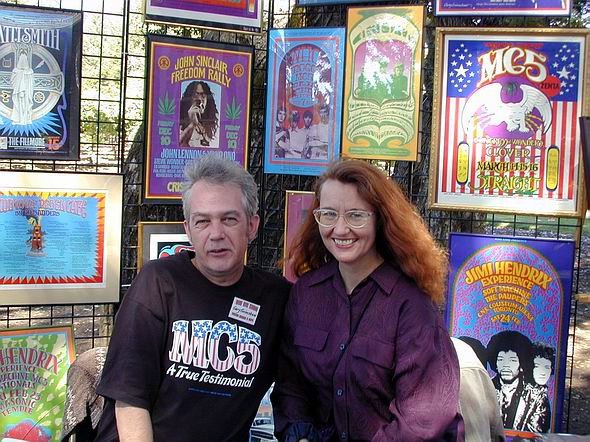 Gary and Laura Grimshaw, surrounded by some of his work