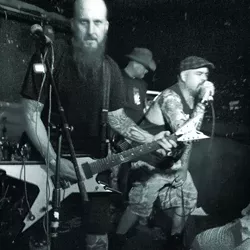 Ever heard the term "fuckknot" before? We hadn't either, but Brad Erwin, frontman with the band brandishing the moniker, explained what it means in glorious, vivid detail:
"My wife started the Detroit Roller Derby Girls in our basement about 10 years ago," Erwin says. "She also cuts hair and does color, and in turn she does a lot of the roller derby girls' hair. After the movie Whip It came out, a couple of the girls stuck with the movie business and tried to get involved a little bit more heavily.
"One of our friends called at about 7 a.m. one morning, and said, 'Oh, my God! Wake up your wife! This is an emergency!' I'm thinking, 'Oh, great. This chick's a bartender; she shouldn't be up at 7 a.m., somebody must have died.' She shows up at the house and she looks like Courtney Hole after a weeklong binge.
"I'm looking at her like, 'Damn, what's the matter with you?' She points at her head and goes, 'I've got a job with this movie company in two hours and I've got this three-day fuckknot.'"
Erwin says he's worked in bars his whole life and had never heard the term before. He continues: "I said, 'You've got a what?' She says, 'I've got a three-day fuckknot. Me and my old man have been in bed for three days and this is the result. I've got to get it fixed.' I just thought that was so appropriate for the attitude of the band. That's how Fuckknot came about."
If that isn't the greatest story behind a band name — ever — it has to be right up there. They might not be getting on the radio anytime soon (with a name like that), but they have one hell of an anecdote to spill at parties — and interviews.
Fuckknot formed when Erwin, who had played with hardcore-metal band Harm's Way through the '90s, and guitarist Justin Smith (formerly of A Mayonnaise Graveyard), decided to tread the dirty boards of the region's dive bars once again.
"I hadn't played in about 10 years, and I missed it," Erwin says. "I said, 'Let's get together and fuck around.' We didn't have a drummer or a bass player. We still don't have a drummer. We found ourselves [music editing software] Acid Pro, picked that program out of thin air. It was like, 'Here's a drum program right here — let's teach ourselves this.' … The tricky thing was learning to play to the program, because if you're off by an inch, you might as well be off by a mile. It's not like a real drummer where you're off by a little bit so you can catch each other's eye and get back in the pocket. The drum machine is a little more unforgiving than that."
After mastering the techniques and rhythm of playing alongside a computer program, Erwin says the band then interviewed several different drummers, but none worked out as well as the software; and as he told it, the guys said, "Fuck it," and they stuck with Acid Pro.
"We picked up an animated monkey with eyes that open and a head that throws back," Erwin says about the band's ultimate drummer. "We built some little arms for him, put some drumsticks on them and put some five-gallon buckets in front of him and said fuck it, there's our drummer. His name's Mike the Monkey."
Fuckknot is likely the only band in Michigan with a monkey drummer. The guys, who are in their early-to-mid-40s, spent their youth watching the likes of Thrall and God Bullies main man Mike Hard, and Negative Approach, Laughing Hyenas and Easy Action front-monster John Brannon.
The sound that evolved as each passed through their respective previous bands and into this one is a brutal mash-up of metal, stoner rock, trad hardcore and gutter punk.
"I also always loved Ministry, KMFDM and Lords of Acid," Erwin says. "My stepbrother is more David Allan Coe, Clutch and Hank III. When I think of hardcore, I think of fuckers who give it their all — whether they're playing to 25 people or 250. People like Mike Hard who give 150 percent every time."
One might think the current financial and social turbulence in the city creates a perfect writing environment for people in angry hardcore bands; Fuckknot finds inspiration from all kinds of weird places and incidents.
"Everything seems more politically correct nowadays," Erwin says. "Everybody's afraid to say what they're thinking. I'm always the loud guy in the corner who wades in, face first, and then thinks, 'I probably shouldn't have said that.' [We write about] everyday shit. I had a buddy drop a cocktail in my kitchen one night and the glass didn't break.
"He was like, 'Oh, my God, I'm so sorry.' We were hammered and I was like, 'Yeah, you didn't break the fucking glass. What the hell, man?' The wives were in the corner rolling their eyes. He was like, 'Are you serious?' I'm like, 'Break that goddamn glass and do it right.' My brother started a chant of 'break the glass, break the glass.' We wrote a song about that. It's very random."
Erwin says because the band's members are all in their 40s, their approach toward playing has been to just have a good time, no intention to do anything other than open for other bands they like — and maybe get drunk from time to time.
"We're not taking every little Wednesday or Thursday night shit-show that comes down the pipe," he says. "We've got a chance to warm up Mike Hard? Great. Got a chance to warm up Easy Action? Great. Those kind of shows are always fun."
Recalling one show where Mike the Monkey, the usually reliable primate drummer, was experiencing some technical difficulties, Erwin said the recalibration necessary to keep the show going has been par for the course.
"The songs are totally different; we don't know where our queues are, but we approached with the attitude of, 'I'm going to party with you,'" he says. "We have an inflatable pig with a shot glass in its ass, a gas can full of Jagermeister, pouring shots out of a pig's ass and giving them away. … We don't think we're going to make a bunch of money, we just want to have fun."
This Saturday, Fuckknot will open for one of the members' faves, Mike Hard, at the Lager House. Erwin is pumped. "This show will be a blast with the Lava Moth boys there, and Mike Hard is amazing," he says. "It's Mike. You can't beat a guy who is in a three-piece suit at the beginning, and by the end he's ripping up bibles and throwing the pages at you."
After that, Erwin will turn his attention to his upcoming art show. "We're putting it on this year at the Old Miami the same day as Dally in the Alley," he says. "It's like 40 artists, nine bands, six DJs, pole dancers, barbecue, burlesque — the whole gamut of crap that we've always done at Theatre Bizarre, rolled into an art show. It's called the 'Dirtiest Most Bizarre Art Show That is Not in the Alley Ever.'
"I worked for the Dirty Show for 10 or 11 years, and I worked for Theatre Bizarre for a while, and had a small falling out with both of them. I checked into Dally this year and they wanted $230. I'm like, you know what, I'll call my art show that and it's a 'middle finger with a smile' to all of them. The art shows in Detroit have been getting watered down and I wanted to do it in-your-face, much like our music."
Fear not, though, Fuckknot will force its way back into the front of his mind before long. After all, a band with a name like that cannot be ignored.
Fuckknot plays on Saturday, Aug. 24, with the Mike Hard Show and Lava Moth at PJ's Lager House, 1254 Michigan Ave., Detroit; 313-961-4668.
Brett Callwood is a staff writer for Metro Times. Send comments to [email protected]