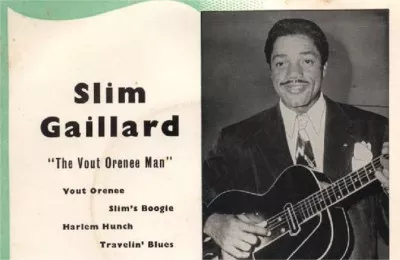 We just missed it, but Slim Gaillard, the hepcat who wrote such now-forgotten songs as "
Cement Mixer (Put-Ti-Put-Ti)
" and "
Flat Foot Floogie (with a Floy Floy)
," was born 100 years ago yesterday.
A singer and multi-instrumentalist, Gaillard's fanciful lyrics and polyglot vocalese hit audiences right in the funnybone. He was the type of showman who'd do the absurd for laughs, even playing the piano palms-up (he often could). And when Gaillard was on the mic, he'd switch cadences and languages like a child toying with a radio. He could go from gently crooning to hooting to sounding like a blaring Spanish-language broadcast commercial. He'd take standards like "Bei Mir Bist Du Shein" and change the lyrics so they were all about food. (And this was years before Louis Prima sang about "sunshine and macaroni.")
What's more, Gaillard also spent much of his too-early adulthood in Detroit. He's said to have worked at Ford Motor Company, among other jobs, before leaving for New York and fame in the 1930s.
The stories of his origins are various and fantastic. They include a European father, a black mother, and a childhood in Cuba or Florida, as well as elsewhere in the American South. One seemingly tall tale has him traveling the world by boat with his father at age 12, and being left behind on a Greek island. It may not be so far-fetched, though, since so many of his tongue-twisting creations as a songwriter borrowed heavily on a multitude of languages. (He spoke eight, and his own invented hipster language, "Vout," was so elaborate he even wrote a dictionary of it.)
Returning from Greece to the United States, Gaillard made his home here in our city.
One story
has young Gaillard arriving jobless in Detroit and finding sanctuary with a Middle Eastern family in the basement of their shop on Woodward Avenue. The penniless young man was nourished until he was back on his feet, stuffed full of the family's ethnic cooking.
Note that two of Gaillard's songs, "Arabian Boogie," and "Yep Roc Heresay," are largely in Arabic. In fact, the jazz bouncer
"Yep Roc Heresay"
reels off a list of dishes that would constitute a Levant feast.
More seasoned ears than mine say
the lyrics are a menu that includes
yebra
,
harissah
,
arak
,
machshi
,
kibbeh bel'sineyeh
,
lahm mishweh
,
mahsheh
,
banadura
, and even burghul. Some Gaillard scholars say he must have learned all this in his Detroit years, while eating the food that saved him from starving in the street. (Some researchers insist it's just Gaillard reading an Armenian menu.)
Of course, that bit of Gaillardese – Yep Roc – would inspire a namesake in Yep Roc Records, which is more likely what contemporary audiences associate the lyrics with. But it's a delicious bit of history if, in fact, the name was inspired by a jazz cat's love for yebra – or grape leaves – right here in Detroit.