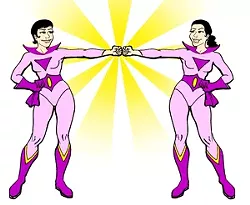 This past Friday night, the Wonder Twins braved the snow and headed out to the Detroit Institute of Arts to check out the Juliets as part of the museum's "Friday Night Live!" music series. An outstanding local band in the DIA's breathtaking Rivera Court? Yes, please.
Laura: The last time I was at the DIA, I witnessed a homeless man peeing on Woodward right in front of the building. At first I was alarmed, but then I thought it might be a performance art portion of their recent Inside|Out initiative.
D'Anne: That's where they displayed life-like reproductions of art from their collection all around Detroit right?
Laura: Yes.
D'Anne: Well unless "homeless man peeing" is part of their permanent collection, I don't think that was "art."
Laura: He could have told the cops it was a legit art piece.
D'Anne: Absolutely. I'm pretty sure claiming that any act of public nudity is performance art makes it totally legal.
Laura: At least that's how things have worked out for you so far.
D'Anne: Right. There was no real-life nudity at the Juliets show, though the Diego Rivera mural does include some naked jugs.
Laura: Wow, did you get that right from the informational sheet the DIA hands out to patrons?
D'Anne: No, that's from the multimedia tour. My favorite part of the Rivera mural is the baby growing in the plant bulb. Because that's how babies are really made, and kids need to know that.
Laura: I like how the fertility figures on each side of the plant bulb baby are holding things made in Michigan — like bottles of Vernors and jars of Velvet Peanut Butter.
D'Anne: Wow, no. They're holding fruits, grains and vegetables grown in Michigan. I think you need glasses.
Laura: Whether or not Rivera's mural teaches the facts of life and does or does not include a bottle or two of Vernors, it was a great place to see live music.
D'Anne: There were so many people there. I counted at least 100 people standing and all of the chairs were filled. How many chairs were in there? 100? 200?
Laura: Four. I'm going to go with four.
D'Anne: 400?
Laura: No, just four.
D'Anne: OK, well that is not accurate. I mean, there are more than four people in the Juliets alone.
Laura: But they weren't all sitting down.
D'Anne: You are hopeless. In any case, the turnout was great; it was a very diverse crowd too. Some little kids, some old people, and everybody seemed to love them.
Laura: Who doesn't love a good chamber pop song?
D'Anne: After the show there were riots in the DIA gift shop because their CD sold out so quickly.
Laura: It was intense. People were brandishing Diego Rivera umbrellas at one another.
D'Anne: The lady behind the counter said the band only brought 25 to sell. I think they were aiming a bit too low.
Laura: Let's hope all of the people we heard asking about it are smart enough to look for it online and buy it that way.
D'Anne: It's a really good record. Definitely one of my favorites of 2010.
Laura: Mine too.
D'Anne: I was happy that they played "Rimbaud and Verlaine," my favorite song about gay French poets.
Laura: Rimbaud and Verlaine were poets? I thought those were brand names of expensive toothpaste.
D'Anne: Not quite. Did you notice that they censored the song's ending?
Laura: They did? But Jeremy Freer said that everybody who has heard the record knows that the song ends with "little runt."
D'Anne: It doesn't. It ends with something that rhymes with "little runt."
Laura: Oh! "Fatty blunt?"
D'Anne: Um, no.
Laura: "Surgical shunt?"
D'Anne: That's a little closer. You seriously can't figure this out?
Laura: Is it "Helen Hunt?"
D'Anne: Well, I suppose some people might think so. I don't know her well enough to say.
Laura: I love her in "Girls Just Wanna Have Fun."
D'Anne: That was her best work.
Laura: Well, according to the DIA brochure, Rivera considers his mural there his best work.
D'Anne: Nice segue.
Laura: Thanks. The sound was pretty good, though kind of echo-y. The drums were a bit overpowering.
D'Anne: Well, Jeremy did tell his mother during the set that he was sorry they couldn't turn the drums down.
Laura: It was really great seeing Jeremy play a Steinway. Usually when I see him he's playing an electric keyboard.
D'Anne: I agree. That piano sounded great.
Laura: The Juliets started a campaign on Kickstarter, a fundraising site where fans can pitch in to help their favorite artists reach their goals, to get the electric violin and cello that Sarah Myers and Kaylan Mitchell were playing. They should start another campaign to get Jeremy a Steinway and to hire two big burly road crew guys to lug it around.
D'Anne: I'd donate.
Laura: Their electric string instruments are very Laurie Anderson-esque.
D'Anne: Though when we spoke to Kaylan Mitchell she didn't know who Laurie Anderson was.
Laura: She did borrow my pen so she could write "Laurie Anderson" on her hand and promised to look her up.
D'Anne: Maybe this will lead to the Juliets doing a cover of "O Superman."
Laura: We asked Kaylan how the Juliets got this gig at the DIA and she said that DIA Director Graham W.J. Beal himself landed a helicopter on the front lawn of the Juliets' headquarters (which they all live in together, since that's how bands roll), and begged them to play because he couldn't get their song "This Just In" out of his head.
D'Anne: Well, actually she said that someone from the DIA e-mailed them "out of the blue" and asked them.
Laura: I like my version way better.
D'Anne: The Juliets did open their second of two sets that evening with "This Just In." Sadly I think a lot of people can relate when Jeremy sings, "Wouldn't it be nice if we could get out of here, disappear and float away? I've got the Motor City blues, and I don't think the news is getting much better."
Laura: True. Michigan was the only state to actually lose population according to the new census information. Maybe Jeremy Freer's lyrics were far too influential.
D'Anne: I don't think he can be held responsible for that. It's bad news though. Thanks for bumming me out.
Laura: Sorry. Although the Juliets definitely count as good news though, right? And good news from Detroit no less.
The Wonder Twins love Detroit. Period. Send comments to [email protected].