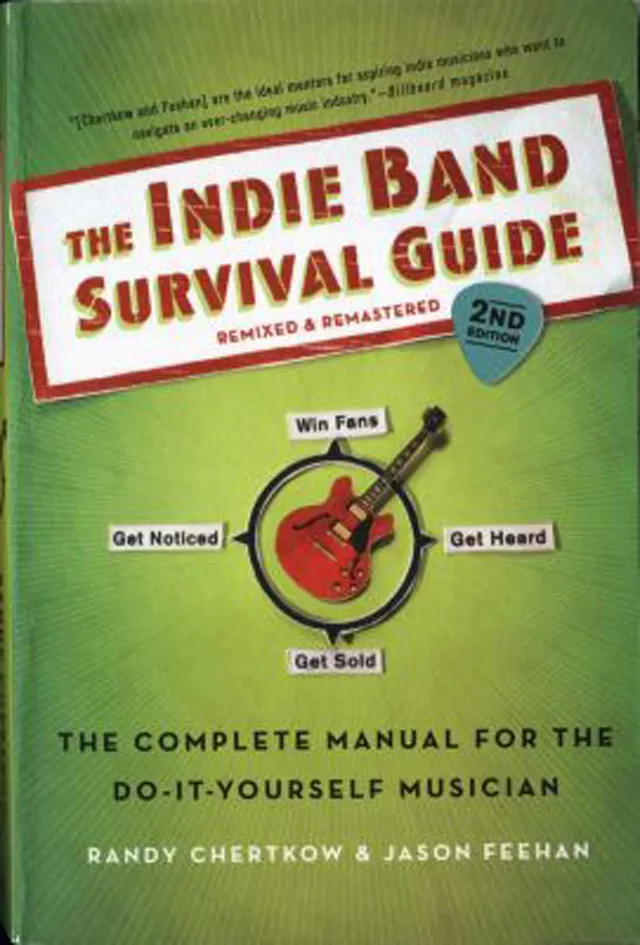 The Indie Band Survival Guide – Remixed & Remastered
Randy Chertkow and Jason Feehan
St. Martin's Griffin, $17.99, 400 pp.
Million Dollar Mistakes — Steering Your Music Career Clear of Lies, Cons, Catastrophes, and Landmines 
Moses Avalon
Backbeat Books, $19.95, 248 pp.
Woody Allen once said, "If you want to make God laugh, tell him about your plans." While this sweet little quote can be applied to just about every area of life, and certainly every vocation, nowhere is it more appropriate than in the world of professional music. When interviewing bands, writers will often ask musicians about their ambitions and it's a bit of a loaded question because we all know that the smart players have few aims beyond making music that they and hopefully a handful of other people will like. Any mention of arena tours, big money record contracts and basic world domination will, especially in this day and age, be met with a chorus of chuckles. As the new millennium rolls on, the music business has become more and more unpredictable. Bands and musicians have to think increasingly outside of the box when finding ways to make money from their art, and the accessibility of new technology means that there are literally millions of bands at our fingertips. Great for the listeners, maybe, but for a band shining out from the crowd is harder than ever. 
With all of that in mind, one has to wonder what genuine value there is in a couple of new books filled with career tips for aspiring musicians. In all honesty, a band could follow both of these books like a fundamentalist Christian follows the Bible, and the chances of success will barely be raised one iota. But, hey, every little thing helps, and if nothing else, they both make for an entertaining read. 
Moses Avalon, a music-industry consultant and successful producer, has found his own little niche (and therefore, in a way, proven himself right) by writing a series of books with names like Secrets of Negotiating a Record Contract and Confessions of a Record Producer. His latest effort, Million Dollar Mistakes, is filled with witty anecdotes and serious lessons related to avoiding allowing your project to go tits up. Perhaps the best lesson the book offers is to enjoy success when (or if) you get it because it rarely lasts for a lifetime. There's a great story told by Twisted Sister's Jay Jay French, who met James DeYoung of Styx shortly after that band became the first to have four triple-platinum albums in a row. When French congratulated DeYoung, the Styx-man said, "We would have had more if we'd been on a better label." Seriously, if you can't enjoy four triple-platinum albums, it's time to try another job.
Much of Avalon's book is about lies — the lies that musicians will hear from engineers, producers, label execs and lawyers, and even the lies that band members will tell themselves and each other. Massaged egos play a big part in keeping musicians happy according to Moses, though he warns against allowing one's own to get overinflated. For the more mature muso, the chapter on balancing a family life and a music career might be worth the cover price alone.
Chertkow and Feehan, members of ongoing Chicago indie veterans Beatnik Turtle, approach their book from an angle that is totally sympathetic to the hapless musician. More a reference guide than a cover-to-cover read, The Indie Band Survival Guide was originally published in 2008 but it has been updated to include new and emerging technologies and social media platforms. The authors state at the beginning that they are assuming any bands using their book are a) talented, and b) blessed with the drive to make things happen and the knowledge that the book alone isn't enough. They then basically spell out everything that they've learned in their years as a band, from getting their music out into cyberspace, to getting picked up for TV and ad spots, to getting paid to play shows. 
There is plenty in both of these books that many bands will find helpful. Just don't expect miracles. 
Brett Callwood writes the weekly City Slang column and for the Metro Times Music Blahg. Send comments to [email protected]