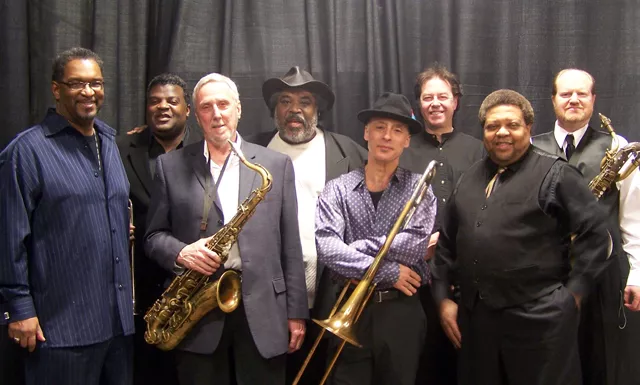 Blame it on the hippies. Or, better yet, thank them for inspiring what's become the hardest-swinging all-occasions band around these parts.
Baritone saxophonist Rick Steiger fessed up recently that he finds it hard to believe that the Sun Messengers — the band he formed three decades ago with childhood chum and percussionist RJ Spangler — is still around.
"When we got together it was all about playing music we liked, not consciously trying to have a huge musical impact, and, yes, we had success right away," he said of the band's late '70s origins in Detroit's east side Jefferson-Chalmers neighborhood. A bunch of musically thirsty youngsters, the band was originally called Kuumba, the Swahili word for creativity.
"With Kuumba, we would throw our own events, and they were very successful. The money we raised paid for our first studio recording," Steiger recalls.
In 1981, the band became the Sun Messengers to avoid a legal scuffle with a former member who claimed co-ownership of the Kuumba moniker.
It was just one of many transitional periods for the group, whose roster along the way has included such notables as John Coltrane scholar Salim Washington, organist Lyman Woodard, trumpeter Michael Ray of the Sun Ra Arkestra, and saxophonist James Carter when he was still a high school student. The early repertoire included Nigerian Afro-beat and South African jazz, straight-ahead jazz, jump blues and avant-garde fireworks.
"We're playing at a coffee house around the Jefferson area, and these hippie types were jumping around and dancing to our music. The immediacy of the people dancing struck us and pretty much redefined what we did from that point on," says Steiger, the only member going back to the Kuumba days, although trombonist John "T-Bone" Paxton has been on board throughout the Messengers era. Steiger reckons they've played alongside 75 to 100 different Messengers over the years.
The Messengers became popular quickly, as they performed more funk and R&B and expanded beyond the Detroit area, performing at the famed CBGB in New York, and clubs in Key West, South Carolina and Canada. Touring with an eight-piece group took a toll, though, and they refocused on regional gigs, realizing if they were going to work steadily they didn't have the luxury of cherry-picking gigs.
The '90s were particularly rough at the outset.
"A lot of the club work money went ridiculously low and some of the guys wanted the band to be something the Sun Messengers weren't. They wanted to be more of a blues band instead of a party band. There was an internal push within the band, and, with the economy going bad, the band almost fell apart," Steiger recalls.
Spangler left the band to manage and play with bluesman Johnnie Bassett; longtime guitarist Paul Carey split as well.
The Messengers morphed into an all-occasion ensemble that performed mostly dance music; what began as a mainly instrumental group put more emphasis on singing drummer Terry "Thunder" Hughley and other male vocalists. The Messengers' popularity soared, bringing with it a boatload of music awards, regular casino work, private parties and weddings. In 1996, they landed one of the best gigs in town — as the Detroit Pistons' house band.
The Messengers are marking their pearl anniversary with Get on Up and Dance, a CD that reprises funky Messenger staples such as "Talk Is Cheap," "Crazy 'bout You, Baby" and the title tune. The standout track, though, is the reworking of Dizzy Gillespie's "Night in Tunisia," which features the superb trumpeter and newest member John Douglas. Although Steiger and Paxton are the only original members still around, most of the current lineup has been with the band five years or more.
Steiger said that despite the changes in sound and personnel, the Messengers' commitment has never changed. They're still about a cast-iron work ethic, now performing more than 200 gigs per year.
"The Messengers has had a certain vibe," Steiger added. "That spirit has stayed with the group the whole time. ... We consistently put out a good product, and the band spirit has always been strong."
Sun Messengers' Get on Up and Dance CD release party runs 9:30 p.m. to 1:30 a.m. Friday-Saturday, Feb. 18-19, at the Blue Goose Inn, 28911 Jefferson Ave., St. Clair Shores; 586-296-0950; look for band alums and other special guests; $5 cover.