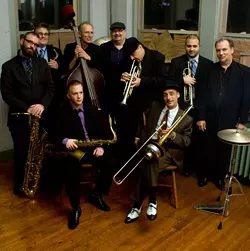 The jazz drummer R.J. Spangler is at the stage of his career where he wants to focus on himself — and it's about time. Spangler started building his legacy some 30 years ago with the Sun Messengers. After a 15-year run with the Messengers, Spangler got his hands dirty in Detroit's blues scene, managing blues musicians Johnnie Bassett Odessa Harris and Alberta Adams.
Many young jazz musicians have gotten some on-the-job training through the various jazz organ trio bands he's run over the years, as well as his Sunday night jam sessions at the Cadieux Café. Given Spangler's past and current workload, it's understandable why Spangler wants some me-time.
"I developed projects with Johnnie Bassett that took me all over the United States and Canada. I saw much of the world with him and later I did projects with Alberta Adams, Joe Weaver and Odessa Harris. That was the first 30 years of my career doing all that stuff.
"I thought, 'OK, what's this chapter going to be about? This chapter is going to be about what I'm going to do. I'm not managing someone else, I'm not running somebody else's band. I want to run my own band,'" Spangler says over lunch at Mike's on the Water in St. Clair Shores.
Spangler, 56, eats salmon, steamed broccoli and wild rice. He's on a health kick, looking healthier than he has in years. He's dropped 114 pounds. He's naturally positive and welcoming. Hang around him for a short time and you'll feel like you've been a best friend forever.
Spangler had a few setbacks. In 2004, his home in St. Clair Shores burned, and he lost memorabilia he'd collected from touring the world. But he bounced back and continued to manage other musicians, promote jazz and blues concerts, and form bands.
"Whatever I do now is really the last big chapter as a bandleader. I don't see myself starting some new chapter at age 75. I'm a drummer. You don't always see drummer hauling drums up and down the freeway in the United States well into their 70s," Spangler says. "I'm going to be 60 in four years. I have to think about what I'm going to do with myself. I'll always be creating little projects and doing little things"
These days, Spangler is as creative as ever. This year, he has released a trio album This Is What We Do. But Planet D Nonet is one of his best bands ever and his major focus right now. Spangler formed PD9 in 2007, intending it to be a scaled-down version of the Sun Messengers. To date, the band has seven albums out, Swingin' the D being the most recent. The nonet's repertoire is eclectic, to say the least. One night, they play the music of Duke Ellington, the next night they run through Sun Ra's songbook. They even play South African music by trumpeter Hugh Masekela and by the Brotherhood of Breath.
The PD9 swings above sea level at every show. A big part of the nonet's ability to do so is trumpeter James O'Donnell, whose playing is akin to swing era jazz trumpeters such as Cootie Williams and Russell Green. Green was a Detroiter and an O'Donnell mentor who held the trumpet chair in the Jimmie Lunceford Orchestra. Spangler and O'Donnell have been friends for 35 years. They started out in the Sun Messengers. Spangler wanted O'Donnell to be the nonet's driving force, and O'Donnell embraced the opportunity.
"Building the band around me was something we always wanted. It was something I'm good at. My role is moving things along on the bandstand," O'Donnell says.
Asked about Spangler's career as a bandleader, O'Donnell says, "Over the years, his leadership skills have grown. He always knows how to move on to the next project. He gets up every day and works hard. And he's the happiest I've ever seen him with this band."
There's plenty ahead to make the hardworking bandleader smile: Another CD release concert for Swingin' the D, the band's annual tour through the state is coming up, and the second album of Sun Ra's music is in the can. If Planet D Nonet is the final chapter in Spangler's jazz career, it will be a rich and full one.
The Planet D Nonet plays at 8 p.m. Saturday, Aug. 17, to celebrate the new CD, Swingin' the D, at the Zal Gaz Grotto, 2070 W. Stadium Blvd., Ann Arbor; 734-663-1202; $10, $15 with CD.
Charles Latimer writes about jazz for Metro Times. Send comments to [email protected].