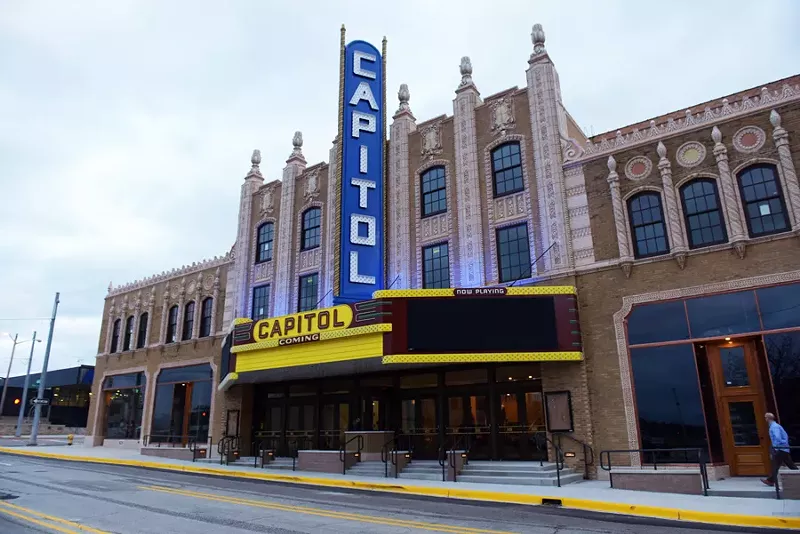 After 20 years of dormancy and a $37 million renovation, Flint's historic Capitol Theatre finally opened to the public with a ribbon-cutting and public tour on Thursday.
The theater — which was originally built in 1928 as a vaudeville theater, and later had lives as a movie house and music venue that hosted acts like AC/DC, Black Sabbath, and Green Day — was renovated in a partnership between Flint's Whiting venue and nonprofit the Uptown Reinvestment Corporation.
"The Capitol Theatre is a symbol of the resurgence of downtown Flint joining a thriving business district, urban living, growing college town, and destination for art, nightlife, parks and outdoor activities," Uptown Reinvestment Corporation president Tim Herman says in a statement.
But it's not quite ready for showtime yet. While the theater does have a soft opening tonight with free event called "A Classy Brassy Christmas" featuring the Flint Symphony Orchestra's Brass and Byrd Consort, there is currently no other programming lined up — but the venue says they hope that will change soon.
"That's the million dollar question," says Ashley Schoen, the venue's marketing and communications manager.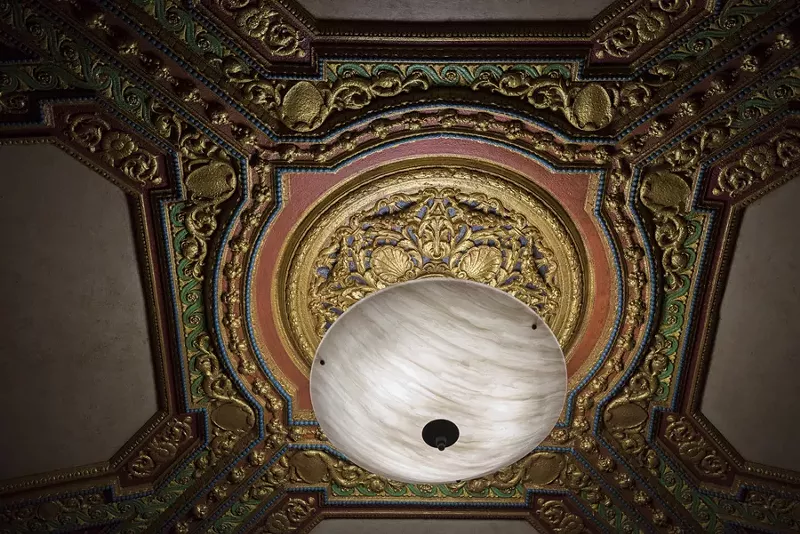 The renovation of the 1,600-seat theater, which started last year, includes both restorations of its historic architecture as well as 21st century upgrades to its sound, light, and outdoor marquee. A 150-seat "black-box" performance space was also built in the basement, adding another venue option to the city.
Part of the rehabilitation saw a restoration crew hand-paint the ceiling's ornate medallions, Michelangelo-style. "Everything was done by hand," Schoen says. "The people who did it built this scaffolding and laid on their backs and painted the ceiling."
Schoen says one of the highlights was the restoration of the theater's ceiling. "Literally when you walk in and you look up it looks like the night sky," she says. "There's constellations in the ceiling that have LED lights that twinkle. It's really quite beautiful."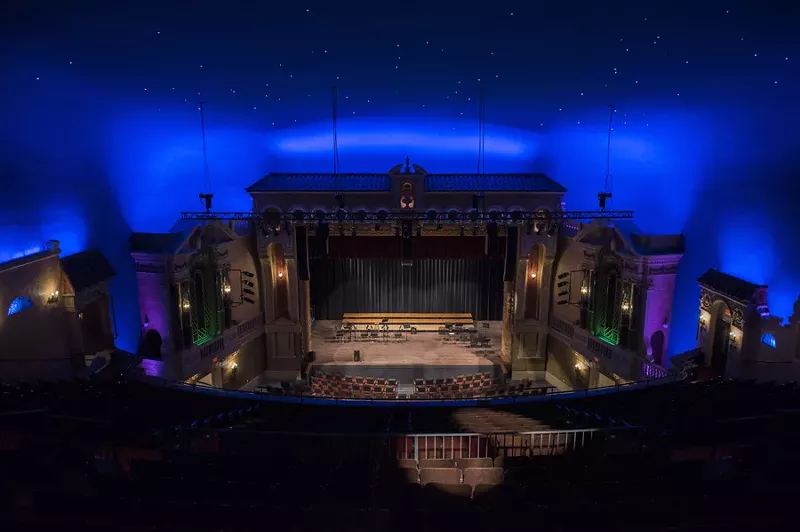 Schoen says programming is expected to include popular and classical music, comedy, film, dance, and more.
"It's a 90-year-old theater, and one thing that our executive director [Jarret Haynes] keeps saying is 90 years ago, before people had flatscreen TVs and the internet, this theater was the community's living room," Schoen says. "We want it to be the community's living room again. The importance of live performing arts and the memories they create are more than anything you'll get from your TV screen."